Zero-Emission Vehicle Signage
Zero-Emission Vehicle Signage
Background
California is the largest market in the United States for zero-emission vehicles (ZEVs) and approximately half of all ZEVs in the nation are sold in the state. Executive Order B-48-18 highlights the importance of ZEVs in reducing greenhouse gas and other harmful vehicle emissions, and calls for State entities to work with the private sector and all appropriate levels of government to put at least 5 million ZEVs on California roads by 2030, and spur the installation of 200 hydrogen fueling stations and 250,000 zero-emission vehicle chargers, including 10,000 direct current fast chargers, by 2025. Signage directing consumers to charging and fueling stations supports these goals and improves public confidence that charging and fueling options are available.
Signage Options
General Service Signs
General Service Signs provide road users general information about facilities and services near the highway. Zero-emission vehicle General Service Signs can be used to direct road users to charging and fueling stations that are within 3 miles of the highway and operate 16 hours a day. Examples of ZEV General Service Signs are shown below.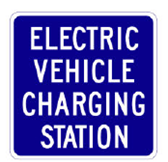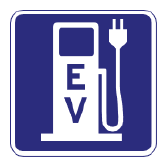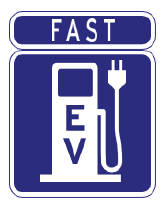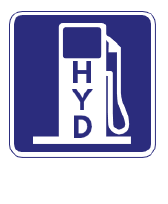 For more information regarding General Service Signs, please see Chapter 2I of the CA MUTCD. If you would like to install ZEV station signage, please see the Installation Guide (PDF) for guidance and work with a Caltrans District Sign Coordinator if you have any questions.
Sign Specifications
Specific Service (Logo) Signs
Specific Service Signs provide road users with business identification and directional services. Electric Vehicle Charging stations qualify for a logo sign panel if the business is within 3 miles of a freeway interchange and available to the public 16 hours a day. These Specific Services Signs show a business's logo on a blue Caltrans sign panel. For more information on Specific Service (Logo) Signs, please see Chapter 2J of the CA MUTCD and the Logo Program's website.
Fees
Caltrans pays for General Service Signs installed on the State Highway System. For Specific Service Signs, an annual permit and rental fee are charged to the business for each sign. The Fee Schedule and description of all the fees are on the Logo Program's website.
Traffic Control Devices
Policy & Guidance
Signs
Work Zones
---
Related Links
---
Contacts