Tourist-Oriented Directional Signs (TODS) Program
Tourist-Oriented Directional Signs (TODS) Program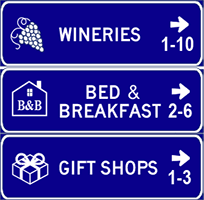 TODS is a California sign program that was authorized by California State Legislature through the passage of State Assembly Bill 2339 in 1994. The purpose of the program is to guide "out-of-town" travelers to California's tourist attractions. The Bill requires that Caltrans establish and charge a fee to place and maintain these generic TODS.
Does my business qualify?
Businesses such as wineries, gift shops, restaurants, arts and crafts shops, etc. can qualify if the eligibility requirements are met.
Signs are NOT allowed:
On freeways and expressways
On congested highways
Within any city limits
Within areas of population exceeding 50,000
If the business is adjacent to and visible from the highway
If business has on-premise or off-premise signing
Who do I contact?
To find out if your business can qualify, it is recommended that you contact the TODS Coordinator in the Caltrans District in which the sign will be installed.
What is the cost?
Signs must be fabricated and delivered to Caltrans by the applicant. No more than three TODS shall be allowed on one sign structure and no more than two sign structures shall be allowed at one intersection, one in each direction.
Caltrans Installs the sign(s)
The cost for one panel, one direction is $400.00 for the initial permittee and Caltrans Maintenance maintains the sign panel(s). $70.00 - Non-refundable eligibility / application fee.

$30.00 - Annual Maintenance fee per panel per direction
$300.00 - Installation / Processing fee per panel per direction
Total TODS Fee = $400.00