Caltrans has extensive experience dealing with earthquakes, most recently the back-to-back big shakers that struck the Ridgecrest area in July 2019.
Two other significant temblors that come to mind occurred in 2014 in Napa and in 1994 in Northridge. Some department employees have been around long enough to have played significant rescue, recovery and repair work after the 1989 Loma Prieta earthquake.
Caltrans' seismic expertise is acknowledged worldwide. Some of our longtime engineers have been interviewed about ground-shaking concerns in Japan and Turkey, among other places, and have appeared in documentaries about bridges in quake-prone regions.
One thing that Caltrans had not done before January, however, was send a large delegation of emergency responders to an earthquake-struck site out of state.
Starting on Dec. 28, 2019, the unincorporated U.S. territory of Puerto Rico sustained a "swarm" of 11 earthquakes that topped 5.0 on the Richter scale. The largest, which registered 6.4, happened on Jan. 7. For a while the entire Caribbean island was out of power, and tens of thousands of residents were rendered either homeless or forced to live in tents near their damaged houses.
On Jan. 11, at the invitation of Puerto Rico's government, California Gov. Gavin Newsom announced that 31 disaster specialists from the state work force would be sent to the island for 16 days. They were led by the Governor's Office of Emergency Services (OES) and included 12 Caltrans engineers and personnel from CalRecycle, General Services and Social Services.
"California stands with the people of Puerto Rico," Newsom said. "Our nation-sized state knows first-hand the devastating toll of natural disasters and we will provide aid and support as our brothers and sisters rebuild and recover."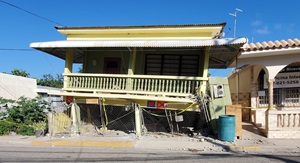 One of the Caltrans engineers who answered Newsom's call was Herby Lissade, deputy division chief of the Office of Maintenance Technical and Field Support in the Division of Maintenance. In mid-February, he spoke with CT News at a Sacramento coffee shop.
"The main purpose of this effort was to get people back in their homes, whether it's little homes or big apartment complexes," said Lissade, a 30-year Caltrans employee who himself is a product of the Caribbean. He was born in Haiti before his family moved to New York when he was 3.
"It's rapid assessments. You're looking for cracks, anything with racking, all sorts of different little things," Lissade continued. For much of his 16-day stint in Puerto Rico, he was teamed with or worked in close proximity to Larry Wooster, a Caltrans engineer in the Emergency Operations Branch of the Division of Maintenance. "We got hundreds of people back in their homes."
Lissade and Wooster were joined in Caltrans' first delegation by Jay Linnemann from District 4; Chris Gardner, Fernando Morales, Martin Nishikawa and Wuthy Seng from District 6; John Mutyaba and Behzad Sedighi from District 8; Mohsen Abdelfatah and Christopher Hanson from District 10; and Marcia Sully from Headquarters. Most arrived Jan. 11 and all worked in Puerto Rico Jan. 12 through Jan. 27.
The second delegation, scheduled to work from Jan. 26 through Feb. 16, consisted of Mark Reistetter from District 9; Chad Lim and Waad Rafou from District 11; and Brandon Miller and Tillat Satter from Headquarters.
Lissade said it did not much matter that most of the Caltrans engineers sent to Puerto Rico spoke little Spanish.
"We didn't get lost," he said. "We had Google Translate, or whatever. It was kind of easy; I speak a little Spanish. But it was like being in the U.S., for the most part. But the construction techniques are definitely different."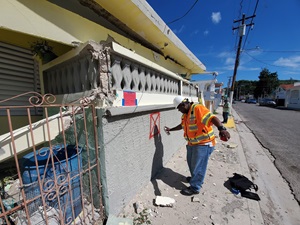 One day Lissade and Wooster were working in the southwest coastal town of Guánica, about a two-hour drive from the capital of San Juan, when a magnitude-5.3 earthquake struck. Lissade, who spent about 10 years of his career in Southern California, was rattled.
"I've been through earthquakes, right? Nothing like this," he recounted last month. "I'm assessing this person's home. I'm standing outside. … It just rocks the heck out of me. I almost fell down. I'm like, oh my god, no wonder these people are afraid to go back in their homes."
In an email exchange with CT News, Wooster said that Puerto Rico experienced more than 220 aftershocks of magnitude 3.0 or higher during the two-plus weeks he and Lissade were there.
"Days were long, hot and humid," Wooster wrote, "but the work was worth it when we gave home and business owners some level of comfort to return to their homes, or in the case of a red-tagged structure, the knowledge that the data was going into a database at FEMA that might help them get funds to rebuild."
Lissade said that many of his days there began with waking up at 5 a.m., followed by a two-hour drive to the assessment site. "There were some mosquitos, there were dogs everywhere," he said. "Some of the neighborhoods were completely deserted. There was nobody there."
Sometimes, the Caltrans engineers would not return to their San Juan hotel until after 8 p.m. "Then (we would) do paperwork or whatever we need to do to go out there the next day," Lissade said.
Local government leaders or fire marshals typically would greet Lissade and Wooster and point them toward the structures they wanted assessed. Those requests were fully honored, as were some impromptu assessments.
Lissade recounted how some people would approach the Caltrans team and ask, " 'Look, I've got get some things out of my house. Can I go in there?' I would tell them, 'I'm not a police officer. All I'm telling you is it's unsafe to go in that building. I can't stop you from going into your house, but that red tag is there to tell you" it would be risky.
Lissade reflected on why the Puerto Rico earthquakes were directly responsible for only one death, whereas the magnitude-7.0 earthquake a decade ago in his home country of Haiti killed more than 100,000 people.
"As I'm walking around looking at the architecture, I'm telling Larry, 'Larry, this is Haiti.' Except they did better construction techniques, right?" Lissade recounted last month. "In Haiti people are really poor, so they didn't put enough rebar into the columns. But the homes that were destroyed in Puerto Rico got more to do with, I think, with lack of maintenance, because the rebar was almost like powder. It was rusted. …
"The scariest thing over there for me and some of the others was that the ground was still kind of moving. The geologists couldn't figure out what's going on, because usually the magnitude goes down. It went down but started going back up."
Wooster said that overall, he and his Caltrans colleagues were received warmly by the Puerto Rican populace:
"The people from municipalities like Nawale Chardon and Nelson Cruz from San Germán; Francisco Egipciaco from Lajas; and Abraham Medina from Guánica were amazingly friendly, very happy to have us there helping them, and will most likely remain lifelong friends."
A couple of Wooster's Caltrans colleagues told CT News that they enjoyed the assignment, too.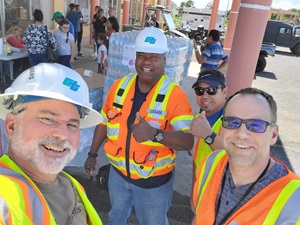 "My experience in Puerto Rico was like a church mission trip," Steve Nishikawa said. "We served and helped the people of Puerto Rico. I experienced some highs and lows but overall, it was a very rewarding and humbling trip."
"I was very surprised by the outpouring of support from the Puerto Rican community and how they provided aid to those in need and even to those responding to the disaster," Chris Gardner said. "Our team happened to spend most of the deployment inspecting houses in the city of Guanica, which was hard hit by the earthquakes.
"On many occasions we witnessed ordinary Puerto Ricans drive through the streets with the their cars loaded up with supplies, passing out bottled waters and snacks to our team. It was not uncommon for these people to have driven over two hours to assist in this way because they felt compelled to help in any way they could. Everyone was very much appreciative of our team's presence and the service we provided."
CT News asked Wooster if he plans to return anytime soon. Maybe, he said, but ideally as a visitor. In January, he had "no time to scuba dive or see the sights beyond a couple of nice restaurants."
What about Lissade? Will he return to Puerto Rico?
"I think it's a younger person's thing to do," reflected the 54-year-old. "For me, walking around on this debris, climbing hills, making sure that things aren't falling on you. I would love to go back, maybe in a coordinator capacity.
"But actually going from home to home, and this and that? The mind wants to, but sometimes the body's like – you know what I mean?"