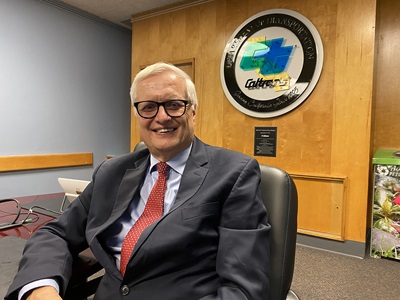 One characteristic that all good workers share is a determination to improve. The Transportation Research Board (TRB) provides many Caltrans employees, in many ways, with opportunities to up their workplace game.
TRB is a division of the National Academies of Sciences, Engineering and Medicine. "This ensures," Executive Director Neil Pedersen writes in a promotional brochure, "TRB's independence, adherence to the highest standards of integrity, peer review of its products, and access to the foremost scientists, engineers and professionals in the world."
Pedersen swung by Caltrans Headquarters late last year to meet with top-level managers and to promote the nonprofit organization he represents. He carved out some time to sit for an interview with CT News. For that chat he was joined by Joe Horton, office chief for Caltrans' Division of Research, Innovation and System Information (DRISI), and who arranged Pedersen's visit.
TRB has three major functions, Pedersen explained: convening, researching and advising. He spent a few minutes describing each.
Every January in Washington, D.C., TRB hosts the event it is best-known for, its annual meeting. Last year, despite complications resulting from a federal government shutdown, the conference attracted 13,300 participants. Caltrans usually sends about 25 staffers to the five-day gathering, which this year was held Jan. 12-16.
"We have 800-plus sessions during that annual meeting on virtually any topic you can think of related to transportation, including many that are directly of interest to Caltrans employees," Pedersen said.
In addition to that signature event, TRB conducts or co-sponsors 50 conferences or workshops a year, including some in California.
"We also put out over 100 webinars per year," Pedersen said. "I think that's where Caltrans employees who can't travel to one of our annual meetings, or one of our conferences, can really take advantage of TRB. Usually on topics of direct interest to state DOTs. It's a full range of topics, from high-level policy strategic issues to the most detailed, complicated, technical issues, and everything in between."
"We also put out over 100 webinars per year. "I think that's where Caltrans employees who can't travel to one of our annual meetings, or one of our conferences, can really take advantage of TRB."
In terms of research, TRB devotes most of its time and attention to highways, airports, transit and safety. Research projects are selected by a committee of AASHTO (American Association of State Highway Transportation Officials). Steve Takigawa, Caltrans' deputy director of Maintenance and Operations, is a member of that committee.
TRB's National Cooperative Highway Research Program (NCHRP) is designed to specifically address the practical roadway-related needs of state departments of transportation (DOTs). NCHRP reports are available on the TRB website. (Go to the homepage, www.TRB.org, click on the pulldown menu for "Committees & Panels" and click on "Highway (NCHRP)." That menu also has links to research reports about airport, freight, hazardous materials, rail and transit issues.)
Pedersen said he would like to see more DOT employees take advantage of TRB's Transportation Research Information Database (which the agency refers to as TRID). It contains some 1.4 million bibliographic entries "on virtually any topic, or any question you can think of, related to transportation," he said.
On TRB's role as an adviser, Pedersen said: "We do policy studies on behalf of the federal government. Usually on controversial and difficult issues. For example, we just did a study on the future of the interstate highway system and what policy issues should Congress be dealing with, with regard to the future of the system."
All told, TRB has some 220 committees, composed entirely of volunteers, that tackle a broad range of transportation topics.
"There are a number of Caltrans employees who are either members or friends of committees," Pedersen said. "It's very easy to sign up to be a friend of a committee and basically get all the emails and information about the committee's activities."
Horton said that 65 Caltrans employees are on TRB committees and other panels.
All TRB research projects have oversight panels, which are also composed of volunteers. To serve on those panels, Pedersen said, represents "a great opportunity for state DOT staff to be interacting with experts on a subject area that we're doing a project on." He himself participated on several TRB panels during his eight-year tenure as Maryland's state highway administrator.
Prior to attaining his current post, Pedersen logged 35 years of volunteer activities with the TRB. Horton participates in the national organization as committee chair for the implementation of NCHRP projects. Former Caltrans Director Malcolm Dougherty was Caltrans' last executive committee chair for TRB. Caltrans Asset Manager Michael B. Johnson and Chief Counsel Jeanne Scherer are now involved with the nonprofit, as are several rank-and-file employees.
Horton pointed out that the TRB is "providing research and information that can be used by the practitioner – the staff, the office chiefs, the seniors in the field – to impact projects and impact changes in business practices. So even though it sounds all global and has all these muckety-mucks, the managers involved at the high level, in reality a good focus of the thing is to provide a lot of the technical changes and information to improve our projects, improve our roadway, improve accessibility and other things. That's where the staff really benefit. …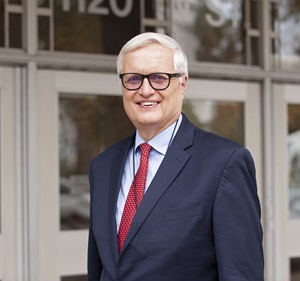 "What I really want the staff to understand, TRB – it's a great professional development. If you have a problem, it provides a mechanism for (finding) solutions," often developed at other states' DOTs. "There's a body of knowledge out there that the staff can use to fix their problems."
According to Pedersen, Takigawa told him that from $5 million that Caltrans invested in TRB research efforts, the state has received about $20 million worth of research findings. That's an example of how, by pooling their research dollars, state DOTs can share resources and improve together.
Pedersen cited pavement refinements and accelerated bridge construction techniques as two especially valuable research topics covered by the TRB.
Climate change is becoming another hot topic, no pun intended. Pedersen said the TRB is becoming increasingly invested in "adaptation" projects, such as ways to make highways more flood-proof. "More and more we're also getting into issues like greenhouse gas emissions," he added.
Clearly, Pedersen travels a lot for his job. "What I do like to do is try to expose people within leadership positions in state DOTs that may not be aware of all of the things that TRB does, or how they can take advantage of TRB," he said that afternoon in Sacramento.
"I like these visits because it helps me to hear what the issues are in the individual state DOTs so I can make sure that we are being responsive to the needs of the state DOTs. It's very important, since they are paying our bill, that we're giving them good customer service."
One "clear message" Pedersen said he received on his visit to California: "We really need to be addressing the issue of the relationship between transportation and housing. The linkage between the two, and how transportation (can) help support housing policy." He also said he and the Caltrans board spent "quite a bit of time" discussing equity issues.
Hundreds of archived webinars, accessible via www.TRB.org/webinars, provide detailed information about transportation issues, reports and TRB committees' activities. Listen in and you may be eligible for continuing-education credits.
Volunteer opportunities abound for those who want to become involved with the TRB, which maintains more than 200 standing committees and task forces that tackle all sorts of transportation-related issues in great depth. To learn more about volunteer possibilities, visit www.TRB.org/finance/joinsupportTRB.aspx.