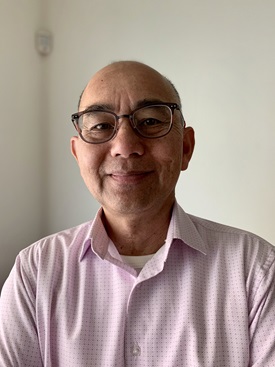 Retirement means different things to different people. Sleeping in, reading, taking long strolls, volunteering. For retired Caltrans engineer William Gee, it means dancing before 20,000 screaming fans during timeouts and halftimes at Golden State Warriors home basketball games.
The 62-year-old San Francisco native does more than that with his post-career time, of course. But nothing else he does boasts the "Whoa!" factor of performing on center court during the NBA playoffs.
That's what the dancing engineer did last spring, at the end of his first season as an original member of the Golden State Warriors Hardwood Classics team. The 22-dancer troupe, composed of people ages 55 and older, debuted in October 2018 and performs a dozen or so times throughout the NBA season, for usually 70 seconds a pop. (Here's a clip of the troupe's first performance.)
Gee, 62, spent 35 years with Caltrans, exclusively in District 4.
"I started as a junior civil engineer, worked my way up to supervising engineer, and when I left Caltrans I was the district design liaison," he said. "It's a liaison between the district and headquarters. So it's all about process, standards, enforcing standards. I read a lot of project reports, reviewed a lot of design exemption requests. That's the bulk of the work."
Recently, Gee sat down with CT News at a coffee shop in San Francisco's Ferry Building to talk about his Caltrans career and his high-stepping pursuits since he retired in 2018.
Can you give examples of your career highlights?
"I think I exited at a point where I felt like I made a lot of contributions to Caltrans and the process. Just knowing that my work benefits safety and transportation. People are able to get from Point A to Point B safely and in a timely manner."
How did your participation in the dance group come about?
"I just heard it (on the car radio), and I just decided on a fluke to say, hey, OK, I'll challenge myself by trying out for the team. No expectation. I had no expectation about making it."
Had you danced before?
"Yes, on a social basis. I started with social ballroom, and from there it went over to basic line dancing." Gee classifies dancing as an interest of his, not so much a hobby. "I just went for the tryouts, and thought nothing of it."
Here's how he summarized the tryout process, which began with a pool of almost 300 applicants. "It went from 299 to about 150, 150 to about 33, then 33 down to 22," recounted Gee, who added that the process took about two weeks.
Gee went through the same tryout process this season. The only thing he didn't have to do again was submit a résumé.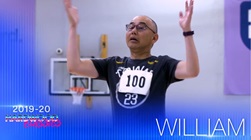 Why do you think you were chosen?
"I think because the Warriors organization, they like diversity and character. I really had no expectation of being chose, but I think if you are able to have fun, show fun on the court, get the crowd pumped up, and have a little bit of showmanship, and danceability, and potential – I guess I met those criteria."
How often do you take to the court?
"Last season, we had 13 performances. Out of the 13, I think we had three halftime collaborations with other dance teams. At that time there were four dance teams: the Warriors dance team, the junior jammers – the little kids, a hip-hop group and us."
Are you more outgoing than most of your old engineer colleagues?
"I am, probably. Engineers just love to stick with numbers. Anything gray, they're like, 'I can't deal with it.' "
What is it like to be on the hardcourt, performing before a big crowd?
"The first time out there I was so scared and nervous. It is just mind-boggling. Because you step out on the court and there's 20,000 people watching you, and on the big screen. I was totally freaking out. But, you know, the more times you do it, you get a little bit more comfortable. It's just invigorating now, and fun, and challenging."
Gee credits his teammates for being so supportive.
"They help you with the routine, they help you with the techniques. Words of support. No negative words. 'Let's go do it!' It gets all hyped up, man. When you hear it's time to go out on the court, there's no turning back."
So you have made some friends on the team?
"Oh yeah. It's kind of like a second family. Everyone is communicating about things here and there. If there is a person who gets ill, everyone kind of chips in."
How much time do you spend with them?
"For each performance, there are three sessions. One session is to learn it, the second session is to clean it, and the third session is to place it – set it. Know your settings where you're supposed to go. Each session is around two and a half hours, in the evening."
Are you paid?
"Fifteen dollars an hour. Because we're at Chase (Arena) now, in San Francisco. When it was in Oakland, it was like 14 dollars an hour. Because Oakland has a lower minimum wage. We're considered part-time employees, for entertainment."
Do you get any perks? Can you eat as much as you want, or bring guests?
"No. They have a very strict code of conduct. When we were selected, we had orientation. We had a meeting. We had to sign a 20-page contract. … They treat it like a very strict work environment. A professional environment. Just like Caltrans, right? When you're working, you treat each other with respect. … When you're in uniform, you're in the Warriors organization, so you have to conduct yourself in a good manner."
Last season the basketball team was very good, this season it's not. Do you sense a difference in the atmosphere?
"Not in the dance group. The dance group is just so enthusiastic. The dancers I'm with, they just love to dance. They love to go out there and please the crowd. They understand the team is not doing as well as last year, but that's just at the back of our mind. The team – they'll get it together. The coaches have something up their sleeve, I hope."
Do you want to do this again next year?
"I have thought about it a little bit. It's not dependent on the success of the team. … I'm kind of on the fence about a third year. The time requirements are a lot. It requires a little bit of a commitment. But the best part is you get to keep fit. The routines are not slow. I think the fastest routines that we do are like 140 beats per minute, so it's really fast. I think compared to the other senior teams, I think the Warriors team is the top of the cream." Other NBA teams that have similar senior dance groups, he said, are the Sacramento Kings, New Orleans Pelicans and Washington Wizards.
Are you in better shape now than you were before you joined the dance team?
"I'm in better shape in different ways. We have to get down, low, on our knees, and hold our positions sometimes for eight counts during dancing. I move in ways that I never moved. The style of dancing is like formation, you dance and you move into a formation. There's a lot of hip-hop moves. My generation, I never did hip-hop, right? So you gotta learn it."
Timeout performances are supposed to be 70 seconds. "We have to perform really fast, please the crowd, cheer up the crowd, and when the buzzer sounds, we gotta get off."
Have any of the players said anything to you?
"No. We don't interact with them. I think they're aware of us sometimes, because when we're out there practicing, they see us, we see them. But I think their mind, it stays on the game. They have other priorities."
Other than dancing, how's retirement treating you?
"I have a 13-year-old son, I started late. He's got a puppy, I'm taking care of that. I still do my line dancing. … My wife is still working. So I take care of the house duties. Cook dinner."
Gee lives with son Christopher, 13, and wife Andrea Leung, in San Francisco's Richmond district, just south of the Presidio. He is a 1983 graduate from UC Berkeley, B.S. in civil engineering.