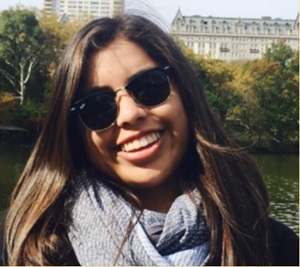 Note: This story was submitted to CT News by the California Transportation Foundation
Congratulations to Isabella Salgada for winning the $1,000 California Transportation Foundation (CTF) H. Heckeroth Scholarship this year.
"Thank you, CTF, for your support and generosity," Isabella said. "I am honored to have received the 2019 Heinz Heckeroth Scholarship. I am a California native attending Syracuse University in New York as a civil engineering major. My goal is to graduate, move back to California, and work for Caltrans."
For scholarship opportunities, visit www.transportationfoundation.org/scholarships.
The CTF Transportation Education Symposium hosted 41 students and 40 professionals in Southern California for two days of mentoring the next generation of transportation leaders in November. Edward Yu, from the city of Los Angeles Department of Transportation, said of the event, "It was extremely rewarding to see how bright the future is in our profession and the passion that everyone had about today's transportation challenges."
The event's major sponsor this year was Lyft. CTF could not have done the Education Symposium without that support.
CTF's program Conference Connections hosted 19 students at five conferences last year by covering their registration, hotel rooms, travel and meals and pairing each with a mentor to guide them. Conferences were AGC, Focus on the Future, Mobility 21, CA APA and ITS California.
Now-Chief Engineer Michael Keever of Caltrans Headquarters and Senior Tranportation Planner Sergio Ruiz of District 4 were two of the mentors.
"I met so many leaders in different areas and developed connections I will continue to reach out to in the future," said Juliette Love, a Stanford University student who was partnered with mentor Debbie Hale of the Transportation Authority of Monterey.