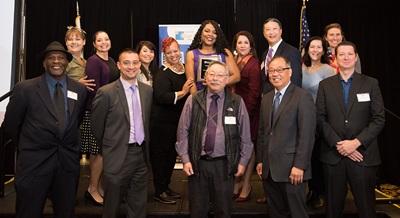 Note: The following article was submitted to CT News by Caltrans' Our Promise team.
Our Promise in March held its annual Thank You Breakfast to celebrate the 2019 statewide campaign's achievements, and to recognize those who went above and beyond to aid in the success of the campaign.
California Surgeon General Nadine Burke Harris opened the event, which was attended by more than 20 state department representatives. California State Transportation Agency (CalSTA) Secretary David Kim and Under Secretary Elisa Konove were there to show their dedication to this philanthropic effort and their support for the generosity of state employees.
This year Our Promise launched an Outstanding Volunteer Award, which recognizes an individual who went above and beyond to elevate the Our Promise campaign. Caltrans is so proud to have one of our employees recognized for their dedication and achievement. Congratulations to Sabrina Watts-Jefferson, named the 2019 Our Promise Outstanding Volunteer.
Sabrina led, motivated and supported eight state departments as the 2019 CalSTA chair. Under Sabrina's leadership, CalSTA hosted its first Our Promise Kick-off event attended by the eight department leaders under CalSTA, and the inaugural Our Promise Bowling Bonanza, which had a total of 18 teams, of which 10 were Caltrans Headquarters teams. This event raised almost $3,000 in special-events funds, split among three charities: the California Transportation Foundation, Loaves and Fishes (a Sacramento organization that helps the unsheltered population) and the United Way.
The Caltrans 2019 Our Promise Campaign team was led by Noey Rios, department chair, and Diane Falls, vice chair.
Caltrans for the fifth year in a row had among all California state departments the most leadership donors giving $1,000, or more, a year. This is a true testament of how generous our employees are. We also achieved an 18 percent increase in donations, a 13 percent increase in leadership donors, and a 90 percent increase in special events funds.
Many district team leads went above and beyond to aid in the success of the 2019 Caltrans Our Promise Campaign, resulting in historical numbers for those districts. The Caltrans 2019 Our Promise Chairs want to thank all Caltrans employees statewide, for their time, effort, and generosity in making the Caltrans 2019 campaign one of the most successful campaigns.
The 2020 campaign will be here soon, look out for more information on events and how to give through Our Promise. If you would like to volunteer to be a team leader for the 2020 Our Promise Campaign, email your information to our.promise@dot.ca.gov.