CT News 2019, Issue 1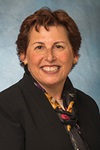 Challenges confront us every day at Caltrans, and together we find ways to not only meet those challenges, but to exceed expectations. None of the challenges we face is more important than improving safety. As your director, I'm taking actions to ensure safety remains our highest priority.

Whenever you drive a Caltrans vehicle, part of your job is to fob in. Nicholas Buenviaje, a landscape maintenance lead worker in District 11, wants to make sure that you do. Buenviaje spearheaded a Department-wide campaign to remind employees that the use of fobs (short for "frequency operated buttons") has been mandated since 2014.

Do you have thoughts about how to improve Caltrans? If so, plan to disembark soon at Innovation Station. The idea-sharing and challenge-solving website, accessible via an icon on Caltrans' Onramp webpage, was relaunched in early January by the Innovation Leadership Council after a few years' absence.

Jody Jones acquired plenty of experience fielding pointed questions from the news media during her 13 years as District 3 Director. That media savvy prepared her well for the onslaught of reporters worldwide covering the devastating Camp Fire, which destroyed most of the town that she presides over as mayor.
From Caltrans headquarters in Sacramento, Jeanie Ward-Waller helps shape and guide the Department's plans to develop, build and maintain sustainable, multi-modal transportation systems in a state already feeling the effects of climate change.
Recently we were asked how Caltrans' 12 district boundaries came about. That led us to the library at Caltrans Headquarters, and down a scenic path of historical tidbits. Buckle up for a 110-year ride.

At 5 a.m. on Feb. 12, 1990, Chris Posey, in just his second year as a firefighter, was dispatched to the Bay Bridge. "Woman in labor at toll plaza number 14. That's all the information we got," Posey said. He arrived just in time at the Caltrans booth to be the one who got to welcome 9-pound, 6-ounce Marcial Pacek into the world.

The California Transportation Foundation is ready when you need help – so please consider paying it forward and giving CTF a tax-deductible donation today! CTF is the leading charitable organization serving California's transportation community.
"I wish to bring to your personal attention the kind and generous actions of two of your local Maintenance employees assigned to the Magana-Ortega Caltrans yard in Bloomington. I only know them as "Tracy," who is a supervisor, and his co-worker, "Kirk." Both men discovered and returned my lost cellphone."
The right clean-up crew at the right time
"Lara Luna, Glynn Pinkerton and I are volunteers from the Vandenberg Village Association and the Village Lions Club who participate in the Caltrans Adopt-A-Highway program once a month. Early during our regularly scheduled date to clean up our stretch of Highway 1 on Saturday, Nov. 17, 2018, Lara and Glynn noticed a wrecked car down the embankment. It appeared the car was empty. I climbed down to check it out."

"I'm writing to compliment, give kudos to, and thank Mr. Toney Griffin for his help with my telephone inquiry this afternoon. I was trying to navigate the Caltrans website and was embarrassed to admit to my non-techie skills!"

"I wanted to put in a good word about Greg DeAlba for his help in wintry conditions on a recent trip along I-80. He was so nice; he removed my cable chains for me up in the Donner area, and it was wonderful."

Caltrans rocks on Twitter! Here we share onecompliment in particular that District 7 received in recent weeks.
The Employee Assistance Program (EAP) now offers confidential messaging therapy, a new way to help you, your spouse, registered domestic partner or children deal with daily challenges and difficult situations. With messaging therapy, State employees and their immediate family will have free access to one of more than 3,000 licensed therapists across the country who are trained to be empathetic and use evidence-based clinical approaches.
A list of Caltrans employees who retired or for whom certificates were requested.
Employees who are celebrating 25 and 40 years of service..

Dennis Agar has been appointed to Chief of the Division of Maintenance. He has more than 29 years of experience at Caltrans, serving in a variety of district and Headquarters leadership, managerial, supervisory and technical positions.
Dara Wheeler was promoted to Division Chief for Research, Innovation and System Information (DRISI) starting Jan. 1. Her previous position was Division Chief for Rail and Mass Transportation, where she oversaw federal and state transit grants and programs, rail planning and operations support, and the rail rolling stock procurement and delivery functions.

Gilbert Petrissans is the new Chief of the Division of Accounting. He has been with Accounting for 25 years, and most recently presided as chief over the Office of Financial Accounting & Analysis, where he managed the Department's financial statements and provided budgetary and appropriation controls over Department funds.

Caltrans District 7, the Department's Division of Engineering Services, and individual employees were singled out recently for their contributions to the Schuyler Heim Bridge Replacement Project in Long Beach. The 2018 Caltrans Seismic Safety Award was presented at the Caltrans Seismic Advisory Board meeting in November 2018.

Two Caltrans communications teams recently were honored for their public information work by the American Association of State Highway and Transportation Officials Committee on Transportation Communications (TransComm). "At Caltrans, we are dedicated to public service, and these TransComm awards show that we not only work hard to get our job done, but we work hard to let the public know what we're doing," said Caltrans Director Laurie Berman.
Longtime Caltrans bridge engineer Peter Soin, 62, died July 16, 2018. Less than eight miles from his home in Folsom, his vehicle was traveling on Highway 50 when it struck two freeway construction vehicles and a guardrail. He was returning from dinner with his mother, sister and brother-in-law in the Bay Area.
Former Caltrans accountant Doris Ann (Cindy) Dorovi passed away of natural causes at her home in Sun City Lincoln Hills on Dec. 29, 2018. She was 80. She was born in San Francisco on Feb. 8, 1938. She was well known for her independence and strength. A true native daughter of California, she lived her entire life in Sonoma and Placer counties.
CT News - Caltrans' employee newsletter
---
Contacts
Reed Parsell
Editor, Caltrans News (May 2019 to the present)
Tamie McGowen
Assistant Deputy Director, Public Affairs
Contact the Editor
Via email
or (916) 654-5820
---
Are You Retiring Soon?
Would you like to stay informed of what's happening with Caltrans? If so, submit your home email address to CT News editor Reed Parsell and we'll notify you by email when we publish a new issue of CT News.
---
Alternative Formats
For individuals with sensory disabilities, this document will be made available in Braille, large print, on audiocassette, or on computer disk. To obtain a copy in one of the alternative formats, please contact the editor.