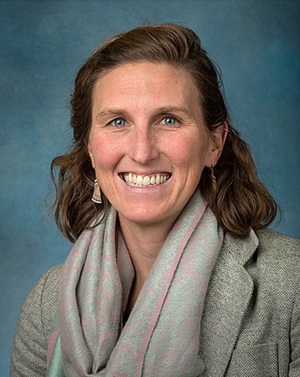 By Brooks McKinney
Infrastructure Blogger
As a U.S. military brat growing up in the 1980s, Jeanie Ward-Waller was all too familiar with the recurring adventures and frustrations of moving every two years. Her parents, both U.S. Air Force physicians, provided medical and humanitarian services to enlisted personnel and local populations wherever they called home. Before she turned 16, Ward-Waller had lived on or near Air Force bases all over the U.S. and in Asia, from San Antonio, Texas, to the Philippine Islands and back again.
Fortunately, her parents put a high priority on foreign travel, outdoor adventure and exposing their children to other cultures. As part of serving Uncle Sam, Ward-Waller's family traveled extensively in Asia and the U.S., witnessing some of the world's most dramatic natural wonders ... and some of its most poverty-stricken populations.
Those travel experiences instilled in her an enduring love for the outdoors. More importantly, they taught her the critical roles that clean air, clean water and access to safe, reliable transportation systems play in defining livable communities for people around the world.
Today, she applies those lessons daily to her work as Caltrans' sustainability program manager.
From Caltrans headquarters in Sacramento, Ward-Waller helps shape and guide the Department's plans to develop, build and maintain sustainable, multi-modal transportation systems in a state already feeling the effects of climate change.
"It's difficult to overestimate the impact that transportation systems have on people's quality of life," she said. "They allow people to move around; to gain access to safe, healthy environments; and generally, to create friendlier, more livable communities."
Ward-Waller earned a bachelor's degree in civil engineering from Brown University, and a master's degree in structural engineering from MIT, but realized that engineering work was far more repetitive and tedious than she had originally thought.
"I was much more interested in the front-end work of developing a building – where should it be built, how will people access it, what impact might it have on a community or the environment – than in managing the nitty-gritty details of engineering that structure," she explained.
Changing Course
So before long, Ward-Waller gave up being a structural engineer in Boston to pursue a master's degree of engineering in sustainable development at the University of Cambridge in England. In this new, decidedly nontraditional educational setting, she finally "got her feet wet" in the policy work she craved.
To put an exclamation point on her Cambridge experience, Ward-Waller organized a team of cyclists – including her mom – to bicycle across the U.S. in the early spring of 2012. Their goal was to promote safer, more bicycle-friendly communities, and to raise money for two bicycling advocacy organizations. Over the course of 12 weeks, the team covered more than 5,000 miles raising money and awareness for bicycle safety in communities from Key West, Fla., to San Francisco.
Ward-Waller calls the cross-country ride a life-changing journey of the heart. More importantly, it brought into focus her skills in fund raising and bicycle advocacy. Those skills led to leadership opportunities over the next five years with two major bicycling advocacy groups, Safe Routes to School National Partnership and the California Bicycle Coalition.
Today, Ward-Waller's Caltrans team focuses on three key sustainability priorities:
Championing active transportation – i.e. making walking and bicycling safer and more convenient.
Advancing clean vehicles, fuels and materials; i.e. reducing the carbon footprint of Caltrans' road work.
Preparing for climate change and extreme weather – proactive planning and adaptation of state highways deemed most vulnerable to damage by severe weather.
Creating Healthier Networks
Much of Ward-Waller's policy work relates directly to climate change: getting people out of greenhouse gas-emitting cars into friendlier, more active forms of transportation. Her team is trying to implement a strategic management plan adopted by Caltrans in 2015 to triple bicycle trips, double walking trips, and double transit trips by 2020.
"Getting people to use bicycles as a regular form of transportation requires having a well-connected network of safe facilities, and comfortable, convenient facilities in every neighborhood," she explains. "We also need to provide seamless connections to other forms of transportation."
Building up those networks requires steady funding – never a given – and a deliberate approach.
"Caltrans is developing active transportation (bike and walk) plans for each of its 12 districts statewide," explained Ward-Waller. "Those plans are focused largely on intersections between state highways and local streets, working to remove barriers for residents to continuous and safe bicycling and walking. The plans provide a vision for how we want our community transportation networks to look and work in 20 to 25 years."
In a typical day, she meets with Caltrans colleagues as well as representatives of other agencies with stakes in sustainability, including the California Air Resources Board, the California Strategic Growth Council, and the state's Department of Public Health.
Consistent with her passions for bicycling and sustainability, Ward-Waller practices what she preaches, commuting two miles daily by bicycle from her home to her office.

Ward-Waller also pursues another passion: ultra-marathon running. Over the past five years, she has run races in California and Utah ranging from 50 kilometers (30 miles) to 100 miles. Through running, Ward-Waller finds solace, mental clarity, and a healthy return to her roots.
"My endurance training takes me to really beautiful natural places, and allows me to disconnect," she said. "It also helps me remember why my work is so important – to protect our climate and those beautiful places."
This article was written by Brooks McKinney and originally appeared on his Persons of Infrastructure website at www.personsofinfrastructure.com. It was edited for brevity here.