Whenever you drive a Caltrans vehicle, part of your job is to fob in. Nicholas Buenviaje, a landscape maintenance lead worker in District 11, wants to make sure that you do.
Buenviaje spearheaded a Department-wide campaign to remind employees that the use of fobs (short for "frequency operated buttons") has been mandated since 2014. The small, circular devices contain memory chips and use GPS technology to track where a vehicle is and how fast it is going. They also tap into vehicle diagnostics to alert Caltrans to possible maintenance needs.
"Fob-in February," the campaign's alliterative appellation, took root last year.
"My supervisor at the time, Matt Rico, was looking for ways to challenge the crew," said Buenviaje, who also serves in the Caltrans Honor Guard. "So he challenged us, for the month of February, to make 100 percent GPS fob in. So we came up with the phrase 'Fob-in February' and started putting posters up in the crew room and inside the trucks to draw attention to the GPS. …
"Really it was started to promote team building as a fun exercise. We're always looking for ways to improve our crew, and it was something, some numbers, that we could improve on. But in the end it turned out to be a great way to promote accountability with State equipment."
For the uninitiated, here's a primer on how to use a fob that has been assigned to you. You get in the Caltrans vehicle and (after having secured your seat belt, of course) start the engine. Before you go anywhere, you hold the fob button against the vehicle's fob reader, positioned near the steering wheel, and wait until the beeping stops, which signifies that the connection is made. Then off you go.
Those who drive off without fobbing in are subjected to beeping that goes off at regular intervals.
You don't need to "fob off," because turning off the engine automatically ends the fob session. But you do need to fob in every time you restart the vehicle.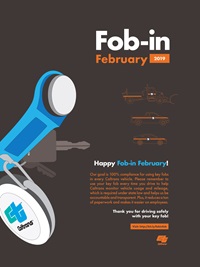 "I feel some people might still be resistant to Fob-in February just because it is an extra step," Buenviaje admitted. "It can be a hassle. You have that beeping every time you get in and out of the truck. But … there are no negatives to it other than if you were abusing the system — you know, using State vehicles for purposes that you're not supposed to."
The fobs have many benefits, most significantly that they beef up Caltrans' bookkeeping efficiency by providing accurate, up-to-the-moment data about what is happening with the Department's vast fleet of vehicles. They also, it can be argued, improve public image and reduce greenhouse emissions by coaxing Caltrans employee drivers (whose speeding, idling and hard stops and starts are tabulated, thanks to the fobs) to pay closer attention to the rules of the road.
"I would tell any team that is struggling with the fob system to use it as a motivational tool, something that you talk about every morning around your round table before you go to work," Buenviaje said. "It's just another point to hit on and another point to promote.
"As a crew, we set a goal for ourselves, and if we reach that goal, we went out and had a nice team lunch together. So it's just another way to improve your team." Indeed. Fob, then hobnob. Everyone wins!