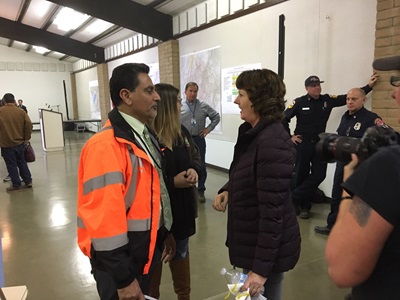 By Gilbert Mohtes-Chan
District 3 Public Information Officer
Jody Jones acquired plenty of experience fielding pointed questions from the news media during her 13 years as District 3 Director.
That media savvy prepared her well for the onslaught of reporters worldwide covering the devastating Camp Fire, which destroyed most of the town that she presides over as mayor.
"I took on all the media (interviews)," Jones told Update 3, the district's online publication. "For a time, I had 25 to 30 media interviews a day. It's nonstop – all the media interviews and everything else going on in town."
Jones consulted with local, state and federal emergency officials. She also led President Donald Trump, then-Governor-elect Gavin Newsom, and then-Gov. Edmund G. Brown Jr. on a tour of the disaster area.
"I couldn't have done this without all the training at Caltrans," Jones said.
In addition to her civic duties as the chief spokesperson for the devastated town of 27,000 residents, Jones dealt with her personal upheaval – the loss of her home.
"If you could just imagine you have nothing. You must outfit an entire house from scratch. It's overwhelming," she said during a shopping stop at the Costco warehouse store in Chico.
"We've been living in our motorhome for a month in a vacant lot next to the railroad tracks in Chico."
She and her husband, Ron, have now moved into a house in Chico.
Jones spent 34 years with Caltrans before retiring as District 3 director in June 2014. That fall, she won election to the Paradise Town Council. A year ago, her colleagues elected her to a one-year term as mayor. On Dec. 11, the council voted Jones to a second term as mayor.
The Camp Fire erupted two days after her re-election to the Town Council. Suddenly, she said, "you don't have a town anymore." She has been a mayor with constituents scattered throughout the region – some likely never to return home.
Like other Paradise residents, Jones tells a harrowing tale of survival as she joined thousands of townspeople escaping a fast-moving inferno roaring through the tranquil Sierra foothills community.
"A normal 20-minute drive from Paradise to Chico took 3½ hours," she said of her evacuation.
Along Skyway – the main route out of town – flames danced along the sides of the county road as she and other anxious motorists inched their way westward toward safer ground in the valley.
"The smoke was so thick. It was a blackout. You would have thought it was night. There were flames on the side of the road. You could feel the heat inside the car. It was unbelievable how fast the fire spread."
The fateful morning of Nov. 8 started like any normal day. Jones was taking her sister's cat to an appointment at the local veterinary clinic.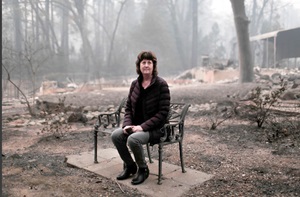 "When we got to the vet, they said 'we're closing.' The vet was being evacuated. He lived over at Pence Road. This happens a lot in Paradise. You'll have one zone evacuated because there's a fire close to it. I didn't think too much about it."
Jones drove back to her sister's house in upper Paradise, took the cat out of the carrier and got some pet food out.
"No sooner than I put the food down, I get the evacuation notice (on the cellphone). It is for her zone and my zone. I thought, 'I've got to catch this cat again, so we can evacuate.' But the cat was having none of it. I tried for like 20 minutes to catch the cat, but then I looked outside and everybody else was gone. There was black smoke and I thought, 'I've got to leave.'"
She rushed to her car and drove out – only to find the road clogged with traffic. Jones realized she couldn't make it to her house where her husband was waiting.
"We're talking on the cellphone and I said, 'You need to hook your truck up to the motor home and leave.' He went outside and two doors down a house was fully engulfed in flames; smoke was in the air and across the street the same thing. He grabbed our cat and got the two German short-hair dogs and drove off. He left with nothing. He did not get anything out of the house except the animals. I had the clothes on my back."
Since the wildfire, Paradise town officials have been working out of temporary quarters in Chico's Old Municipal Building in the heart of downtown. Because regular city services aren't needed at this time, city employees are doing different jobs such as staffing a town information table at the disaster recovery center in Chico.
"Our town hall is still standing. Our goal is to have the staff back in there by the second of January. There is quite a bit still standing," she said. The police department, two of three fire stations, two of three grocery stores and the surrounding shopping centers, the local Starbucks, library, high school, several restaurants and a motel remain.
Town officials and the community soon will start talking about the future of Paradise. How long it will take remains to be seen. The town certainly will tap Jones' veteran planning experience at Caltrans and the Paradise Planning Commission.
This story appeared in District 3's latest Update 3 newsletter, which focused on the Camp Fire.