Trophy Case
Trophy Case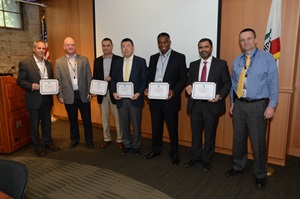 Caltrans District 7, the Department's Division of Engineering Services, and individual employees were singled out recently for their contributions to the Schuyler Heim Bridge Replacement Project in Long Beach.
The 2018 Caltrans Seismic Safety Award was presented at the Caltrans Seismic Advisory Board meeting in November 2018. Honored from D7 for their roles in the bridge project were Hamid R. Toossi, Hector Bedolla, Dariusz Chmielewski, Hammer X. Sui and Dan Leon. Also receiving recognition were staff from Caltrans' Division of Engineering Services: Elias Kurani, Foued Zayati, Ronald J. Bromenschenkel, Andy Chen, Lawrence Okoye, Isaac Tasabia and Kunjian Li.
The Caltrans Seismic Safety Award honors the best of California's transportation projects with emphasis on seismic safety from across the State. This award is open to Caltrans districts, local and public transportation agencies, and private engineering and consulting firms.
The Caltrans Seismic Advisory Board serves as the selection panel for this important award that reminds everyone of the importance of seismic safety, and the need for Caltrans and its transportation partners to be vigilant of the greatest threat to our State's transportation assets.
The original Schuyler Heim bridge, in the city of Long Beach on State Route 47, was built in 1945. One of only three bridges that connects the mainland with Terminal Island in the Ports of Long Beach and Los Angeles, this bridge is a vital transportation link.
A seismic analysis of the bridge condition found it to be structurally and functionally deficient, and replacement was recommended.
The new Schuyler Heim Bridge is a cast-in-place prestressed concrete bridge, 4,970 feet long between abutments, including State Route 103 on and off ramps. It includes a seven-frame main bridge, on and off ramps at New Dock Street on Terminal Island, and on and off ramps at the north end of the main bridge at SR 103.
The project also included six MSE retaining walls and one Type 1 cantilever wall. The substructure consists of four and five column bents supported on Type 2 large diameter shafts. It is important to note that this bridge is the last structure in the Caltrans Phase 2 Retrofit Program. Work on the span should be substantially finished by mid-2020, when the superstructure work will be completed and the southbound side reopens for traffic.
---
Two Caltrans communications teams recently were honored for their public information work by the American Association of State Highway and Transportation Officials Committee on Transportation Communications (TransComm).
"At Caltrans, we are dedicated to public service, and these TransComm awards show that we not only work hard to get our job done, but we work hard to let the public know what we're doing," said Caltrans Director Laurie Berman.
TransComm recognized Caltrans for:
The June 2017 issue of the Caltrans Mile Marker (PDF) magazine that explains Senate Bill 1, the Road Repair and Accountability Act of 2017.
Caltrans' crisis management communication during the devastating Montecito flood and mudslide in January 2018 that buried a portion of U.S. Highway 101 under 12 feet of mud and debris for 12 days.

Caltrans District 5 public information officers Susana Cruz and Jim Shivers were honored for their work during intense weather-related events along the Central Coast.

Courtesy of Jim Shivers

Caltrans' photo of U.S. Highway 101 showing the highway before and after Caltrans and its contractor cleared the road and opened it to traffic. Caltrans News Flash #162 shows what went into cleaning and reopening the highway.
Caltrans District 5 public information officers Susana Cruz and Jim Shivers also were recognized for their outstanding public communications during the period of intense weather-related events along the Central Coast.
Between February 2017 and January 2018, the region experienced the failure of the Pfeiffer Canyon Bridge, slides at Mud Creek that wiped out a section of U.S. 101, the Thomas Fire, and the subsequent Montecito flood and mudslide that smothered 101.
The state transportation system that serves the Central Coast was severely damaged, and the events imposed tremendous emotional and economic hardships on communities there. Cruz and Shivers were Caltrans' reassuring and knowledgeable public faces during those catastrophic events.
The Mile Marker staff produced a comprehensive look at the landmark transportation funding law despite the passage of SB 1 late in the magazine's production cycle. Editor Steve Breen, graphic designer Daniel DeFoe, and then-staff writer Gary Chazen worked on the issue.
The Spirit of TransComm Award recognizes nonmanagerial state transportation communications staff for their professionalism, expertise in their specialization, and positive effects on identified audiences. TransComm is made up of public affairs professionals from the 50 states, Puerto Rico and the District of Columbia.