CA Truck Network Maps
CA Truck Network Maps
The color-coded "California Truck Network Map" for State highways is the official government source for truck route information. There are many private truck route guides, e.g., the Rand McNally Motor Carrier Atlas and various GPS systems. However, the accuracy of those private guides cannot be guaranteed, and must be verified by consulting the official "Caltrans Truck Network Map." The table at the bottom of the page shows which color routes on the map your truck may legally travel on.
District Maps (PDF): 1, 2, 3, 4, 5, 6, 7, 8, 9, 10, 11, 12
All Maps (1 - 12)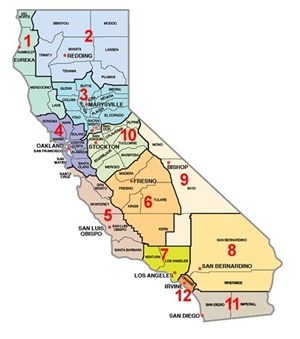 ROUTE COLORS
ROUTE TYPE
SIGNS
"GREEN" STAA TRUCKS
"BLACK" CALIFORNIA LEGAL TRUCKS

Green
Primarily
interstates
None
YES
YES

Blue
State routes
YES
YES

Black-Dashed
State routes
Usually none
NO
YES

Yellow
(KPRA Advisory Routes)
State routes
NO

YES -- However, we advise you not to travel on an advisory route unless your KPRA is no more than the posted length, which is 30 feet on most routes.


Red
Varies
Example:

The restriction may or may not apply to you.
Read the restriction on the map
to determine whether it applies.
See also the Special Route Restrictions.