Director's Corner
Director's Corner
Together, we are navigating challenging times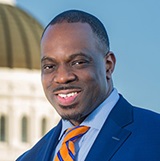 Greetings, Team Caltrans. Welcome to the latest issue of our departmental newsletter, CT News. We hope you enjoy it and that it brings a bright distraction into your lives during these challenging times.
Some of the challenges we face at work are quite daunting. The COVID-19 pandemic, as you well know, made a dispiriting comeback and is the cause of much sorrow, division and, among some of us, anger. As Caltrans workers, we continue to navigate this fraught situation as best we can, taking precautions to protect ourselves (with personal protective equipment, vigorous cleaning protocols, teleworking, etc.) while we accomplish all the things we need to do to keep our state's transportation network humming.
Wildfires have posed a huge challenge as well. Once again, our summer has been interrupted in a jarring way by fires' widespread damage and smoke. Our Maintenance crews continue to rise to the occasion. They are doing all they can to keep roadways open for residents who are forced to evacuate, and for emergency personnel who are trying to contain the wildfires and limit their destruction.
Some of you have dealt with the virus and wildfires on a personal level, forced to confront illness or hardships that can seem random and unfair. I find it heartening, but not at all surprising, that Caltrans employees have supported each other through such crises. We are fortunate to have each other and to work for a state that goes the extra mile in terms of providing time off, counseling and other services that render peace and security when we need it most.
Yes, these are formidable times. We at Caltrans are meeting the challenges, big and small, with a level of professionalism that is second to none. Thank you for all you do. Please stay safe and healthy.
Toks
P.S. Are you interested in reading more about what we are accomplishing at Caltrans? I encourage you to check out the latest issue of our Mile Marker magazine and learn how we are promoting equity, protecting wildlife, and planning for a more-sustainable future, among many other things. Mile Marker is available online.