Hats Off
Caltrans help clean roadway 'without gripe'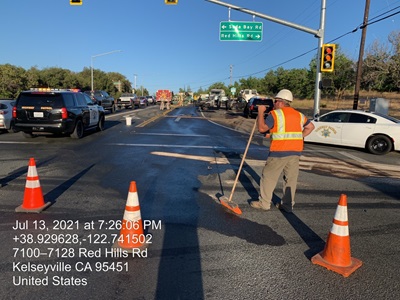 Note: Daniel Fansler of the California Highway Patrol on July 14 passed along compliments made by other CHP officers regarding a July 13 collaboration with Caltrans Maintenance workers.
I wanted to pass on that your crew over here in Lake County did an excellent job assisting us with a Hazmat spill [of diesel fuel and gasoline] on State Route 29 at Kits Corner in Kelseyville yesterday. If there's a way to give them an "atta boy" as an agency, we highly recommend it. Thanks again. Read (the following email sent within the CHP by CHP officer Adam Garcia):
Last night the hazmat spill was at Caltrans area border between Lakeport and Clearlake Oaks and after hours in hot weather. Rich Swaney and Mike Dugan's crews responded and worked to clear the state highway blockage, which was extensive.
During the time out there, all of the crew members held a positive attitude and worked to safely clear the roads. Joe Woodward was also on scene as Hazmat specialist and coordinated a sweeper truck from Ukiah which greatly sped up the clean up process.
These gentlemen and their crews deserve an "atta boy" for the work they did and always doing what needs to be done without gripe or complaint.