Health & Safety
Improve how your face mask protects you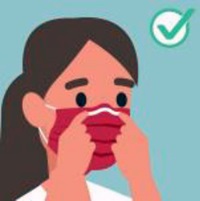 Note: The following story was submitted by the Office of Employee Health and Safety.
Not all face masks are created equal. The CDC has issued recommendations based on multiple recent studies that show how layering a cloth face covering can offer additional protection.
Cloth masks and surgical masks that do not fit properly have reduced effectiveness in protecting you and others against COVID-19, because air can leak around their edges, especially through the side gaps. In addition, cloth face coverings made from thin layers of fabric often do not provide high enough filtration on their own, reducing your protection against COVID-19.
The effectiveness of cloth and surgical masks can be improved by verifying they are well fitted to the contours of the face to prevent leakage of air around the masks' edges. Here are some tips to increase the protection factor of your mask:
Choose a mask with a nose wire along the top strip of the mask. The nose wire can be bent over your nose to fit close to your face and may help with air leakage out the top of the mask.
Wear a mask brace or mask fitter. Mask fitters can be purchased online and DIY mask braces can be made from simple items around the house (rubber bands, elastic, or even by placing a sleeve made from sheer nylon hosiery around the neck and pulling it up over the mouth and nose.
Knotting the ear loops of a medical procedure mask where they attach to the mask's edges and then tucking in and flattening the extra material close to the face (knotted and tucked masks).
Check for fit. Check for air leakage by cupping your hands around the outside edges of the mask. Make sure no air is flowing from the top or sides.
Hold up your cloth face covering in front of a light or bright window and place your hand between the light and your mask. I f you can see your hand between the fabric fibers your mask protection factor can be improved.
Do not combine two surgical masks as this will not improve fit.
Do not combine a KN95 mask with any other mask. Only use one at a time.
The Caltrans Warehouse has cloth face masks and KN95 masks available for order. Please work directly with your Supervisor to obtain additional masks and PPE as necessary. As a reminder, prior to using a KN95, N95 or higher respirator, you must complete the Voluntary Use Acknowledgement form, review the manufacturing instructions for the specific model you are using and know how to perform a user seal check.