Director's Corner
Director's Corner
We celebrate our diversity and inclusivity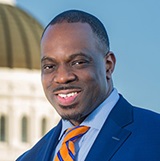 Greetings, Team Caltrans. I would like to take this opportunity to revisit two very important celebrations we recently engaged in: Black History Month (BHM) in February, and Women's History Month (WHM) in March.
First proposed by scholar Carter G. Woodson in 1926, BHM last year was proclaimed by Gov. Gavin Newsom to be observed and celebrated by state employees every February. Here at Caltrans, our Office of Civil Rights oversaw a robust and varied schedule of speakers and other presentations about the rich history and vital contributions of African Americans.
All those BHM events are available for archival viewing online, as is a spirited short video by our Office of Civil Rights executive team. If you have not done so already, I also encourage you to watch the BHM introductory video that features several Caltrans employees.
WHM has been observed since 1987, and recognizes women's contributions to history, society, politics and culture. Here at Caltrans, we took the opportunity this year to celebrate women's contributions within our own field of transportation. Again, the month's speakers and other presentations are available online, as is my WHM introductory video.
To name a few other tributes, in May we celebrate Asian Pacific Islanders Month, as well as Jewish American Heritage Month. June is Lesbian, Gay, Bisexual, Transgender and Queer Month. October brings National Diversity Employment Awareness Month, followed in November by American Indian Heritage Month. Throughout every year are months and days that pay tribute to many other peoples and aspects of our kaleidoscopic civilization.
The Equal Employment Opportunity Program (EEOP) plays an important role in all these issues. Learn more about that program on its webpage, which you can reach via Caltrans' onramp.
Of course, the spirit of acceptance and inclusivity that these celebrations spotlight is something we want to embrace year-round. Let us respect and honor what we all bring to the workplace – our cultures, our histories, our beliefs and our experiences. We are indeed a team, and to be the best team we can be, we must all work together, efficiently and enthusiastically, without prejudice and with sincere and complete openness to others.
Meanwhile, please continue to do all you can to stay healthy during the ongoing pandemic. Follow the recommended safety protocols, get vaccinated if you can, and keep doing wonderful work. Together, we will get through this challenging time and emerge stronger than ever.