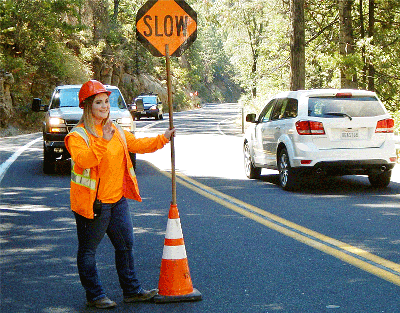 Editor's Note: The story and photo below were reprinted with permission from the Calaveras Enterprise.
By Dakota Morlan
Calaveras Enterprise
Construction flagger Kharli Robertson likes to believe that she adds a bit of joy to people's lives during their daily commute, and because of that, there is no other job she would rather do.
"I feel like having a positive attitude encourages others around you to do the same," she says. "No matter where you are, positivity follows."
Leaning on her "stop"/"slow" sign, Robertson, 21, stands at her usual post on Highway 4 near Calaveras Big Trees State Park. The construction site is fairly major, with a half-mile of road restricted to one lane. It runs alongside a concrete retaining wall on Big Tree Creek that workers are racing to complete before winter sets in. Local drivers have spent two consecutive summers jammed up by this project, and today, the line is as long as always, with cars quickly accumulating to stretch all the way around the bend.
Considering the length and impact of the project, Caltrans District 10 public information officer Warren Alford says he expected to receive more complaints. But, in reality, he has observed quite the opposite reaction.
As Robertson gets the OK on her radio to let her line of vehicles through, it isn't difficult to see why that is the case. Her smile is genuine, and she takes the time to wave at each individual car as it passes, missing no one. Most of the drivers return the gesture, and some even slow down to wave back.
"They're so used to me waving that if I forget, they get upset," Robertson says with a laugh.
It seems that, to many, the friendly flagger has become an expected and cherished part of their day. At least once a week, Robertson receives gifts from passing cars — usually snacks or ice cream and the occasional Starbucks gift card.
"There's one couple that brings me a Mountain Dew every day," Robertson says.
She has also been visited by the local wildlife, though some of her run-ins with cougars and bears have been too close for comfort. Undoubtedly, though, her favorite part of her job is interacting with people, many of whom she says are now almost "like family."
"A lot of people will call me over to their car, or jump out and talk with me," she says. "They tell me about their problems sometimes, and they say, 'You just really enjoy your job, don't you?'"
Robertson does enjoy her job, and she believes there is merit in that. After growing up in Valley Springs and graduating from Calaveras High School, she left Southwestern Oregon Community College three years ago and returned home to help out her uncle, Dan Emerson, on a construction project near Mokelumne Hill. Robertson soon found that she loved flagging, and she's never looked back.
"My wife flagged for us before, so she taught Kharli how to smile and that she is the face of the company," says Emerson, vice president of San Andreas-based K.W. Emerson, Inc., which was contracted by Caltrans to complete the project on Big Tree Creek. "But a lot of it is just Kharli's personality," he adds. "She's just a very pleasant person."
Emerson enjoys working with family and employs a number of relatives. Although his 60-employee company has done projects all over the country, he prefers working close to home.
The retaining wall on Big Tree Creek, once finished, will protect the integrity and water quality of the creek that Emerson grew up fishing on.
Great efforts are also being made to preserve the natural beauty of the creek and the roadside. The concrete wall facing the creek will feature rock-shaped embossments, and the guard rail alongside the road will be stamped and stained to resemble real timber.
"I love our county, and I want it to look good," Emerson says. "That part, I'm really proud of."
Robertson, too, takes pride in the role that she has played in completing the project.
"It's pretty neat to think that it's something that I can show my kids one day," she says. "I can tell them their great-aunt and uncle's company built it, and I stood in that spot and helped keep the public safe and happy."