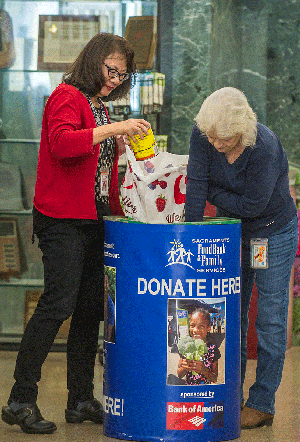 By Matt Rosenberg
Caltrans Headquarters Public Information Officer
As the holiday season approaches, various districts and divisions within Caltrans are giving back to their communities through fundraisers and other special events.
In the north in District 2, the Caltrans staff are participating in their annual Angel Tree fundraiser for needy children through the Salvation Army, and they are doing a special tree fundraiser for the employees who lost their homes during the Carr Fire in August.
District 3 launched its annual Give-A-Yam fundraiser to benefit the Yuba-Sutter chapter of the Salvation Army and other local charities. Each division collects food and raises money through special activities, including a popular food court at the district office. For the 19th consecutive year, employees are also participating in the annual Christmas Angel Tree Program for needy children. During the past decade, District 3 employees have donated nearly $157,000 to local charities.
In the Inland Empire, District 8 staff are working on their annual Stuff-a-Truck Toy Drive in cooperation with Spark of Love. This year the district is supporting Caltrans' California Highway Patrol (CHP) partners through CHiPs for Kids. Public affairs staff are participating in the drive, collecting toys for kids and items for teens. The team decorated plastic holiday hard hats and converted them into piggy banks to collect donations for gifts. Each deputy district director's desk has a hard hat for donations. The team also decorated holiday cones (Santa, Rudolph, a Christmas tree and a snowman) for the Maintenance region offices to encourage them to donate. In early November, the district held a bake sale and raised more than $600, with all proceeds going toward the drive. Additional events, such as Spark of Love and CHiPs for Kids, will have a corresponding radio and TV broadcast when Caltrans drops of the donated toys and teen items.
Headquarters is participating in the annual State Employees Food Drive. This year's statewide goal is to surpass last year's generous donation of 792,301 pounds and reach at least 800,000 pounds for food donated to food banks throughout the state. Caltrans Headquarters will continue its partnership with Sacramento Food Bank & Family Services to collect food in bins in its N and O street lobbies at 1120 N Street in Sacramento until Jan. 11.