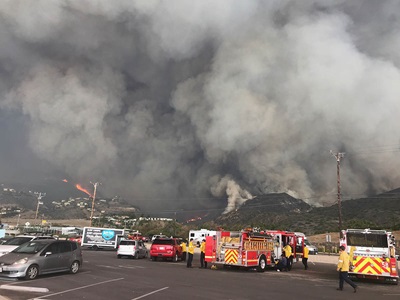 By Jim Medina
Caltrans District 7 Public Information Officer
With a lull in the Santa Ana winds that fanned flames across southern California, Caltrans District 7 maintenance and engineering crews raced to assess highway damages on the third day of the devastating Woolsey and Hill fires in Los Angeles and Ventura counties.
U.S. Highway 101 and Pacific Coast Highway — vital travel corridors to and from Los Angeles — were shut down as fire raged across the Santa Monica Mountains toward the Pacific Ocean, destroying hundreds of homes, buildings, power lines, vehicles and equipment. Residents were ordered to evacuate in many communities, including Malibu.
Amid the chaos, Caltrans scrambled to support numerous local and state agencies by coordinating road closures, identifying problem spots, and publicizing the latest information — constantly tweeting updates, maps and photos. To gauge the devastation, District 7 Director John Bulinski surveyed the burn areas in a helicopter flyover with fire officials.
"It was gut-wrenching to see the vast scope of environmental and economic damage," said Bulinski. "The emotional toll on residents is unimaginable. I'm proud Caltrans District 7 workers responded with professional expertise to ensure public safety."
By Nov. 21 the damages were devastating.
The Woolsey Fire started at 2:24 p.m. Nov. 8. It claimed three lives, injured three firefighters, burned nearly 97,000 acres from south of Simi Valley to Malibu, destroyed more than 1,600 structures and damaged nearly 400 more before it was fully contained.
The Hill Fire started at 2:03 p.m. Nov. 8. It burned 4,500 acres, destroyed four structures and damaged another two in eastern Camarillo and Newbury Park before it was fully contained on Nov. 16.
Smaller brush fires during the same period were quickly contained, including a 30-acre fire near the Los Angeles Zoo in Griffith Park and 186-acre fire near Rocky Peak Road in Simi Valley.
The fires hit as local authorities and residents were reeling from a mass shooting on Nov. 8 at the Borderline Bar & Grill in Thousand Oaks, where a gunman killed 12 people — including Ventura County Sheriff's Sgt. Ron Helus — before turning the gun on himself. Less than 24 hours after that tragic event, a United Command Center was set up at Conejo Creek South Park in Thousand Oaks, where authorities used high-tech equipment to coordinate fire response. Multiple fire and law enforcement agencies operated out of their respective mobile command trailers, positioned in a tight formation for optimum communication.
On Nov. 10, a huge plume of smoke over the nearby Santa Monica Mountains signaled the severity of the disaster. From the far side of the range on the closed Pacific Coast Highway, Maintenance Deputy District 7 Director Deborah Wong surveyed the deserted area for damage, took photos and texted information to her maintenance crew, including a few team members at the United Command Center. Among those was Bob Best, a maintenance supervisor, who stopped by to check in with crew members — who maintained a behind-the-scenes presence among first responders, elected officials and news media. The only give-away was their bright Caltrans orange vests.
Caltrans District 7 maintenance crews were literally working around the clock, prompting Wong to send this text message after 11:30 p.m. on Nov. 9 when Hugo Guzman, a regional maintenance engineer, reported he was leaving the Ventura County Sheriff's emergency operating center: "Drive safely, Hugo. I know you're tired."
On Nov. 13, the Santa Ana winds — blowing as much as 50 miles per hour when the fires broke out — seemed to be subsiding.
At Camarillo Airport, a massive Fire Camp — packed with hundreds of fire trucks, dozens of high-tech trailers, portable meeting tents, various food trucks and exhausted firefighters — was the hub of critical planning, with briefings on how to repopulate evacuated communities.
Gathered around a giant map of the burn areas, fire officials were joined by Caltrans District 7, Southern California Edison, California Highway Patrol, Southern California Gas Company, National Park Service and other agencies to tackle the logistical and safety challenges of reopening roads, highways and communities. At that point, full containment of the Woolsey Fire was still a week away.
With losses from the Woolsey and Hill fires still undetermined, a portion of Route 23 in the now-barren Santa Monica Mountains remains closed to Pacific Coast Highway as of Nov. 26 — with upcoming rains raising the threat of mudslides on highways along canyons. Ever vigilant, Caltrans will respond to any problems that arise.