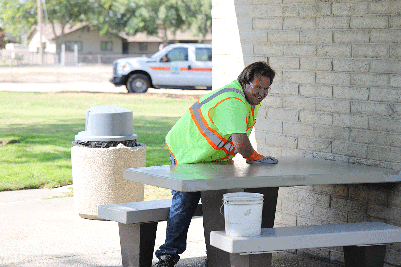 By Maria Rocha
Caltrans District 10 Public Information Officer
Spotless bathrooms and lush landscaping offer an oasis for the traveling public at District 10's Turlock and Westley rest stops, thanks to crews from the Howard Training Center, a Caltrans partner for more than two decades.
For the many ways the Howard Training Center (HTC) creates opportunities for adults with disabilities, it has been named a 2018 California Nonprofit of the Year by State Sen. Tom Berryhill of Modesto.
Crews of disabled individuals take care of these rest stops, inside and out, and interact with the public. Sam Howe, Caltrans lead worker over rest areas on Interstate 5 and State Route 99, says the training center crews do a great job. "They are very reliable. They are my eyes and ears out there," said Howe.
The workers contact Howe if repairs are needed or if they find valuables, such as a wallet. Training center worker Jason Loucks remembers discovering a curious object in the bathroom one day. He guessed it might be a key and was about to deliver it to his supervisor.
"A guy came up looking everywhere. It was his $800 Tesla key," Loucks said with a laugh.
Loucks' favorite task is cleaning the parking lot, where he sweeps up sand and picks up litter and cigarette butts. He also tends lawns, trees and flowers.
Training center worker Dustin Benge also prefers outdoor assignments, such as mowing and edging. He likes keeping the rest area tidy for the public. "When we get compliments, it feels good," Benge said.
"HTC has performed outstanding work by scheduling and training their employees to keep the rest areas in a clean and acceptable appearance," said John Holcomb, Caltrans maintenance area superintendent and contracts and facilities manager. "This work experience also allows these employees to seek other forms of work in the areas where they live."
Carla Strong, HTC executive director, says the service contract is rewarding for her clients. "They love what they do. They are proud of what they do," Strong added. "They get a real sense of self-worth from doing these jobs."
In June, Strong and board president JoAnne Mooney attended an awards ceremony at the state Capitol.
"This is truly an honor for our entire organization," Strong said. She hopes that the award brings positive press that may help HTC win more service contracts, but she said there's been an immediate payoff as well. "For the staff, this has been a tremendous boost to everyone here."
HTC rest stop worker Lynette Alicea, who specializes in bathroom cleaning, was happy to hear about the award, too. "That means they appreciate what we do," she said. "It makes me feel good when people say thanks. We know we're doing our job."