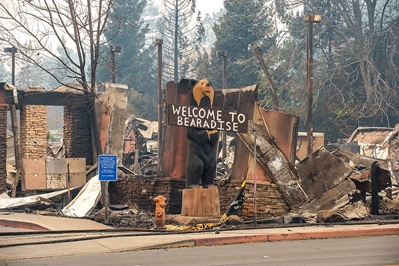 By Gilbert Mohtes-Chan
Caltrans District 3 Public Information Officer
Thick, dark smoke enveloped a rural stretch of State Route 70, stinging eyes and burning lungs of firefighters and other first responders answering the call to the fast-moving Camp Fire in Butte County.
"It was dark. The smoke was thick. You could see the ash falling. We could see the flames," said Caltrans District 3 Safety Officer Rachel Mcclelland.
Amid this chaos, Mcclelland pressed on, distributing bottled water, safety vests, lip balm, eye moisturizers and other supplies to Caltrans employees and first responders at the scene.
"Some of them lost their homes but they were still working out there," said Mcclelland, who worked 12-hour shifts staffing the District 3 Safety Van during the first week of the conflagration.
Mcclelland was part of a North Region team that responded to the massive Camp Fire. Caltrans crews handled everything from working several state highway closures to assessing infrastructure damage.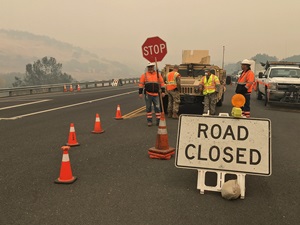 The state's deadliest and most destructive wildfire took a personal toll on dozens of Caltrans employees who were forced to evacuate. Nearly two dozen lost homes.
It was 6:29 a.m. on a dry, windy morning when the Camp Fire erupted Nov. 8 near Pulga, a Gold Rush-era Sierra foothills community tucked away on the west slope of the Feather River Canyon. The rural town hosts a Caltrans maintenance station along State Route 70.
Driven by fierce 50-mph winds, the fire spread quickly and roared through the town of Paradise, eventually charring more than 153,000 acres stretching from Chico in the west to the Feather River Canyon in the east.
To date, the fire has killed 85 people and destroyed more than 13,500 residences, 528 commercial buildings and 4,300 other structures. At the height, more than 52,000 people were evacuated from Paradise and other foothill communities, including Pulga, Magalia, Concow, Chico and Park Hill. Some 5,600 firefighters battled the devastating fire.
"The chaos and destruction caused by the Camp Fire left us in shock," said Amarjeet S. Benipal, Caltrans District 3 North Region Director. "Sadly, 23 Caltrans employees lost their homes in the wildfire. It was so gratifying to see how our Caltrans family rallied to assist the fire victims in their time of need."
About 45 Caltrans employees and their family members evacuated to nearby shelters or homes of friends and relatives. Former District 3 Director and Paradise Mayor Jody Jones, who retired from the Department in 2014, lost her home and found refuge in her family motorhome.
For Caltrans crews at the scene, the widespread devastation seemed surreal.
"It's hard to wrap your head around it. You see whole neighborhoods gone," Mcclelland said. She noted the cruel irony of the fire's destructive path. "You would see a house gone, but then you would see the Zen garden was left (unscathed)."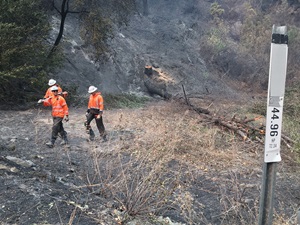 Soon after the flames moved on, a cadre of Caltrans engineers fanned out to inspect bridges, survey damage to guardrails, culverts and signs and red tagged scorched trees in danger of falling on the roadway. A Director's Order for emergency work was prepared to remove charred trees, replace damaged guardrail, signs and traffic signals and clear culverts. Caltrans took erosion control measures, such as hydroseeding and straw wattle placement, to prevent landslides. State Routes 70 and 191 experienced the bulk of the damage and repairs.
"We were fortunate not to have major roadway damage from the fire," Benipal said. "Our construction, maintenance engineering and maintenance crews worked quickly to get the repair and tree removal work done to make the roadway safe for vehicle traffic again."
The Caltrans Safety Van worked around the clock soon after the Camp Fire started and traveled throughout the fire zone for a week. Safety officers furnished personal protection gear for Caltrans employees, masks and water to first responders and shuttled CAL FIRE-supplied hour meals to crews.
The safety team also rescued and fed homeless pets along the way. In addition, they offered emotional support to overtaxed emergency workers, some of whom lost their homes.
"I am at a loss for words," one District 3 employee said about the destruction and losing his home.
"At first they were in shock. They were grateful to be alive," said Sue Garibay, District 3 facilities manager who joined the safety team at the fire. "They are determined to put a plan together to recover as a family and as individuals."