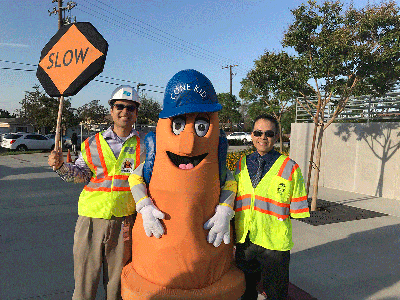 By Cuong P. Trinh
Caltrans District 8 Associate Transportation Planner
Every year worldwide, children lace up their sneakers and celebrate International Walk to School Day. This year, Rancho Cucamonga and Los Amigos Elementary School staff recruited parent volunteers, firefighters, county sheriff's deputies and equestrian units and elected officials to walk kids to school on Oct. 10. The result: two "walking" school buses and hundreds of happy kids arriving at school, greeted by the Caltrans District 8 "Cone Kid" mascot.
Headquarters Division of Transportation Planning challenged each district office to host events promoting "Walktober," a month-long health challenge in October to walk more. Caltrans District 8 partnered with Rancho Cucamonga Safe Routes to School Coordinator Justine Garcia to participate in Walk to School Day. System Planning and Traffic Forecasting unit senior Rena Tang, Landscape Associate Reyna Baeza-Oregel and Transportation Planner Stephanie Gallegos hopped aboard and hatched a plan to bring the Caltrans Cone Kid to school.
Los Amigos Elementary School is in the southwest corner of the Rancho Cucamonga, bordering the cities of Ontario and Upland. The school teaches more than 500 students from Rancho Cucamonga, as well as a portion of Ontario on both sides of Interstate 10, near Ontario International Airport. There are no school bus routes serving Los Amigos Elementary, so students must walk, bike, scooter or be driven. Given those logistics, it was a natural fit for Caltrans to partner up with the city, Cucamonga School District and community in their annual Walk to School Day event.
For many adults, walking to school, "uphill" both ways, was an activity and a rite of passage when growing up, but in the present day has become a rarity. Walk to School Day promotes active transportation, eases vehicular use and congestion near neighborhood schools, and improves air quality. According to a survey from the Safe Routes to School National Partnership, only 14 percent of schoolchildren walk to school and those who walk or bike to school are more cardiovascular fit than their peers. More than 5,100 schools nationwide registered on the Walk and Bike to School website to participate in the annual event, which was started in 1997 to celebrate health and safety, as well as improve transportation options across communities.
Cone Kid was a hit with the kids and parents, as well as the county sheriff's equestrian units, and reaffirmed Caltrans' commitment to our mission, vision, goals and values. As two of our goals: Safety and Health, and Sustainability, Livability and Economy, it is our role to promote active transportation, as well as make long-lasting, smart mobility decisions that improve the environment … and build communities.