Hats Off
Hats Off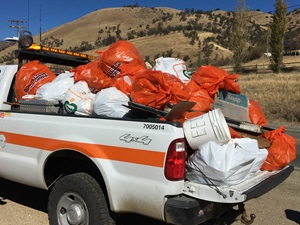 Editor's Note: Kathy Underwood emailed Caltrans District 9 Adopt-A-Highway Coordinator Tom Scott about State Route 202 out of Tehachapi. She said that narrow highway hadn't been picked up in years, was an embarrassment to the community, and she wanted to know what could be done about it.
Scott worked with Underwood for several weeks, got closure permits, a detour and sponsors for the highway to safely clean it up. Afterward, Underwood sent the following email:
I just wanted to let you know that Caltrans and the police had the 202 closed off last weekend and they have mowed and cleared trash all along the 202.
Thank you, Thank you, Thank you for your help in this!!! I just got home from a week away and it was so nice to drive home and not see all that trash.
Thank you again for all your help.
Kathy Underwood
---
Editor's Note: This letter was submitted and printed in the Nov. 20, 2017 edition of the Napa Valley Register and reprinted with permission from the newspaper.
Here's a special thank you for the generosity extended to those working the fires based at the Sonoma County Fairgrounds: the Tubbs Fire, the Oakmont Fire, which later became part of the Nuns Fire, and the Pocket Fire.
Agencies working the fires in both Napa and Sonoma counties were: CalFire, California Department of Corrections and Rehabilitation, Cal-DES, California Conservation Corps, US Forest Service, Bureau of Land Management, Pacific Gas and Electric, California Highway Patrol, Caltrans, California National Guard, local county fire and sheriff's departments. These organizations work in tandem like a well-oiled machine.
Many residents and businesses from Napa and Sonoma counties, while suffering overwhelming devastation as a result of the fires, showed their appreciation by providing coffee, Danishes and doughnuts. Others provided pork, chicken and beef burritos, tacos, hamburgers, pizzas, special juices, cookies, brownies, cupcakes and the list goes on and on. The food was delicious and the kindness from their hearts was amazing. If you went into town for a meal, often times you couldn't pay for it as the owner would pay for it or a member of the community would.
One specific donation stands out; a group of ladies from the Reno, Nevada area baked cookies and drove to the Sonoma County Fairgrounds with their cookies. Thank you.
Each day, chiropractors and masseuses would be available 12 hours a day, donating their time. They sure untied a lot of knots, which was greatly appreciated. A few people even brought in their dogs for petting, which had a very relaxing effect on those based at the Sonoma Fairgrounds in Santa Rosa.
When the day shift of fire trucks would leave the fairgrounds in the morning, they were greeted by hundreds of people waving, holding signs and banners. These signs would say things like: "Thank You First Responders," "We Love You," "You Saved Us," "Thank You," "Sonoma is Strong," etc. The banners would be on fences saying things like: "Thank you; we love you," etc. This was their way of showing their gratitude and support for all of the firefighters and first responders.
We have experienced community gratitude, but not in such an overwhelming magnitude. We have not seen such devastation such as this either.
The community was not doing these things because they thought we needed them; the community did this because of overwhelming gratitude and this was their way of giving back.
Stay strong, Napa and Sonoma counties.
---
Caltrans District 7 received this note from the faculty and students of The Thacher School private boarding school in Ventura County. Caltrans staff called the school to ask about the note. Sarah Edwardson answered and said at one point the school was surrounded by the Thomas Fire, which was dangerously close. She said the students and faculty were extremely grateful and appreciated Caltrans' work to protect them during the fire and repair the highways afterward.
Caltrans maintains state routes 33 and 150, which are the main entry and exit for this community in Ojai. Caltrans cleared debris, brush and large rocks from the highways.
---
I wanted to take a moment and recognize the great partner Caltrans has been to the American Red Cross, and to acknowledge a stellar employee you have within your upper management ranks: Danial Peck. Caltrans District 6 Information Technology Chief Peck brings great comfort to those he serves here on our local Central Valley Chapter Team and is a great Caltrans representative to help when disaster strikes.
Danial Peck has served as our Feeding Crew Master since the Junction Fire in 2014. Caltrans has allowed him to support our local Red Cross team in more than 20 major disasters in the Madera, Mariposa, Merced and Fresno counties since that initial disaster back in 2014, including this year's major wildfire (Detwiller) in Mariposa County that took more than 30 homes and a lot of Peck's valuable time.
To give you a better perspective of the kind of Caltrans representative you have supporting your community, Danial oversees our Feeding Crew and coordinates all our feeding efforts during a disaster. Just this year alone, Danial and his crew served more than 2,000 meals.
In what we call "blue sky times" (non-disaster response), Danial has been a great volunteer and partner, helping to secure response trailer space in one of Caltrans' local yards. Thank you. This helps the Red Cross keep supplies close to disaster areas and quickens our response time when a disaster breaks.
I also want to give Caltrans a special thank you. Thank you for allowing Danial to respond to disasters when we need him and thank you for allowing him time off to do this. Danial does not just take care of our clients in the shelter or feed the volunteers healthy meals with compassion, but his management skills are invaluable to our team. Thank you for training such an incredible employee, who can not only use his skills to do work for you, but take those skills outside the work place and use them for others when disaster strikes.
So that is why I wanted to send you this letter of acknowledgment, to not just recognize Danial Peck, but to also acknowledge Caltrans for being an incredible partner.
Please acknowledge Danial Peck for his incredible Caltrans volunteer efforts and thank him for being such a wonderful example of a skilled and compassionate Caltrans employee.
Katrina Poitras
Red Cross Disaster Program Manager
---
As the snow has returned to South Lake Tahoe for a time, I am reminded what a great job our city of South Lake Tahoe snow removal crew and Caltrans crews do to keep our roads and highways open for those of us who live here and those persons who want to visit us.
I congratulate Caltrans and city public works crews for the job they are doing for us during snow conditions. They perform a great service and essential transportation and safety functions for our community. Hopefully, we will experience more snow events and keep them busy and our community prosperous.
Thank you to all snow crew members!
David Jinkens
South Lake Tahoe
---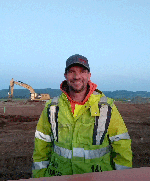 I am the band director of McQueen High School in Reno, Nevada. On Saturday night, I was in a large van with students, returning to Reno from a winter guard contest at Elk Grove High School, just south of Sacramento.
As we approached the chain control area, I pulled over and asked a person with a Bib number to install chains on our van. This was a middle aged gentleman with a grayish beard and a Toyota truck. I paid him $30 to install our chains. It turned out, we were about a mile before the chain control station.
As soon as we pulled away, it was very apparent something was wrong. As we approached 20 miles an hour, the chains were making very loud sound, as if they were hitting the van, as they rotated on the tires.
After stopping to check on the chains twice, we approached the chain control station. Another person was on the side of the road installing chains. His name was Steve Robinette. He examined the chains and found they had been installed incorrectly.
Even though he was very busy, he visited with Caltrans Highway Maintenance Worker Erik Krepper at the chain control station. Krepper took time out of his own busy schedule and also looked at our chains. He called his supervisor, Caltrans Equipment Operator II Denise McIntire. When she arrived, she got on the ground, in the snow and ice, and said the way the chains were installed, would eventually cut through the brake lines.
McIntire and Robinette were so amazingly helpful. Robinette, took a brand new set of chains out of his truck. He installed them on our van and did not charge us anything. He said he felt bad that another person had installed chains on our van incorrectly.
I must give the highest praise to McIntire, Krepper and Robinette. As someone who is over 65 and transporting students, I am NOT an expert on chaining up vehicles.
McIntire, Krepper and Robinette went WAY above the expected and helped out myself and a bunch of high school students, who were in a difficult situation. A HUGE thank you to McIntire, Krepper and Robinette for their wonderful help to get us home.
Rick Moffit
McQueen High School Band Director
Reno, NV
---
Getting projects off the ground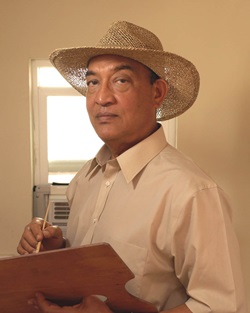 I would like to thank you [Caltrans Airport Engineer Danny Uppal] personally for your professional support over the last several years with the county's various projects. As you are aware, Lassen County has limited staff resources available for project development and implementation. Your assistance has been much appreciated and helped to move much needed improvement projects along to completion.
Peter C. Heimbigner
Lassen County Public Works Deputy Director
---
I just wanted to say THANK YOU for all your hard work! I see you cleaning roadways and clearing overgrowth all the time and it REALLY makes a difference! Please know that I value what you do and your work is incredibly appreciated!!!
The trees on the West El Camino Avenue exit were done a few weeks ago and have REALLY helped make that walking bridge over the freeway safer. Then just last week I saw a bunch of canned food and other garbage along the on-ramp at Garden Highway.
I swear, you guys were out there within a day and it was cleaned up completely by the end of the week. It really makes SUCH A DIFFERENCE!! It's such a dangerous job and I am truly grateful that you put yourselves at risk so that we all can enjoy safer more beautiful walk and roadways.
Lisa Keyson
Sacramento
---
Editor's Note: The senior community of Oak Crest Estates borders Interstate 15. Over the years, fires and vehicle collisions have damaged the wooden fence between the community and the interstate. The community requested a permanent masonry wall, which Caltrans recently built. The following is a letter of thanks from two Oak Crest Estates residents.
On behalf of 156 senior homeowners in our Stock Cooperative Community, please accept our sincere THANK YOU to each of you who facilitated our request for closure, safety, and peace of mind.
Our community of Oak Crest Estates borders the very busy Interstate 15. After many fires and vehicle collisions affecting the wooden temporary fence erected many years ago when building I-15, our seniors had become very disheartened as to the unresponsiveness, feeling unsafe and wondering what event was going to happen next.
We watched with great appreciation and anticipation as the permanent masonry wall was erected and now has been completed.
A thank you seems very casual; however, PLEASE know that each of you who had ANY part of the decision making process, even to the personnel spending time and energy in erecting the wall, we do appreciate your efforts, your thoughtfulness, and your energy and expertise in expediting our request. We feel much safer.
Again, thank you.
Elden and Renee Hansen
Oak Crest Estates, Inc
Fallbrook, San Diego County
---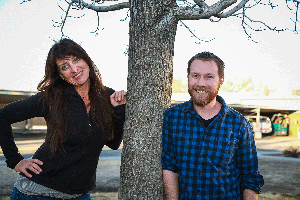 Editor's Note: Caltrans District 9 Biologist Trisha Moyer and Archeologist Trevor Pratt found an expensive ski jacket that had blown off the top of a car of two skiers traveling to Mammoth from Encinitas. After a little research, Moyer tracked down who the jacket's owner by the pocket contents, and returned it to its surprised and grateful owner. Here is their letter of thanks:
Matt Hansen and I (Jim Payne) carpooled together from my home in Encinitas to the San Diego Ski Club (SDSC) Chalet on Dec. 12, for a three-day race clinic. As is my usual custom, we stopped at the Subway Sandwich shop at Kramer Junction for something to eat and a brief rest stop along the way. We were quickly back on the highway hoping to get into Mammoth and the Footloose Ski Shop by 3:30 p.m. As we approached Lone Pine, I asked Matt if he could recognize Mount Whitney from the highway. He said he could, and that he had actually climbed it a few years ago. I told him that I too had hiked to the summit once with my Dad in 1965, and again 31 years later with my son, Clayton. Matt and I exchanged hiking stories, and I pulled into the Mount Whitney Visitor's Center so we could both check out the striking silhouette and match it to the outside display.
About that time, Matt realized he couldn't find his phone, so he looked under the seat, took his ski jacket out to check the pockets, and then placed it on the roof of my Honda CRV for the time being while we checked out the display. Upon returning to my car, he looked in the hidden drawer under the passenger seat, and sure enough there was his phone. Happy to have found his iPhone, we then started back up 395 toward Mammoth. When we were about to stop for gas between Independence and Bishop, he realized that he may have left his jacket on the roof. Sure enough, the jacket had evidently blown off the car and was nowhere to be found. He tried to call the Whitney Visitors Center, but no one answered…
I felt terrible because I was the one who suggested stopping to check out the Visitor's Center display, but Matt assured me that I was in no way responsible. Nevertheless, we were both pretty bummed, and it meant that he had to fork over some serious cash for a new ski jacket when we got to Footloose in Mammoth. All the other SDSC members at the Chalet were extremely sympathetic, but we all figured the jacket was lost for good. To make matters worse, Matt realized upon unpacking his stuff, that his jacket also contained his car keys and the keys to his condo in Del Mar.
About 3 p.m. the next afternoon before starting the last run of our lesson, Matt got a call on his moble phone near the top of Broadway. It was a kind lady named Tricia who worked for Caltrans. She explained that one of her coworkers, named Trevor had found Matt's jacket and all its contents and turned it in.
Using an expired Vail Ski Pass from last year that was still in the jacket, Trisha Moyer called Colorado, and after some negotiating she convinced them to at least give her Matt's phone number (for security reasons they wouldn't reveal his name). She called him on the slopes and when he described the contents to prove it was indeed his jacket, she offered to have her boyfriend, John, bring Matt's jacket up to Mammoth the next day!!! John is the facilities manager at the Village Lodge up there and had to be at work by 7 a.m. Needless to say, both Matt and I were thrilled. He got his jacket and all its contents back, and I no longer felt partly responsible for its loss in the first place.
There are indeed still some good Samaritans in this world today, and they live along Highway 395!!
---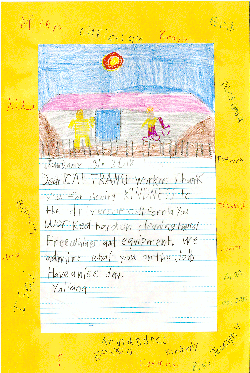 On behalf of Alvin Avenue Elementary School in Santa Maria, we would like to extend our gratitude to your organization for your assistance with the recent fires and mudslides in Santa Barbara County. We are incredibly grateful to your agency for the work you did and continue to do to keep our community and families safe.
This week, our school participated in the National Kindness Challenge. As part of our week, we asked students to choose an organization that provided assistance to our community during these events. Mrs. Lopez' second grade class, Ms. Caplener's fourth grade class, and Mrs. McConnell's Fourth Grade class chose to write letters to your organization. We are attaching some of those letters of gratitude and hope they express our appreciation for your efforts.
Thank you again for your work with not only the recent events, but for all the work you do to support our community!
Best,
Alvin Avenue Elementary School