Director's Corner
Director's Corner
Memorial's a reminder that we need to stress safety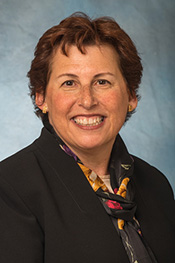 During the next month, Caltrans will honor the 188 employees killed on the job since 1921 at Workers Memorials up and down the state. These ceremonies pay tribute to fallen workers and highlight employee and motorist work zone safety during Caltrans Safety Awareness Week, strategically scheduled at the start of construction season.
This year, I will speak at the 2018 statewide Fallen Workers Memorial at 11 a.m. April 26 on the west steps of the State Capitol. We will pay special tribute to Bay Area District 4 Toll Collector Si Si Han, who was struck and killed by an alleged drunken box truck driver who crashed into her toll booth. We will also honor Structural Steel Painter Supervisor Annette Brooks, who was shot and killed on the job last year.
Safety is important for everyone, but I know how important it is for those working on the highways. I started as a junior civil engineer 34 years ago, moving around the state on rotations as I worked on the diverse jobs Caltrans does. I started working on hot Bakersfield highways during triple-digit weather, and rotated to bridge inspections in a snooper bucket hanging over mountain highways. What we do each day has its dangers and we must always be as vigilant as we can. This might mean drinking a lot of water in the heat or staying attentive as a spotter.
During the past year, Caltrans has not only been maintaining and operating the state transportation system, we have been responding to extreme weather events, moving 100,000 cubic yards of mud off of highways or putting the road back into place. Just last month, slides and floods closed highways in Districts 4, 5, 6, 7 and 10 and we monitored the Moccasin Creek dam in Tuolumne County for a potential failure with our partners at emergency operations centers throughout the state. These are the moments that Caltrans really steps up.
As Director, I will look for improved ways to keep motorists and employees safe, just as I did in the district with safety vans to keep highway workers equipped on the road, and the Wrong Way Driver Prevention Pilot. I was a fairly new District 11 Director when we had three fatalities in the same district within 48 days in May and June of 2011. That experience instilled my absolute devotion to continuous improvement of worker safety.
Safety must continue to be a constant priority at Caltrans as we deliver hundreds of Senate Bill 1 projects worth billions to repair bridges, pavement, culverts, and traffic management systems throughout the state.
I am dedicated to Caltrans' success, and as part of that, I have brought Ryan Chamberlain from District 12 to be the chief deputy director. My goal has always been to keep learning and to provide a safe transportation system for Californians, whether I was an inspector, designer or director. As we move into more construction and maintenance activities due to SB 1, I want you always to remember that safety begins with you.
Thank you for what you do for the people of California. I look forward to working with you and hope to see you at one of Caltrans' Workers Memorials. Also, be sure to tune into the next Director's Town Hall, which will be webcast live from San Luis Obispo on May 10 at 2 p.m.