Trophy Case
Trophy Case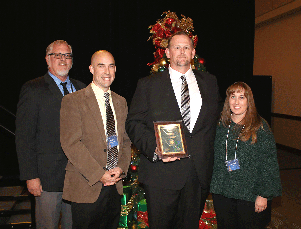 Riverside County's Department of Environmental Health awarded Caltrans District 8 Hazmat Manager William "Bill" Kerr their 'Doing The Right Thing' award.
This award is given to an outstanding individual who has gone above and beyond the call of duty to protect human health and the environment in their day-to-day activities. Kerr's dedication to "doing the right thing" while mitigating a hazmat incident, not only enhances safety for our Caltrans employees, but for the traveling public and the environment as well.
Kerr, a Caltrans Maintenance Area Superintendent, is one of two Hazardous Materials Managers trained at the hazardous materials specialist level who respond 24 hours a day to hazmat incidents in Riverside and San Bernardino counties. They respond to traffic collisions that result in fuel spills or hazardous chemical releases. Kerr works closely with the county hazmat responders, the California Highway Patrol and other allied agencies through the unified command system.
Congratulations to Bill Kerr for being recognized for his outstanding dedication to safety, teamwork and for 'Doing The Right Thing.'
---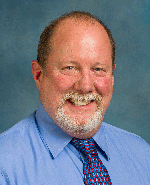 In November, Federal Transit Grants Chief Mark Codey received the 2017 Multistate Transit Technical Assistance Program's (MTAP) Outstanding Service Award for his longstanding, exceptional and consistent service to the program and its members.
"Mark has been a very active member of the MTAP Steering Committee. He is extraordinarily helpful in educating members on a range of federal and state issues, including the Transit Asset Management program," said MTAP Chair and New Mexico Department of Transportation Transit and Rail Director David Harris. "It is no surprise that Mark is a leader and mentor for MTAP, since Caltrans has led in dealing with major policy issues and program requirements."
As a steering committee member, Codey helps MTAP and AASHTO's state Department of Transportation transit office members maintain a strong relationship with the Federal Transit Administration. He also coordinates with the administration's transit asset management, as well as guides the program's technical initiatives.
Codey's leadership epitomizes MTAP's ideals. He fosters partnerships and helps connect peers. Codey uses his program knowledge and strong relationships with the administration to help his colleagues, including on one occasion where he organized peer exchanges for his transit colleagues from Florida who sought guidance on developing a multiple corridor New Starts program.
Since Codey could not attend the Council on Public Transportation and MTAP 2017 Winter Meeting, Rail & Mass Transportation Division Chief Dara Wheeler presented him with the award.
---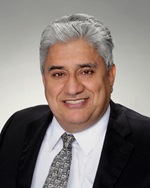 Careers & the disAbled magazine honored Caltrans Transportation Engineer Seyed Amir Torabzadeh April 11 at an award ceremony in Boston for his professional and advocacy efforts for people with disabilities in the workplace and community.
Seyed has been involved with Los Angeles District's 7 Disability Advisory Committee (DAC) since 1988, and has chaired the committee for more than 15 years. He volunteers his time to raise awareness, represent employees with disabilities, and address issues for employees, applicants, and visitors with disabilities. He supports removing physical and attitudinal barriers, and champions the Department's compliance with the Americans with Disabilities Act. Seyed also helped establish a program that provides $500 scholarships to two students with a disability each year.
Only 10 employees nationwide receive this annual award for their professional and personal achievements. Caltrans will be recognized along with NASA, AT&T, and LinkedIn.
Seyed works in the Traffic Accident Surveillance and Analysis System (TASAS) Unit in the Los Angeles District 7 Division of Operations.
Deputy District 7 Director Ali Zaghari said, "What a great honor it is to have [Seyed] on the District 7 team and as a devoted member of the Traffic Operations family. I thank [him] for [his] dedication and the incredible amount of care [he] takes in promoting disability awareness in our district."
Careers & the disAbled is the nation's first and only career-guidance and recruitment magazine for people with disabilities who are at college, graduate, or professional levels.