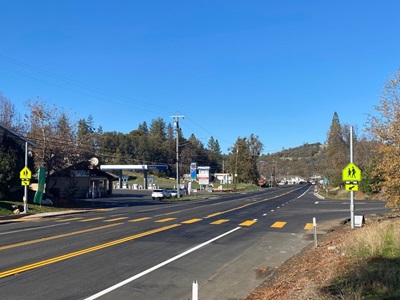 By Bob Highfill
District 10 public information officer
To a casual observer, perhaps a motorist traveling though Calaveras County to the Sierra Nevada, the portion of State Route 4 between Pennsylvania Gulch Road and Lawrence Street/Main Street in the town of Murphys might look innocuous these days.
But ask a local and they will tell you how pleased they are that Caltrans District 10 recently completed the Murphys Center Left-Turn Lane Project.
"I thank Caltrans for being partners in this and the people that worked the project we're absolutely wonderful to the residents and the visitors," said Calaveras County Supervisor Merita Callaway. "I couldn't be happier as a county supervisor, and I know our residents are, too."
Caltrans worked closely with Calaveras County to find an innovative solution to a growing issue on the undivided, two-lane highway. Route 4 had become a challenge to navigate due to the high volume of traffic, especially during peak morning and afternoon rush hours, and when students arrived and departed Michelson Elementary School.
Traffic congestion also was present when events were staged at Ironstone Amphitheater and downtown Murphys, where thousands flock every week to experience the world-class shopping, dining, and wine tasting offered in the quaint Mother Lode community.
In the past, motorists attempting to safely make a left-hand turn off Route 4 to local streets and businesses, as well as the school, had to wait for oncoming traffic to clear before turning, creating backups that sometimes stretched for a quarter mile or more.
To solve the problem, Caltrans installed a two-way, center, left-turn lane, where motorists are channeled to allow thru traffic to pass. This has greatly improved traffic flow and enhanced safety by reducing rear-end collisions and motorists from unsafely using the shoulder to pass vehicles in queue.
"This project benefits the community because it makes it safer for the community," said Toby Butzler, public information officer with the California Highway Patrol. "Obviously, the Highway Patrol wants everyone to be safe on our highways and our roadways."
The project included other safety enhancements, such as a high-visibility crosswalk near Michelson Elementary School.
"The feedback we've received from our families and our staff that are here daily has been positive," said Tom Hoskins, superintendent of the Vallecito Union School District. "We appreciate those added safety features."
The new lane has helped local businesses and the economy, as customers now can access their establishments much more easily and safely.
"It's a real good deal," said John Trifilo, owner of Trifilo Garden Center on Route 4. "It's a good deal for the businesses."
The roadway was repaved to improve ride quality and restriped to provide motorists proper alignment and vehicle positioning.
"I sort of feel urban in this very rural county," Callaway said. "Thank you, Caltrans."