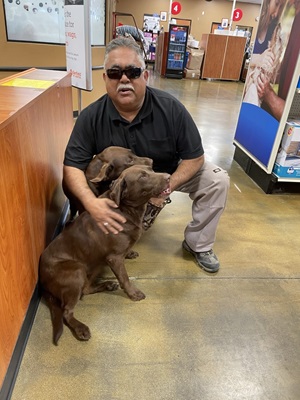 Story submitted by District 12
In addition to hosting a very successful dump day event with nearly 100 vehicles, District 12's fantastic maintenance team helped reunite with their owners two chocolate labs – a momma and her puppy – who had gotten loose on the 91 freeway.
Driving on the 91 West, Juan Huerta, Bolsa Chica maintenance crew supervisor, saw a back-up of vehicles on the highway, turned on the lights on the truck and drove along the shoulder to identify the incident. Juan saw that CHP had halted traffic on the freeway and stopped his truck near the CHP car and motorcycle to assist.
After exiting the truck and walking toward the officers, the two dogs ran across the freeway lanes toward Juan. Working together, Juan and the CHP officers were able to catch the dogs and place them in the rear of Juan's truck.
The two dogs were kept safe at the Bolsa Chica Maintenance facility.
While the two dogs did not have collars, Juan took them to the local PetSmart and since the two dogs had microchips, he was able to reunite the momma and her puppy with their owners.