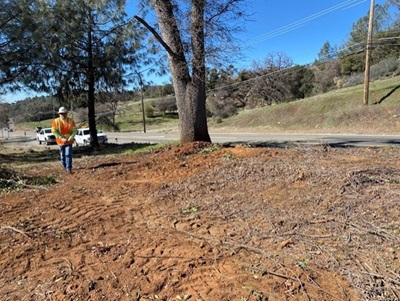 By Bob Highfill
District 10 public information officer
Driving along State Route 108 in Tuolumne County presents an interesting contrast between the past and present.
Near Sonora, many trees, and swaths of ground along the highway still show burn scars from last year's Washington Fire – just one of hundreds of devastating wildfires that have struck California in recent years. In their wake, millions of acres, thousands of homes and businesses, and the lives of many residents have been destroyed.
Dangerous, destructive wildfires have become an all-too-common occurrence in California, and Caltrans District 10 is doing its part to mitigate their potential from starting and the damage they may cause.
Amid the Washington Fire's blackened path is unmistakable evidence where the new District 10 Sonora Vegetation Management Crew has been. The Vegetation Management Crew was formed last year and has already made a huge impact in the area.
This hard-working crew, in conjunction with District 10 Maintenance and local partners, have trimmed and thinned-out trees, and removed brush and overgrowth along roughly 100 lane miles in the state right-of-way already.
These measures could help prevent wildfire-starts caused by sparks from motorists' vehicles and help keep highways open and the traveling public safe in the event of a catastrophic event.
"The crew was added to my area to help with the reduction of off-highway fires from starting," said Chris Baker, Caltrans District 10 Maintenance superintendent, Sonora/Altaville area. "The crew goes down in Caltrans right-of-way to thin-out trees, limb-up trees, remove brush and ladder fuels that could spark next to the highway and get up into these trees, and cause what could become a catastrophic event."
Baker's area encompasses 600 lane miles, of which 300 to 400 miles need to be trimmed. During a recent visit, crews were tackling trees and brush with backhoes and chainsaws in Jamestown and Soulsbyville.
"This is Caltrans' proactive approach to preventing wildfires from happening alongside one of our highways," Baker said. "It's a huge undertaking."