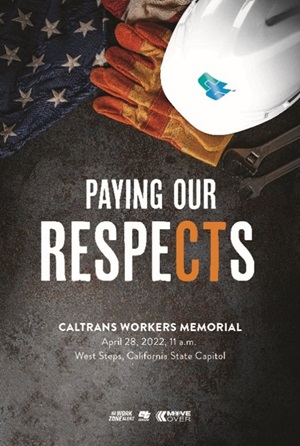 Since 1921, 189 Caltrans employees, tragically, have been killed on the job. One of the biggest hazards faced by highway workers is inattentive, or distracted, motorists.
Each year, Caltrans honors its fallen employees at the statewide Workers Memorial on the west steps of the State Capitol. Family members, co-workers, friends, and the general public are invited to attend the memorial, which takes place this year at 11 a.m. on April 28. The live webcast can be accessed the day of the ceremony.
The Fallen Workers Memorial is a time to remember those who lost their lives building, maintaining, and operating California's world-class transportation system. I am extremely pleased that we do not have any new Caltrans employee names to add to our wall this year. The observance also honors our fallen contractors and highlights transportation safety awareness for all, including the traveling public.
The memorial is held in conjunction with Caltrans Safety Awareness Week and highlights the importance of motorist and employee work zone safety. Attendance at this remembrance, or your local Workers Memorial, can satisfy the two-hour requirement for Safety Awareness Week participation.
We hope that you take the time to attend one of the memorials being held throughout the state, either virtually or in person, as we honor those who lost their lives on the job.
Statewide: April 28, 11 a.m., West Steps State Capitol, Sacramento
District 1: April 29, Virtual Video
District 2: May 4, Virtual Video
District 3 April 28, 11 a.m., West Steps State Capitol, Sacramento
District 4: April 20, 10 a.m., Virtual Video
District 5: May 4, 10 a.m., District Office 50 Higuera St, San Luis Obispo
District 6: April 19, 10:30 a.m., South Region Maintenance Station, 1226 Olive Drive, Bakersfield
District 6: April 20, 10:30 a.m., District Office, 1352 W. Olive Avenue, Fresno
District 7: May 12, TBD a.m., Valencia Yard, North Region 28820 N. Old Road Valencia
District 8: May 5, 10 a.m., District Office, 464 W. 4th Street – Courtyard, San Bernardino
District 9: May 4, 2 p.m., District Office, 500 Main Street, Bishop
District 10: April 28, 11 a.m., West Steps State Capitol, Sacramento
District 11: April 26, 10 a.m., El Centro Maintenance Yard, 1102 Montenegro, El Centro
District 12: May 5, Virtual Video