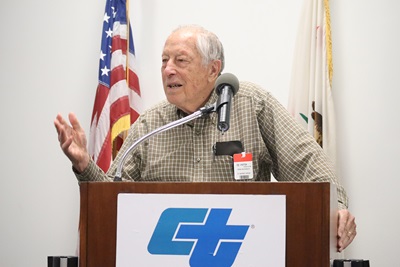 Heinz Heckeroth, one of the giants in California's transportation sector during the second half of the 20th century, died on March 6 in Sacramento. He was 96.
Heinz's remarkable career was distinguished by its variety, accomplishments and timing. During his three decades with what is now called the California Department of Transportation, Heinz was the lead engineer of a monumental Los Angeles freeway interchange in the early 1960s, helped write legislation that transformed the Division of Highways into Caltrans in the 1970s, was District 7 director during the L.A. Olympics and afterward served as chief deputy director of the department in the 1980s.
Upon retiring in 1988, Heinz founded the California Transportation Foundation, a nonprofit organization that he continued to participate in throughout the rest of his long and productive life.
Heinz was born in Germany in 1925. His family immigrated to California via the Panama Canal in 1927. His father was a stationary steam engineer with a creamery company in Los Angeles. In 1935 the family bought a home in Eagle Rock, near Pasadena, and remained there through Heinz's high school graduation in 1943.
Six decades later, Heinz was interviewed as part of a Caltrans oral history project. Early during the two-and-and-half-hour conversation, he recounted a particular aspect of his childhood that he said put him on the path to a career in roadways.
"In the Depression Days, the Work Progress Administration (part of President Franklin D. Roosevelt's New Deal) was doing a lot of funding of public works and one of the public works in our area was a new storm drain system. So here there were piles of dirt all over from the excavation, and I just took my little cars down and built tunnels and roads all over those hillsides. I think that gave me the interest in highway work."
One of his father's first big purchases was a car. "L.A. was so conducive to automobile ownership because (of the) good weather, you had use of the car for 12 months of the year, you didn't have to worry about the snow and all the rest of it," Heinz recalled in 2003.
One of the nation's first freeways, the Arroyo Seco Parkway, was constructed where Heinz grew up. In 2011, for a Los Angeles Times story that marked the so-called "Pasadena Freeway's" 70th anniversary, Heinz told writer Hector Tobar that, "All anyone knew those days was driving on the boulevards. … If we hadn't built the Arroyo Seco, I don't think we would have had the public support to build the rest of the system."
Toward the end of World War II, Heinz was stationed at a depot company in New Guinea, then transferred to the Philippines "getting ready for the Japanese invasion." The conflict ended before such an invasion occurred, and after serving 28 months in the military, Heinz was honorably discharged in 1946.
Meanwhile, his parents had moved to San Bernardino and Heinz enrolled in the nearby University of Redlands. During his time there, Heinz met the woman he married, Hope. They had their first child before he transferred to USC in 1948, where he completed his civil engineering degree in 18 months.
During his Redlands years, Heinz worked on rail lines near Victorville, and did some surveying in the Inland Valley and near Lake Arrowhead. After graduating from USC in 1950, he said in the oral history interview, he got a job with the now-defunct Los Angeles Department of Freeways and worked with people who had established the layout of the city's grid – major arterials every mile or so, smaller streets in between, signalized intersections, and all the other features associated with urban pathways. The state's role with highways was limited to rural areas; municipal governments took over at the city limits' lines.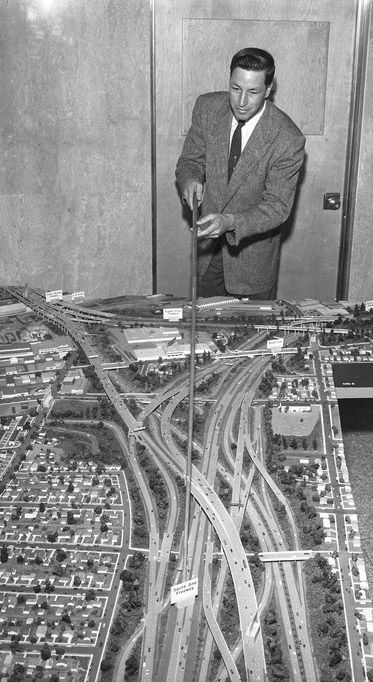 Young Heinz was very much immersed in the burgeoning car culture, a transformative time often associated with sunny, warm Southern California.
"With the amount of traffic that they were getting from this blossoming automobile purchase in that area, they knew that they had to begin grade separation and access control," Heinz recalled about his time with L.A. road planners. "So they began this concept of, OK, we've done the local streets and we've done the widening for arterials, and so on, but by golly we'll need more. Let's call it parkways" – because that's what was being done out East. Heinz's job was to help plot those parkways.
Timing worked out for Heinz in that the Division of Highways exam process opened up for people with his schooling and experience, so that in 1955, he transferred his talents from city to state. Initially in his new job, he designed conventional state highways.
"Then they turned the East L.A. interchange over to me," he recounted while being interviewed in his Sacramento home. "I was new! I had never written a specification other than what existed in these conventional widenings."
The East Los Angeles interchange, where Interstate 5, Interstate 10 and State Route 60 converged, had 20 or 30 bridge site plans, Heinz said.
"It was a great job. It really was. Obviously we got it out, and it was the biggest contract for eons other than the Bay bridges. They showed the model down in L.A. The media came in and I got beaucoup pictures of me showing the model in the papers, across the state."
Heinz's status as a key figure in the state transportation industry was cemented. After the East L.A. interchange was completed in the early 1960s, worked on having Interstate 5 cross the Tehachapi Mountains north of Los Angeles. "We moved as much as the Panama Canal at the time," he recalled.
The career accomplishments kept coming. To cite but one example, during his stint as District 7 director from 1980-85, he oversaw the department's role in planning for the Summer Olympics.
"That was another glory point, for experience and for the results," Heinz said in 2003.
Transportation issues related to the two-week Olympics required years of planning. Heinz and his Caltrans colleagues worked with the Olympics committee and recommended changes of sports venues and starting times that projections showed would reduce congestion issues. Caltrans set up monitoring systems throughout the Los Angeles Basin that would alert officials to congestion issues as they arose. Angelenos were encouraged to take vacations during that time.
"We got the best response from both agencies as well as the public," Heinz later said. "For the two weeks of the Olympics, traffic was not a problem. .. Everyone was cooperating. …
"What I find out of that is that it takes individuals to make individual decisions that collectively improve the situation. If individuals can take alternate routes, can do alternate things, and they see the reason for it, and are willing to do it, we can make a great deal of improvement to the transportation system."
According to the California Transportation Foundation's "Our Story" webpage, Heinz "wanted to create a charity that would give back to the Caltrans community he dearly loves. He envisioned a non-profit that would one day be able to expand to serve private sector and other public transportation agency employees as well. Mr. Heckeroth served as the Foundation's first executive director and recruited a dedicated board of former Caltrans employees."
During a 2019 Caltrans-conducted interview at the 2019 Workers Memorial ceremony outside the state Capitol, Heinz reflected on an organization that continues to aid families of fallen and injured workers, and provides scholarships to young people pursuing careers in transportation. "I'm really grateful that I lived long enough to see the fruition of the vision that I had for the foundation," he said.
"I had a lot of fun!" Heinz said in his oral history interview. "It never ended for me."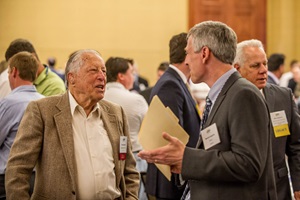 After his passing, the CTF released a statement that acknowledged Heinz "remained a driving force and a vibrant, active part of our foundation. His vision for CTF and his passion for our mission will carry on in the legacy he leaves behind. Over the course of his career, Heinz touched many hearts and was always willing to mentor and advise."
Steven Keck, Caltrans' interim director, shared his admiration for Heinz in a department-wide email that announced his passing. . "Heinz Heckeroth's name and life's work are synonymous with integrity, dedication and selflessness. Though he will be greatly missed, he has left us and future generations the gift of his inspirational legacy."
The CTF will pay tribute to Heinz on May 26 at the Sacramento Sheraton (1230 J St.), site of the foundation's 32nd Annual Transportation Awards Ceremony. "We know many of you will have memories you want to share and we would love to hear from you. We will be compiling stories, tributes, and recollections to create a keepsake book for his family."
Heinz is survived by children Stephen Heckeroth (spouse Christiane Heckeroth), Gwen Heckeroth, Marty Heckeroth (Shan Morrow) and Jenny Heckeroth (Linwood Gill); grandchildren Brooke Wilder (Wally), Wendy Hueck (Kubi), Woody Heckeroth (Jennie), April Roberts (Sean), Amy Heckeroth, Holly Alvis, Forest Gill and Rowan Gill; great-grandchildren Liam Wilder, Juniper Hawker, Reef Heckeroth, Kobi Heckeroth, Kali Hueck, Ryder Hueck, Mercy Hueck, Shafer Roberts, Jovian Roberts, Emma Alvis, Tommy Alvis and Ivy Alvis; sister Eleanor Voiles; nieces and nephews Cathy Darghty (Phil), Nancy Gavel (Don), Shirley Cournoyer (Scott),Larry Vanderpool, Marcia Ford,Alice Ford-Sala (Dennis) and Nancy Scott (Bob); and German relatives Dieter Krost, M.D. (Heike), David Krost, Annalena Krost, Luis Janson, Renate Kube and Jan Kube.