Hats Off
Hats Off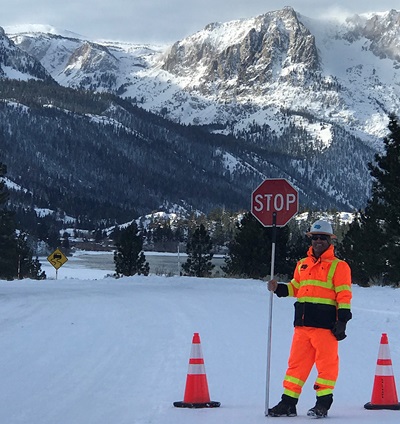 Holiday headache averted in Lee Vining
Note: The following letter was sent to District 9 Director Ryan Dermody on Dec. 31, 2021, by Cydney and Robert Kingery.
I wanted to write to inform you of your outstanding employee, Bradley Larson.
My husband, 80-year-old mother and I were forced to drive home to Reno, Nevada, from a Christmas celebration in Los Angeles (due to COVID and airport mayhem). As the weather progressively turned to snow and ice, after what felt like a perilous drive in our inadequate rental car, we got stuck in Lee Vining on Christmas night.
Luckily, we were able to procure a motel room In Lee Vining (Lake View Inn) as going on toward Bridgeport looked ominous at 8 p.m. in the middle of that storm. Our luck ran short when the power to the entire town (and motel) went out! My mother was very cold and very scared – luckily we'd brought some miscellaneous snacks on our road trip, but other than that there was no food available in the entire town.
Good fortune turned our way again when we met Bradley Larson at the Caltrans yard on Sunday morning. He sized up our situation and helped us sort through the information we were gathering about avalanches and road closures/conditions. Beyond that, he went out of his way to guide us to a safe way out of town on Sunday afternoon, Highway 167, and connected us to the local sheriff who then led a caravan of six families out of town to safety!
I really can't adequately express in words what a tremendous help he was to us, and how cheerful and positive his attitude was. We will always remember him and, because of Bradley, the great service you guys at Caltrans provide. From the bottom of my heart, thank you!