All-in-one version
All-in-one version
CT News 2022, Issue 2 Director's Corner Ceremonies spotlight our emphasis on safety

Steven Keck
Welcome to another edition of Caltrans' departmental newsletter, CT News. I would like to extend a sincere "thank you" to everyone who has helped me in my interim role as director. My goal has been to oversee the continuation of the fine work we have already been doing, and to maintain the progress we have made in safety, efficiency, equity, and the environment. While some of these areas are recent shifts in focus, they are what makes our department the standout transportation leader in a changing world.
As always, Caltrans has safety as its top priority. We shine a spotlight on safety every spring with our Workers Memorial ceremonies conducted in all of our 12 districts. Here at Headquarters, we are looking forward once again to being able to walk across N Street to join the statewide Workers Memorial on the west steps of the Capitol at 11 a.m. on April 28.
(Due to the pandemic, the past two statewide ceremonies were held without visitors and livestreamed. This year's ceremony will also be livestreamed [link].)
On April 19 in Bakersfield, District 6 will host this year's first Workers Memorial ceremony at the South Regional Maintenance Station. The tributes continue through May 12, when District 7 has its ceremony in Valencia. Find out more information about all the Workers Memorials in this CT News story [link], which includes links to last year's story and to a photo gallery of the statewide event.
Since 1921, 189 Caltrans employees have been killed on the job. I am very fortunate to be able to report that we did not experience any jobsite fatalities in 2021 – nor in the previous two years. In fact, our safety streak in that regard is the longest it has been in 75 years.
The annual Workers Memorial observances also honor our fallen contractors and highlights transportation safety awareness for all, including the traveling public.
According to the U.S. Bureau of Labor Statistics (BLS), highway construction and maintenance work is one of the most hazardous occupations in the United States. In 2020, the BLS reports, "Workers in transportation and material moving occupations and construction and extraction occupations accounted for nearly half of all fatal occupational injuries (47.4 percent), representing 1,282 and 976 workplace deaths, respectively."
Please, if you can, make a point of attending one of our Workers Memorial ceremonies either virtually or in person. And, as always, stay safe.
News
Statewide Workers Memorial set April 28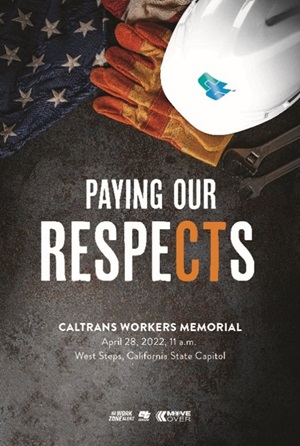 Since 1921, 189 Caltrans employees, tragically, have been killed on the job. One of the biggest hazards faced by highway workers is inattentive, or distracted, motorists.
Each year, Caltrans honors its fallen employees at the statewide Workers Memorial on the west steps of the State Capitol. Family members, co-workers, friends, and the general public are invited to attend the memorial, which takes place this year at 11 a.m. on April 28. The live webcast can be accessed the day of the ceremony.
The Fallen Workers Memorial is a time to remember those who lost their lives building, maintaining, and operating California's world-class transportation system. I am extremely pleased that we do not have any new Caltrans employee names to add to our wall this year. The observance also honors our fallen contractors and highlights transportation safety awareness for all, including the traveling public.
The memorial is held in conjunction with Caltrans Safety Awareness Week and highlights the importance of motorist and employee work zone safety. Attendance at this remembrance, or your local Workers Memorial, can satisfy the two-hour requirement for Safety Awareness Week participation.
We hope that you take the time to attend one of the memorials being held throughout the state, either virtually or in person, as we honor those who lost their lives on the job.
Statewide: April 28, 11 a.m., West Steps State Capitol, Sacramento
District 1: April 29, Virtual Video
District 2: May 4, Virtual Video
District 3 April 28, 11 a.m., West Steps State Capitol, Sacramento
District 4: April 20, 10 a.m., Virtual Video
District 5: May 4, 10 a.m., District Office 50 Higuera St, San Luis Obispo
District 6: April 19, 10:30 a.m., South Region Maintenance Station, 1226 Olive Drive, Bakersfield
District 6: April 20, 10:30 a.m., District Office, 1352 W. Olive Avenue, Fresno
District 7: May 12, TBD a.m., Valencia Yard, North Region 28820 N. Old Road Valencia
District 8: May 5, 10 a.m., District Office, 464 W. 4th Street – Courtyard, San Bernardino
District 9: May 4, 2 p.m., District Office, 500 Main Street, Bishop
District 10: April 28, 11 a.m., West Steps State Capitol, Sacramento
District 11: April 26, 10 a.m., El Centro Maintenance Yard, 1102 Montenegro, El Centro
District 12: May 5, Virtual Video
Caltrans legend Heinz Heckeroth, 1925-2022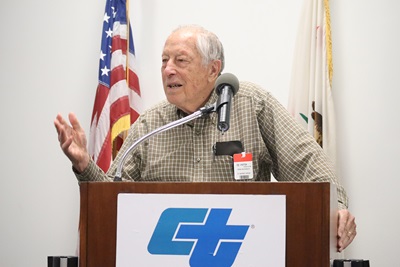 Heinz Heckeroth, one of the giants in California's transportation sector during the second half of the 20th century, died on March 6 in Sacramento. He was 96.
Heinz's remarkable career was distinguished by its variety, accomplishments and timing. During his three decades with what is now called the California Department of Transportation, Heinz was the lead engineer of a monumental Los Angeles freeway interchange in the early 1960s, helped write legislation that transformed the Division of Highways into Caltrans in the 1970s, was District 7 director during the L.A. Olympics and afterward served as chief deputy director of the department in the 1980s.
Upon retiring in 1988, Heinz founded the California Transportation Foundation, a nonprofit organization that he continued to participate in throughout the rest of his long and productive life.
Heinz was born in Germany in 1925. His family immigrated to California via the Panama Canal in 1927. His father was a stationary steam engineer with a creamery company in Los Angeles. In 1935 the family bought a home in Eagle Rock, near Pasadena, and remained there through Heinz's high school graduation in 1943.
Six decades later, Heinz was interviewed as part of a Caltrans oral history project. Early during the two-and-and-half-hour conversation, he recounted a particular aspect of his childhood that he said put him on the path to a career in roadways.
"In the Depression Days, the Work Progress Administration (part of President Franklin D. Roosevelt's New Deal) was doing a lot of funding of public works and one of the public works in our area was a new storm drain system. So here there were piles of dirt all over from the excavation, and I just took my little cars down and built tunnels and roads all over those hillsides. I think that gave me the interest in highway work."
One of his father's first big purchases was a car. "L.A. was so conducive to automobile ownership because (of the) good weather, you had use of the car for 12 months of the year, you didn't have to worry about the snow and all the rest of it," Heinz recalled in 2003.
One of the nation's first freeways, the Arroyo Seco Parkway, was constructed where Heinz grew up. In 2011, for a Los Angeles Times story that marked the so-called "Pasadena Freeway's" 70th anniversary, Heinz told writer Hector Tobar that, "All anyone knew those days was driving on the boulevards. … If we hadn't built the Arroyo Seco, I don't think we would have had the public support to build the rest of the system."
Toward the end of World War II, Heinz was stationed at a depot company in New Guinea, then transferred to the Philippines "getting ready for the Japanese invasion." The conflict ended before such an invasion occurred, and after serving 28 months in the military, Heinz was honorably discharged in 1946.
Meanwhile, his parents had moved to San Bernardino and Heinz enrolled in the nearby University of Redlands. During his time there, Heinz met the woman he married, Hope. They had their first child before he transferred to USC in 1948, where he completed his civil engineering degree in 18 months.
During his Redlands years, Heinz worked on rail lines near Victorville, and did some surveying in the Inland Valley and near Lake Arrowhead. After graduating from USC in 1950, he said in the oral history interview, he got a job with the now-defunct Los Angeles Department of Freeways and worked with people who had established the layout of the city's grid – major arterials every mile or so, smaller streets in between, signalized intersections, and all the other features associated with urban pathways. The state's role with highways was limited to rural areas; municipal governments took over at the city limits' lines.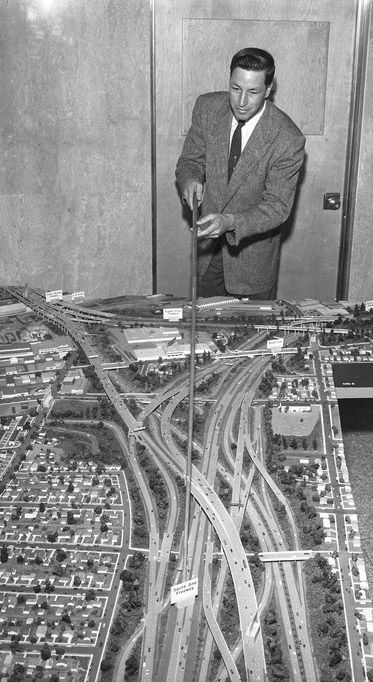 Young Heinz was very much immersed in the burgeoning car culture, a transformative time often associated with sunny, warm Southern California.
"With the amount of traffic that they were getting from this blossoming automobile purchase in that area, they knew that they had to begin grade separation and access control," Heinz recalled about his time with L.A. road planners. "So they began this concept of, OK, we've done the local streets and we've done the widening for arterials, and so on, but by golly we'll need more. Let's call it parkways" – because that's what was being done out East. Heinz's job was to help plot those parkways.
Timing worked out for Heinz in that the Division of Highways exam process opened up for people with his schooling and experience, so that in 1955, he transferred his talents from city to state. Initially in his new job, he designed conventional state highways.
"Then they turned the East L.A. interchange over to me," he recounted while being interviewed in his Sacramento home. "I was new! I had never written a specification other than what existed in these conventional widenings."
The East Los Angeles interchange, where Interstate 5, Interstate 10 and State Route 60 converged, had 20 or 30 bridge site plans, Heinz said.
"It was a great job. It really was. Obviously we got it out, and it was the biggest contract for eons other than the Bay bridges. They showed the model down in L.A. The media came in and I got beaucoup pictures of me showing the model in the papers, across the state."
Heinz's status as a key figure in the state transportation industry was cemented. After the East L.A. interchange was completed in the early 1960s, worked on having Interstate 5 cross the Tehachapi Mountains north of Los Angeles. "We moved as much as the Panama Canal at the time," he recalled.
The career accomplishments kept coming. To cite but one example, during his stint as District 7 director from 1980-85, he oversaw the department's role in planning for the Summer Olympics.
"That was another glory point, for experience and for the results," Heinz said in 2003.
Transportation issues related to the two-week Olympics required years of planning. Heinz and his Caltrans colleagues worked with the Olympics committee and recommended changes of sports venues and starting times that projections showed would reduce congestion issues. Caltrans set up monitoring systems throughout the Los Angeles Basin that would alert officials to congestion issues as they arose. Angelenos were encouraged to take vacations during that time.
"We got the best response from both agencies as well as the public," Heinz later said. "For the two weeks of the Olympics, traffic was not a problem. .. Everyone was cooperating. …
"What I find out of that is that it takes individuals to make individual decisions that collectively improve the situation. If individuals can take alternate routes, can do alternate things, and they see the reason for it, and are willing to do it, we can make a great deal of improvement to the transportation system."
According to the California Transportation Foundation's "Our Story" webpage, Heinz "wanted to create a charity that would give back to the Caltrans community he dearly loves. He envisioned a non-profit that would one day be able to expand to serve private sector and other public transportation agency employees as well. Mr. Heckeroth served as the Foundation's first executive director and recruited a dedicated board of former Caltrans employees."
During a 2019 Caltrans-conducted interview at the 2019 Workers Memorial ceremony outside the state Capitol, Heinz reflected on an organization that continues to aid families of fallen and injured workers, and provides scholarships to young people pursuing careers in transportation. "I'm really grateful that I lived long enough to see the fruition of the vision that I had for the foundation," he said.
"I had a lot of fun!" Heinz said in his oral history interview. "It never ended for me."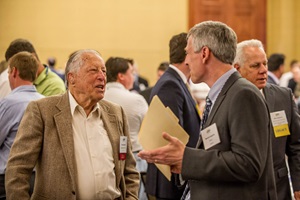 After his passing, the CTF released a statement that acknowledged Heinz "remained a driving force and a vibrant, active part of our foundation. His vision for CTF and his passion for our mission will carry on in the legacy he leaves behind. Over the course of his career, Heinz touched many hearts and was always willing to mentor and advise."
Steven Keck, Caltrans' interim director, shared his admiration for Heinz in a department-wide email that announced his passing. . "Heinz Heckeroth's name and life's work are synonymous with integrity, dedication and selflessness. Though he will be greatly missed, he has left us and future generations the gift of his inspirational legacy."
The CTF will pay tribute to Heinz on May 26 at the Sacramento Sheraton (1230 J St.), site of the foundation's 32nd Annual Transportation Awards Ceremony. "We know many of you will have memories you want to share and we would love to hear from you. We will be compiling stories, tributes, and recollections to create a keepsake book for his family."
Heinz is survived by children Stephen Heckeroth (spouse Christiane Heckeroth), Gwen Heckeroth, Marty Heckeroth (Shan Morrow) and Jenny Heckeroth (Linwood Gill); grandchildren Brooke Wilder (Wally), Wendy Hueck (Kubi), Woody Heckeroth (Jennie), April Roberts (Sean), Amy Heckeroth, Holly Alvis, Forest Gill and Rowan Gill; great-grandchildren Liam Wilder, Juniper Hawker, Reef Heckeroth, Kobi Heckeroth, Kali Hueck, Ryder Hueck, Mercy Hueck, Shafer Roberts, Jovian Roberts, Emma Alvis, Tommy Alvis and Ivy Alvis; sister Eleanor Voiles; nieces and nephews Cathy Darghty (Phil), Nancy Gavel (Don), Shirley Cournoyer (Scott),Larry Vanderpool, Marcia Ford,Alice Ford-Sala (Dennis) and Nancy Scott (Bob); and German relatives Dieter Krost, M.D. (Heike), David Krost, Annalena Krost, Luis Janson, Renate Kube and Jan Kube.
Coleville quartet bring athletic excellence to Caltrans
By Bob Highfill
District 10 public information officer
Career prospects are not abundant in the tiny mountain community of Coleville, which sits at an elevation of more than 5,000 feet in the Antelope Valley of northern Mono County.
The population of the Census-designated place in the early 1990s was just more than 400 when four young men were teammates on the football field, baseball diamond and basketball court at Coleville High School.
Christopher Baker, Cody Collins, Josh Dixon and Matt Hussman – "the Coleville 4" – grew up believing they would be ranchers or take other occupations in their hardscrabble hometown. But in time, each found his way to Caltrans. Now, all four are maintenance superintendents in different districts making a difference by improving the safety of the traveling public on California's roadways.
The uncanny coincidence four men who grew up together in the same small town would tackle fruitful careers within the same state agency and ascend to the same title is not lost on any of them.
"All I did was work for several different ranchers," said Baker, who works in District 10 at Altaville/Sonora. "That's what I thought I was going to do."
Collins and Hussman also grew up working on ranches, and Dixon was raised on the Paiute Indian Colony of California in Bridgeport prior to attending Coleville High. None had much materialistically growing up, but they appreciated hard work and relished the great outdoors.
Their dreams and ambitions, spurred by their strong work ethic and competitive spirit, proved too large for Coleville to contain.
"It is crazy," said Dixon, who works in District 2 in Quincy. "I think about it a lot because it wasn't really something on any of our minds growing up. None of us said, 'Hey, we're going to work for Caltrans.' "
Big things from small places
Coleville High, with an enrollment of fewer than 100 students, competed in the Nevada Class A 8-man football league. Most seasons, the squad numbered fewer than 20 players. Baker, Collins, Dixon and Hussman were standouts on offense, defense, and special teams.
Road games involved bus rides six to eight hours each way. The Coleville 4 developed a tight bond and depended on each other to be successful. Each wanted to make a name for himself and help the team.
"It was a blast," said Hussman, whose focus in District 9 is stormwater/material site coordinator in the Bishop area. "I wouldn't change it for anything."
Coleville High's football team twice competed in the Nevada Class A 8-man football championship game. Each of the Coleville 4 earned numerous accolades in football, baseball and basketball.
"We always pushed each other, like in sports we were each other's biggest competition, even though we were on the same team," said Collins, who works in District 5 in San Luis Obispo. "You didn't want them to outdo you. Everybody was pretty self-motivated and wanted to get better."
Hussman graduated from Coleville High in 1994, a year prior to Dixon and Collins, and two years before Baker. Each chose a different path out of high school and eventually took a seasonal job with Caltrans. At one time, all four worked at the Caltrans Sonora Maintenance Station under now-retired Caltrans Supervisor John Vannoy, another Coleville High graduate.
Vannoy was a taskmaster who paid attention to the smallest detail. He often would drive home past work that had been done by his crew. If he spotted even the tiniest defect, he would have that person go back and correct it.
Dixon said Vannoy capitalized on the Coleville 4's work ethic and competitiveness.
"That was one of the hardest crews in Caltrans; the way he demanded excellence in all of us and he would not allow you to stray off that path," Dixon said. "He would send you back as many times as it took to get it right. Being local boys, he expected even more because he knew all of our families."
The Coleville 4 have passed the lessons they learned from their mentor onto their teams.
"We demand that with all of our crews," Dixon said.
Over the years, the Coleville 4 have demonstrated excellence in the field and have been promoted to lead crews in some of the largest, most physically demanding districts in the state, stretching from the Pacific Ocean to the Sierra Nevada to the Mojave Desert.
Their work includes clearing mountain passes and scaling rock faces, duties many would consider dangerous. But for the Coleville 4, it's their passion.
"I feel because we are competitive, we all are good at what we do," Baker said. "We were all good athletes, and we always had a good work ethic, and we just carried on with it."
The Coleville 4 keep in touch and take pride representing Caltrans and their hometown.
This shaggy dogs tale warms the heart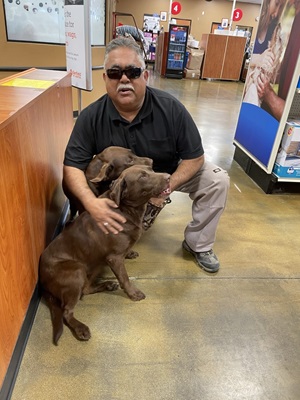 Story submitted by District 12
In addition to hosting a very successful dump day event with nearly 100 vehicles, District 12's fantastic maintenance team helped reunite with their owners two chocolate labs – a momma and her puppy – who had gotten loose on the 91 freeway.
Driving on the 91 West, Juan Huerta, Bolsa Chica maintenance crew supervisor, saw a back-up of vehicles on the highway, turned on the lights on the truck and drove along the shoulder to identify the incident. Juan saw that CHP had halted traffic on the freeway and stopped his truck near the CHP car and motorcycle to assist.
After exiting the truck and walking toward the officers, the two dogs ran across the freeway lanes toward Juan. Working together, Juan and the CHP officers were able to catch the dogs and place them in the rear of Juan's truck.
The two dogs were kept safe at the Bolsa Chica Maintenance facility.
While the two dogs did not have collars, Juan took them to the local PetSmart and since the two dogs had microchips, he was able to reunite the momma and her puppy with their owners.
District 10 clearing a path toward wildfire safety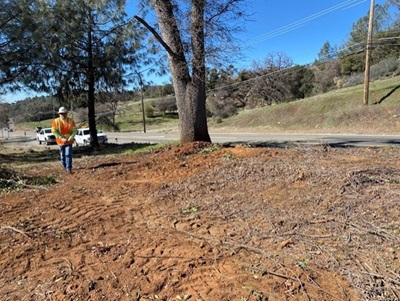 By Bob Highfill
District 10 public information officer
Driving along State Route 108 in Tuolumne County presents an interesting contrast between the past and present.
Near Sonora, many trees, and swaths of ground along the highway still show burn scars from last year's Washington Fire – just one of hundreds of devastating wildfires that have struck California in recent years. In their wake, millions of acres, thousands of homes and businesses, and the lives of many residents have been destroyed.
Dangerous, destructive wildfires have become an all-too-common occurrence in California, and Caltrans District 10 is doing its part to mitigate their potential from starting and the damage they may cause.
Amid the Washington Fire's blackened path is unmistakable evidence where the new District 10 Sonora Vegetation Management Crew has been. The Vegetation Management Crew was formed last year and has already made a huge impact in the area.
This hard-working crew, in conjunction with District 10 Maintenance and local partners, have trimmed and thinned-out trees, and removed brush and overgrowth along roughly 100 lane miles in the state right-of-way already.
These measures could help prevent wildfire-starts caused by sparks from motorists' vehicles and help keep highways open and the traveling public safe in the event of a catastrophic event.
"The crew was added to my area to help with the reduction of off-highway fires from starting," said Chris Baker, Caltrans District 10 Maintenance superintendent, Sonora/Altaville area. "The crew goes down in Caltrans right-of-way to thin-out trees, limb-up trees, remove brush and ladder fuels that could spark next to the highway and get up into these trees, and cause what could become a catastrophic event."
Baker's area encompasses 600 lane miles, of which 300 to 400 miles need to be trimmed. During a recent visit, crews were tackling trees and brush with backhoes and chainsaws in Jamestown and Soulsbyville.
"This is Caltrans' proactive approach to preventing wildfires from happening alongside one of our highways," Baker said. "It's a huge undertaking."
Community welcomes Murphys Center left-turn lane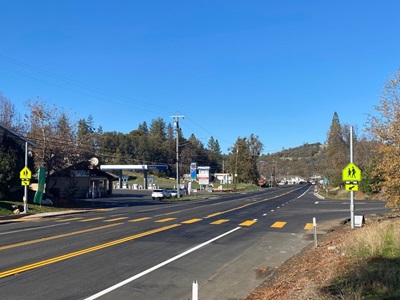 By Bob Highfill
District 10 public information officer
To a casual observer, perhaps a motorist traveling though Calaveras County to the Sierra Nevada, the portion of State Route 4 between Pennsylvania Gulch Road and Lawrence Street/Main Street in the town of Murphys might look innocuous these days.
But ask a local and they will tell you how pleased they are that Caltrans District 10 recently completed the Murphys Center Left-Turn Lane Project.
"I thank Caltrans for being partners in this and the people that worked the project we're absolutely wonderful to the residents and the visitors," said Calaveras County Supervisor Merita Callaway. "I couldn't be happier as a county supervisor, and I know our residents are, too."
Caltrans worked closely with Calaveras County to find an innovative solution to a growing issue on the undivided, two-lane highway. Route 4 had become a challenge to navigate due to the high volume of traffic, especially during peak morning and afternoon rush hours, and when students arrived and departed Michelson Elementary School.
Traffic congestion also was present when events were staged at Ironstone Amphitheater and downtown Murphys, where thousands flock every week to experience the world-class shopping, dining, and wine tasting offered in the quaint Mother Lode community.
In the past, motorists attempting to safely make a left-hand turn off Route 4 to local streets and businesses, as well as the school, had to wait for oncoming traffic to clear before turning, creating backups that sometimes stretched for a quarter mile or more.
To solve the problem, Caltrans installed a two-way, center, left-turn lane, where motorists are channeled to allow thru traffic to pass. This has greatly improved traffic flow and enhanced safety by reducing rear-end collisions and motorists from unsafely using the shoulder to pass vehicles in queue.
"This project benefits the community because it makes it safer for the community," said Toby Butzler, public information officer with the California Highway Patrol. "Obviously, the Highway Patrol wants everyone to be safe on our highways and our roadways."
The project included other safety enhancements, such as a high-visibility crosswalk near Michelson Elementary School.
"The feedback we've received from our families and our staff that are here daily has been positive," said Tom Hoskins, superintendent of the Vallecito Union School District. "We appreciate those added safety features."
The new lane has helped local businesses and the economy, as customers now can access their establishments much more easily and safely.
"It's a real good deal," said John Trifilo, owner of Trifilo Garden Center on Route 4. "It's a good deal for the businesses."
The roadway was repaved to improve ride quality and restriped to provide motorists proper alignment and vehicle positioning.
"I sort of feel urban in this very rural county," Callaway said. "Thank you, Caltrans."
Hats Off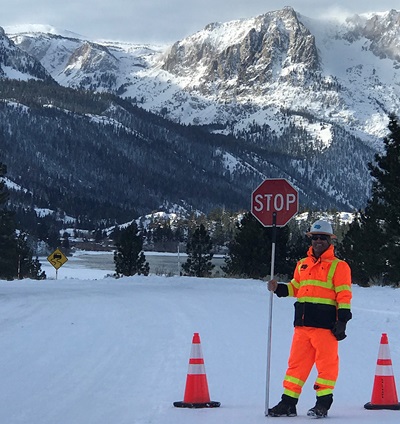 Holiday headache averted in Lee Vining
Note: The following letter was sent to District 9 Director Ryan Dermody on Dec. 31, 2021, by Cydney and Robert Kingery.
I wanted to write to inform you of your outstanding employee, Bradley Larson.
My husband, 80-year-old mother and I were forced to drive home to Reno, Nevada, from a Christmas celebration in Los Angeles (due to COVID and airport mayhem). As the weather progressively turned to snow and ice, after what felt like a perilous drive in our inadequate rental car, we got stuck in Lee Vining on Christmas night.
Luckily, we were able to procure a motel room In Lee Vining (Lake View Inn) as going on toward Bridgeport looked ominous at 8 p.m. in the middle of that storm. Our luck ran short when the power to the entire town (and motel) went out! My mother was very cold and very scared – luckily we'd brought some miscellaneous snacks on our road trip, but other than that there was no food available in the entire town.
Good fortune turned our way again when we met Bradley Larson at the Caltrans yard on Sunday morning. He sized up our situation and helped us sort through the information we were gathering about avalanches and road closures/conditions. Beyond that, he went out of his way to guide us to a safe way out of town on Sunday afternoon, Highway 167, and connected us to the local sheriff who then led a caravan of six families out of town to safety!
I really can't adequately express in words what a tremendous help he was to us, and how cheerful and positive his attitude was. We will always remember him and, because of Bradley, the great service you guys at Caltrans provide. From the bottom of my heart, thank you!
Health and Safety
Tips on how to banish burnout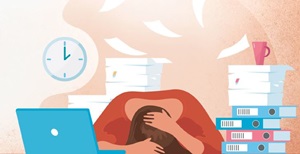 By the Employee Assistance Program
If you're feeling stress, anxiety, and burnout stemming from the disruptions caused by the pandemic, you're not alone. Surveys show a rise in burnout among all age groups, especially among younger adults.
People experiencing burnout often feel mentally and physically exhausted, unmotivated at their jobs, and disconnected from others. Other symptoms of burnout include insomnia, irritability, anxiety, and a sense of hopelessness and negativity.
Burnout happens when people are subjected to long periods of unrelenting stress. Sources of stress can include:
Ongoing financial difficulties.
Chronic illness.
Work pressures such as long hours without breaks or inability to take time off.
Lack of social support.
Having too many responsibilities and feeling overwhelmed at home and/or work.
Major life changes.
Feeling a lack of control.
Setting clear work-life boundaries is important to manage burnout. If you're primarily working from home, try to take short breaks during the day to clear your mind. Many remote workers report difficulty in disconnecting from the office at the end of the workday. Replace your commute with an 'end of the workday' ritual, such as turning off your electronics and clearing paperwork. Avoid answering non-urgent emails after your regular work hours.
In addition, protect your mental health by using earned time off, being realistic about workloads and deadlines, prioritizing what is most important, delegating tasks at home and work whenever possible, and asking others for support. Practicing daily self-care is also essential. Adequate sleep, a healthy diet, exercise, and making time for relaxation, friends and hobbies can help you cope with stress more effectively.
If you're having trouble managing stress or if you're consistently feeling anxious, depressed, and burned out, consider calling your Employee Assistance Program and talking with a mental health professional. There are a variety of treatment options that can help you feel better and improve the quality of your life.
Who's News
Mariana Chavez-Brooks, Business Operations' assistant division chief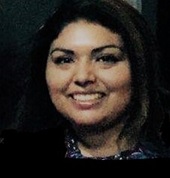 Mariana Chavez-Brooks is the Division of Business Operations' new assistant division chief (Administrative Services).
Mariana has more than 17 years of state service, all which have been in the Department of Transportation. Mariana started her career in the Division of Engineering Services and has since worked in Civil Rights, Project Management, Division of Local Assistance, and Traffic Operations.
She worked more than five years in the Division of Budgets, and for the last six years has worked in the Division of Maintenance. She has more than 14 years of experience in Resource Management.
Mariana has a bachelor of arts degree in psychology from California State University, Chico. She was born and raised in Yuba City and now lives in Plumas Lake with her husband (Rick) and two fur-babies (Diamond and Diesel). In her free time, she enjoys traveling, attending sporting events, concerts and movies, and spending time with her family.
---
Lesley Unterwegner, staff services analyst in District 11's Maintenance Division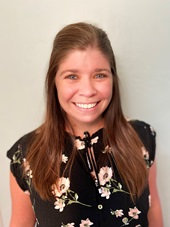 Lesley Unterwegner was promoted to staff services analyst in District 11's Maintenance Division as the training and property control coordinator.
Lesley started with Caltrans in October 2019. She was hired as an office technician at the Carmel Valley Construction Field Office. In November 2021 she accepted the out of class position in Maintenance as the training and property control coordinator.
In her permanent role she will be responsible for training, procurement, and property inventory control for the Maintenance Division and Maintenance Engineering Division, consisting of more than 500 employees. This position works with all employees including supervisors, superintendents, senior-level staff, district and headquarters personnel in acquiring and tracking the division employees' mandated and non-mandated training needs through the Learning Management System. In addition, as the division's Property Control Coordinator she will be tracking the division's equipment inventory.
Outside of work, Lesley enjoys spending time with her husband and 7-year-old daughter. On most weekends she likes to go camping in the desert and driving their side-by-side ATV or taking their boat to the San Diego Bay or the river in Arizona. Lesley also enjoys exploring the local wineries by her house in Ramona.
Obituaries
Television Specialist Lee Drake
Lee Drake, a television specialist at Headquarters, died on Feb. 20 at home after a long-term illness. He was 51.
Lee was a talented creative professional who was highly respected by his peers. He was born on Feb. 9, 1971, in Killeen,Texas, to Sun Sim Chong and Gary Drake. The family later moved to Bethlehem Township, Pennsylvania, where he was raised.
Lee attended California State University, Sacramento and earned his bachelor's in communications in 1999. Prior to joining state service, he worked as a photojournalist at television stations in Florida, Arizona and California - most recently at CBS-13 in Sacramento.
He joined the Caltrans Division of External Affairs in 2016. During his five-plus years with the department, Lee produced numerous videos highlighting Caltrans' achievements. These included episodes of the popular Caltrans News Flash series, another series of videos showcasing important Senate Bill 1 projects across the state, and a video series on the Clean California program.
In his spare time Lee enjoyed cheering on his favorite teams from Philadelphia (the Eagles and Phillies), reading about history, fishing, seeing live music with friends and family, and playing guitar. But most importantly, he treasured the time he spent with his family.
Lee will forever be remembered for his kindness, humility and gentle soul. He leaves behind a wife, Callie; and two young sons, Wyatt, 10, and Reid, 7. A memorial fund for the Drake family has been established at California Transportation Foundation website.
---
Retired bridge designer Frank N. Lauck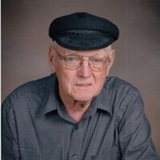 Note: The following obituary appeared online.
Retired Caltrans survey crew leader and bridge designer Frank N. Lauck died March 25 of a massive stroke. He was 90.
Frank was born in Pasadena on Feb. 20, 1932, to Vearl Lauck and Morene Self Lauck. Frank was an only child.
The family lived in the Enterprise area of Redding and Frank attended grammar school in that area. The family moved to Orland around 1946 and Frank attended eighth grade and later graduated from Orland High School. During the school years he made life long friends of Anthony Piazza, Bob Moranda, John Gates and Kenneth James.
After graduating from high school, Frank and Anthony Piazza joined the U.S. Navy together. While in the Navy, Frank was a photographer and in charge of the photo lab. After being discharged from the Navy, Frank worked with the Halderson Brothers building grain silos. This work, being done in the hot summer, was very challenging and Frank decided he needed to go to college to prepare himself for less physically challenging work.
After receiving his degree from Chico State College, Frank obtained employment with the California State Highway Department, which was later known as Caltrans. During his early years with Caltrans, Frank worked on the building of Interstate 5 as an inspector. Later he lead a survey crew along U.S. Highway 50.
Frank married Lorine Stemple in 1966. The Laucks would have been married 56 years in October of this year. After their marriage, Frank transferred to the Caltrans District 3 Office in Marysville, where he worked in the Design Department designing freeways. He worked on the design of Gianelli Bridge at Hamilton City, which he found very interesting. When Frank reached age 65 years old, he retired from Caltrans.
Frank is survived by his wife, Lorine Stemple Lauck. He had no children.
Frank lived in Yuba City for 50 years. He was well liked in his neighborhood and known as a man who could fix almost anything and was always willing to help a neighbor. The Laucks moved back to Orland approximately 10 years ago.