Director's Corner
Director's Corner
Ceremonies spotlight our emphasis on safety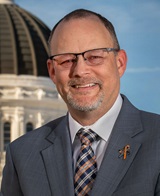 Welcome to another edition of Caltrans' departmental newsletter, CT News. I would like to extend a sincere "thank you" to everyone who has helped me in my interim role as director. My goal has been to oversee the continuation of the fine work we have already been doing, and to maintain the progress we have made in safety, efficiency, equity, and the environment. While some of these areas are recent shifts in focus, they are what makes our department the standout transportation leader in a changing world.
As always, Caltrans has safety as its top priority. We shine a spotlight on safety every spring with our Workers Memorial ceremonies conducted in all of our 12 districts. Here at Headquarters, we are looking forward once again to being able to walk across N Street to join the statewide Workers Memorial on the west steps of the Capitol at 11 a.m. on April 28.
(Due to the pandemic, the past two statewide ceremonies were held without visitors and livestreamed. This year's ceremony will also be livestreamed. When the time comes, use this link.)
On April 19 in Bakersfield, District 6 will host this year's first Workers Memorial ceremony at the South Regional Maintenance Station. The tributes continue through May 12, when District 7 has its ceremony in Valencia. Find out more information about all the Workers Memorials in this CT News story [link], which includes links to last year's story and to a photo gallery of the statewide event.
Since 1921, 189 Caltrans employees have been killed on the job. I am very fortunate to be able to report that we did not experience any jobsite fatalities in 2021 – nor in the previous two years. In fact, our safety streak in that regard is the longest it has been in 75 years.
The annual Workers Memorial observances also honor our fallen contractors and highlights transportation safety awareness for all, including the traveling public.
According to the U.S. Bureau of Labor Statistics (BLS), highway construction and maintenance work is one of the most hazardous occupations in the United States. In 2020, the BLS reports, "Workers in transportation and material moving occupations and construction and extraction occupations accounted for nearly half of all fatal occupational injuries (47.4 percent), representing 1,282 and 976 workplace deaths, respectively."
Please, if you can, make a point of attending one of our Workers Memorial ceremonies either virtually or in person. And, as always, stay safe.