Did you catch any of this summer's Games in Tokyo?
These weren't your grandfather's Olympics, which now find Gramps babbling on and on about Dick Fosbury's flop, Debbie Meyer's blowout speed, the Russians' three chances to win and Dave Wottle's "He's got one Kenyan …"
Not your grandfather's, perhaps, but definitely one aunt's. Caltrans employee Tracy Harrison, an office chief within the Division of Rail and Mass Transportation, was glued to the action as her beloved niece Krysta Palmer won a bronze medal in the women's 3-meter springboard diving competition. Palmer became the first U.S. woman to win an Olympics diving medal since the 2000 Summer Games in Sydney.
According to Harrison, the 29-year-old Palmer has known since age 5 that she wanted to be an Olympian. She was a very successful gymnast and, competing on the trampoline, was a junior national champion and "on track" for the 2012 Games in London before three knee injuries curtailed those Olympic avenues.
So about nine years ago, Palmer took up diving. She was a walk-on for the University of Nevada-Reno's swimming and diving team, eventually earning a full scholarship.
At Tokyo, she not only medaled in individual diving but also participated in the synchronized 3-meter springboard competition.
"I am so blessed with the village of wonderful people that surround me, and the greatest of these is my family," Palmer told CT News. "It has been a lifelong journey for me of reaching my goals of becoming an Olympian and now an Olympic medalist, and through it all, my family has been there to support, encourage, and motivate me.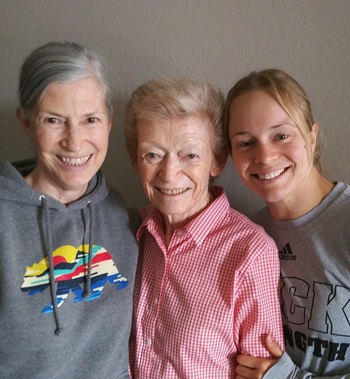 "My Aunt Tracy, along with many other family members, have been here for me during my hardest times and cheering me on when competitions didn't go as I wished they had. I have been through many injuries and I couldn't have achieved this big dream of mine without their encouragement. They truly share this victory with me."
A few weeks after the Tokyo Olympics, the proud aunt answered a few questions posed by CT News.
Have you seen her dive in person?
Harrison: "More than once! My mom and I have been to many of her national meets and even went to an international meet in Budapest in 2017. For this year's Olympic Trials, we took a three-week road trip to watch her in person in Indianapolis."
Did her extended family have any sort of watch party, or how otherwise was her Olympics experience shared among her relatives?
Harrison: "My mom and I had planned to go to Tokyo but COVID changed that. My brother and his wife, Krysta's parents, went to the NBC/Team USA party in Orlando to watch some of her events. The rest of the family is pretty well scattered, but there was a lot of social media contact, shared photos and texts during Krysta's competitions. I think all of us stayed up to watch the live coverage of the complete events (the earliest coverage was at 11 p.m. Pacific time)."
Do you know what Krysta's future plans might include?
Harrison: "Immediate future includes a trip to a Monday Night Football game in Green Bay. (My brother drives a big rig for Schneider Trucking, which is based in that area. His employer is located in the Green Bay area and apparently is a Packers sponsor. Krysta will toot a truck horn at the game and be interviewed by ESPN during the broadcast.) She's speculating about training for the next Olympics in Paris."
What does it feel like to be related to an Olympic medalist?
Harrison: "It didn't seem quite real until we greeted her at the Reno airport and got to touch her medal. I'm just so happy for her! It's exciting to see someone's dreams come true. I'm a former athlete myself — not at her level, though — so I have an inkling of the amount of hard work and dedication she has put into her accomplishment …"
Harrison elaborated that she competed in ski racing through her 20s. at her high school in Ohio, she lettered in volleyball, basketball and track, and was on her college track team for two years. "After college I took a cross-country bicycle tour with a group called Wandering Wheels — 2,700 miles in 29 days," Harrison added. "These days, I'm more likely to be found hiking."
Harrison and her mother, 89-year-old Renee Palmer (Krysta's grandmother) took a three-weeks-plus road trip to catch the diving Olympic trials in Indianapolis. The mother-daughter trek took them through 11 states and they took selfies at all 11 state capital buildings. The duo also watched in person as the younger Palmer competed in the FINA World Championships four years ago in Budapest, Hungary. Palmer and David Dinsmore captured third in the 3- and 10-meter mixed-team competition.
Let's let the Olympic medalist have the last word – about her roadies.
"My Aunt Tracy and grandma have brought joy to me in my athletic career by coming to most of my championship events that have been all across the USA," Palmer said. "I love my sport of diving and I don't plan on stopping until I've reached my peak or I stop having fun. …
"My family has hopes of traveling and being at an Olympic Games to support me, which is a big part of the reason that I want to continue training through to Paris 2024. It would be so special for me to have them there."