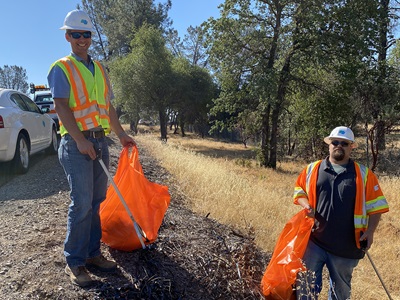 By Chris Woodward
District 2 public information officer
Clean California is a more than $1 billion, multi-year initiative to address litter while transforming unsightly roadsides into spaces with sustainable beautification projects that are places of pride.
Nearly a third of the Clean California funds are for cities, counties and tribal governments for their cleanup and beautification efforts. In addition to scaling up our litter pick-up efforts throughout the state, Caltrans will incorporate sustainable landscapes and facilitate beautification projects in underserved, rural and urban communities across the state.
"Litter continues to be a problem in many areas of our beautiful state," says District 2 Director Dave Moore. "Our goal is to significantly reduce litter along state highways through local partnerships and volunteer efforts, contracted work with small businesses, and our field maintenance personnel."
There have been multiple Clean California efforts here in District 2 since late-May. On June 7, an event was held along State Route 273 in the South Redding area, with District 2 executives, Maintenance and local Adopt-A-Highway sponsor Good News Rescue Mission on hand to perform litter abatement and area cleanups. On July 7, another event was held near Shasta View Drive and State Route 44, with litter abatement work by District 2 Maintenance and our partners from the Shasta County Opportunity Center.
In addition, District 2 Maintenance and area contractors have worked at numerous other locations to remove litter, graffiti, and help beautify spaces, including near the southbound Diamond Avenue off ramp from Interstate 5 in South Red Bluff and at the Shasta Dam Overlook on State Route 151 near the city of Shasta Lake.
The Clean California program will generate an estimated 10,000-11,000 jobs over three years including state jobs and opportunities for people experiencing homelessness, at-risk youths and people re-entering society following incarceration. In District 2, fifteen permanent full time Service Assistant Maintenance positions have been created for the Redding and Red Bluff areas. Job duties for these positions include litter and debris abatement and general landscaping and include medical, dental, and retirement packages.
Clean California's more than $1 billion investment includes:
$418 million: Litter Abatement
$287 million: State Beautification Projects
$296 million: Local Beautification Projects
$33 million: Public Education
$62 million: Project Design, Construction, Local Support and Engagement
Communities in all 58 California counties stand to benefit from Clean California. Caltrans will ramp up trash collection efforts and incorporate sustainable landscapes along state highways. Caltrans will fund projects on local streets and roads, tribal lands, parks, pathways, and transit centers through a new grant program to clean up and enhance public spaces.