By Dr. Asha Weinstein Agrawa, Ph.D.
Education director of the Mineta Transportation Institute
Since the mid-1990s, Caltrans employees have been advancing their careers with studies in the San Jose State University (SJSU) graduate program in transportation management. The program, offered by SJSU's Lucas Graduate School of Business and supported by the Mineta Transportation Institute (MTI), is designed for working professionals in any part of the transportation industry who want to hone the skills and knowledge needed for leadership roles. Our Caltrans students come to the program as engineers, communications professionals, planners, and more.
Students can earn a 10-course MS in Transportation Management degree or a 4-course graduate certificate. Current certificate offerings include a Certificate in Safety, Security, and Emergency Management and a Certificate in High-Speed and Intercity Rail Management.
Program benefits include online classes that meet weekday evenings, affordable tuition ($12,750 for the MS degree), and the opportunity to connect with and learn from industry leaders. Our faculty are nationally-known transportation professionals and researchers.
Also, MTI's Board of Trustees, which includes Caltrans Director Omishakin, advises on the curriculum, and classes regularly include executive-level guest speakers. Last year, for example, guest speakers included CalSTA Secretary David Kim; Tilly Chang, Executive Director of the San Francisco County Transportation Authority; Phillip A. Washington, Chief Executive Officer of the Denver International Airport; and Salvador Llamas, Chief Operating Officer of AC Transit.
As explained by Will Kempton, retired Caltrans Director and current instructor in the program, "An MSTM degree through SJSU and MTI can be a big help to your career. Not only will you take part in a first-rate graduate program focused on transportation, you'll also establish important connections with students and faculty that will help facilitate your future professional advancement."
In this article, you'll meet four current Caltrans staff members -- Aung Min Naing, Christina Prosperi, Noah Sanchez, and Alia Thomas -- and learn how they are using this educational opportunity to build up careers.
To learn more about the program, contact Dr. Asha Weinstein Agrawal, MTI Education Director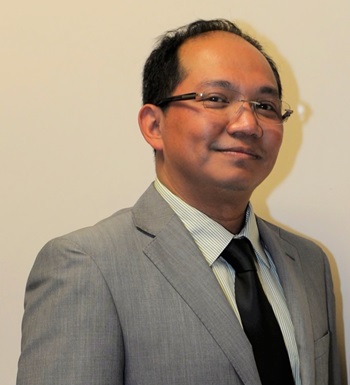 Aung Min Naing, P.E.
Project Traffic Engineer
Division of Design-Innovative Delivery Unit
District 8 - San Bernardino
Why did you choose the MSTM program?
I had always wanted to complete a master's degree program after I earned my undergrad degree 19 years ago. However, I didn't have the time to attend a traditional on-campus graduate school due to my work schedule, preparing for the PE license exam, and family matters. However, the MTI program offers accredited, on-line evening classes that are the perfect program for those of us working full time with family.
How has the program helped you to advance your career?
I like the program's unique mix of engineering, business, and planning. I have learned many things to take back and apply to my daily traffic engineering work at Caltrans. The MSTM program has improved my written communication skills, oral communication skills, and skills at working with internal and external stakeholders. Also, through the program I have developed in-depth knowledge about transportation policy, project management, leadership, marketing, and communication.
The MSTM degree will make me a tremendously more competitive candidate for a management promotion. The program offers numerous career benefits that include developing professional skills and expanding my professional network.
I would highly recommend this program to anyone who is seeking a rewarding career with abundant opportunities.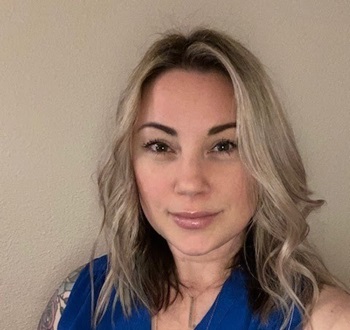 Christina Prosperi
Transportation Planner, Office of Complete Streets & Livable Communities
Active Transportation Coordinator & GIS Liaison
District 2 - Redding
Why did you choose the MSTM program?
I chose the SJSU program because of its community support. As a person who had just finished a bachelor's degree in her thirties while raising three small children, I was fully aware of how challenging a master's degree would be. However, the SJSU community, and the supportive and inspiring cohort that I am privileged to learn with make the journey better. We are networking and building meaningful professional relationships. We are creating friendships. We are learning from each other, and inspiring each other to grow in new ways.
In what ways has the program helped you to advance your career?
This program has advanced my understanding of the many transportation agencies in California and how we interact, each striving for a safe and reliable transportation system for all ages and abilities.
Every class is a round-table experience with dozens of transportation professionals bringing decades of cumulative experience and institutional knowledge to the discussion. The connections I have made through the program have closed the gap between district and state. I no longer feel like an employee of District 2, serving the community of this area, but as a member of a statewide agency bringing service to all California communities, sharing innovative ideas, and learning from everyone, regardless of district or position. My perspective on work has changed from "me working as an individual in a large organization" to "me working as part of something bigger than myself that gives me the power to make a difference."
Additionally, I am taking classes to earn a Transportation Safety, Security, and Emergency Management certificate at graduation. I can combine these skills with GIS skills I am learning concurrently through my local junior college, bringing future support and critical transportation solutions to communities during natural disasters.
Finally, the program has also led to a promotion. I had been working as an analyst in Local Assistance, but as I learned more about Caltrans, I found that I could best use my skills to benefit the community best as a transportation planner. The MSTM program played a crucial part in my promotion to the Complete Streets and Livable Communities Unit, where I can do just that.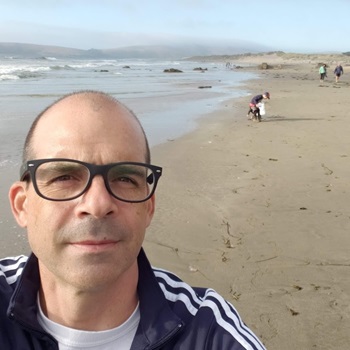 Noah Sanchez
Research Data Analyst II
Division of Maintenance, Office of Strategic Management
Why did you choose the MSTM program?
I wanted to earn a master's degree that aligns with my career at Caltrans. I knew I could make the time for this once the MSTM program began letting students join class using Zoom. Now, I can attend classes in the evening from my house. Also, when I explored the cost of the program, I was encouraged by its affordability.
How has the program helped you to advance your career?
The program has allowed me to refresh my research and reporting skills by incorporating modern techniques and resources.
For example, I took a class in Transportation Project Management taught by former Caltrans engineer Nigel Blampied. The knowledge I gained in this class was valuable as I began developing my first Work Breakdown Structure (WBS) at Caltrans, a project that I am working on for the Enterprise Data Governance Task Force. As a member of the Task Force, I lead three teams: one focuses on performance reporting, another on documentation, and the third on data visualization. Creating the WBSs and work plans for three teams was a lot of work, but in the class I learned how to bring structure, planning, and organization to the project.
To give another example, the class on Transportation Systems and Society has been a great way for me to refresh some of my research skills, from where to find sources of information, to the best ways to track the references. My research abilities were fine before, they are better now.
SJSU also offers a variety of resources including writing workshops that have helped me improve my written communications and extra ad-hoc workshops such as an introduction to computer languages for data analysis.
Regardless of classification, I would recommend this program to anyone at Caltrans interested in learning about topics relevant to what we do every day. My work/life balance has been minimally impacted due to the flexibility of taking classes at home and the affordability of the program.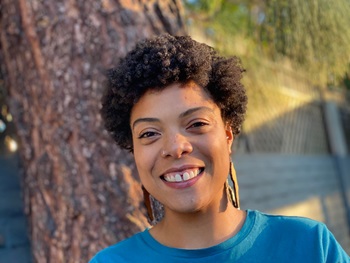 Alia Thomas
Associate Right of Way Agent
Division of Right of Way
District 4 - Oakland
Why did you choose the MSTM program?
As invaluable as on-the-job experience is, the opportunity to grasp the "bigger picture" was the building block that I needed to create a more solid foundation for the future of my transportation career. I entered into school seeking to learn more about the transportation sector as a whole. I was also there to explore my abilities as a leader. The program is intensive and mindful of the adult working student body that it is catering to, with evening classes.
How has the program helped you to advance your career?
I've been working at Caltrans District 4 (Oakland) for a little under four years. Through the MSTM program, I'm exposed to project management processes and theories, so my understanding of management has advanced notably.
For example, I have come to understand how the many functions within the transportation sector are deeply intertwined. And not just with each other, but also with how society functions as a whole.
The MSTM program is also designed to help students manage the rapid evolution in the transportation industry, whether autonomous vehicles, electric scooters, or flying carpets. As the MSTM degree lays the foundation for me to move into new opportunities at Caltrans, I am simultaneously preparing myself for the challenges that lie ahead.
I have also learned about emergency security management, and I will secure the Certificate in Transportation Safety, Security, and Emergency Management along with my MSTM degree.
Whether or not your intention is to go into management (if you aren't already), the knowledge gained in this program is invaluable to understand transportation management functions and processes. In addition, you get an introduction to the vast number of employment opportunities in the transportation sector, from aviation logistics to public policy. Also, you are learning about issues like racial inequality, climate change, homelessness, and the rapid expansion of major metropolitan areas in this country and across the globe.