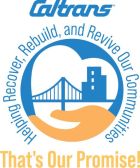 The California State Employee annual Our Promise campaign began on Sept. 1 and will continue through Nov. 12.
This year is being celebrated as the year to Recover, Rebuild, and Revive California. The official Caltrans campaign dates are Sept. 13 through Oct. 29.
Please join us in helping recover, rebuild, and revive our communities. Check out the Caltrans Our Promise webpage (accessible via Caltrans' onramp webpage) and listen to a message from Caltrans Director Toks Omishakin.