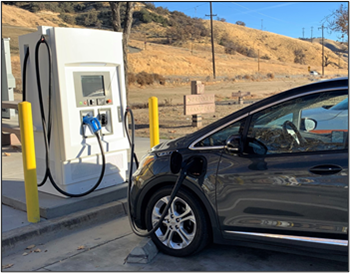 By Christian Lukens and James Medina
Districts 6 and 7 information officers
Electric vehicle (EV) drivers now have more fast-charging options along state highways in Central California — including at the popular Tejon Pass Rest Area near the Los Angeles/Kern County line — with the installation of 22 new EV fast chargers at nine locations by the Caltrans.
"Fast chargers are essential to continue growing EV adoption in California and meeting our state's goals for combating climate change," said Caltrans Director Toks Omishakin. "Expanding the availability of convenient fast-charging stations along state highways is significant for the future of California transportation."
The Level 3 DC fast chargers provide an approximate 80 percent charge in 30 minutes to EVs with fast-charging capability. The chargers have universal connectors and are able to serve all EVs on the market, including Teslas with an adapter. Charging is free with no time limit.
"With four new EV fast chargers at the Tejon Pass Rest Area on Interstate 5, and 18 others staggered approximately 40 miles apart, Caltrans has reduced recharging concerns of plug-in EV drivers on long-distance trips through the Central Valley," said District 7 Director Tony Tavares, whose district includes Los Angeles and Ventura counties.
According to the California Air Resources Board, 70 percent of California transportation sector greenhouse gas emissions come from light-duty vehicles, including passenger cars, SUVs and light-duty trucks.
"This project is a tremendous example of how public agencies can collaborate with the private sector to fill gaps in the zero-emission vehicle (ZEV) market. More chargers throughout the state will help to incentivize the purchase of EVs, getting us closer to Governor Newsom's goal of 100 percent ZEV sales by 2035," said Tyson Eckerle, Deputy Director of ZEV Market Development at the Governor's Office of Business and Economic Development (GO-Biz)
The Tejon Pass Rest Area is about 60 miles north of Los Angeles and 40 miles south of Bakersfield and is a popular stopping point for drivers traveling along I-5. The four new fast chargers are located on the southbound side of the interstate. Motorists traveling north on I-5 can exit at the Lebec off-ramp to Lebec Road, which loops over the highway, to access the fast chargers, including one that is compliant with the Americans with Disabilities Act (ADA).
In addition to the new chargers in the Central Valley, Caltrans has six Level 3 DC fast chargers in San Diego County, two in Monterey County and one in San Luis Obispo County, and two Level 2 charging stations in Napa County and three in Contra Costa County – all available to the public.