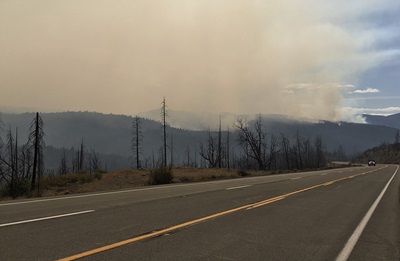 By Christopher Woodward
District 2 information officer
The August Complex arose out of approximately 38 lightning fires sparked Aug. 16 and 17, 2020, burning in portions of Glenn, Lake, Mendocino, Shasta, Tehama and Trinity counties.
By Sept. 11, the largest fires in the complex, including the Doe Fire, the Elkhorn Fire and the Hopkins Fire, had merged together to create the largest recorded fire in state history. Some 1,032,648 acres had burned by the time the complex reached containment on Nov. 12.
While there had been no major impacts on District 2 highways through mid-September, the northern edge of the fire was approaching State Route 36 near Forest Glen and Post Mountain. On Sept. 25, fire officials requested a hard closure of SR-36 from west of South Fork Mountain Summit to State Route 3 to initiate backfiring operations to try to keep the fire south of the highway.
A large wind event followed a few days later, causing the fire to jump the highway and spread throughout the corridor in and around Forest Glen.
The August Complex Emergency Limited Bid began in mid-October, prior to full containment of the fire. Under the Director's Order, more than 7,000 hazard trees needed to be removed from the corridor, along with installation of metal beam guardrail and drainage work. J.F. Shea Construction, Inc. was utilized as the prime contractor on the job.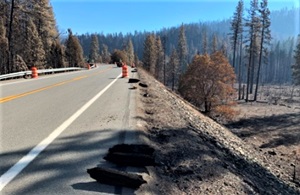 Following the full closure from the fire activity, Caltrans and J.F. Shea initiated single time openings to get some traffic moving in the area while beginning emergency operations. By mid-February, opening times had been expanded to six times daily, along with traffic being taken through the area at the top of every hour overnight.
J.F. Shea and District 2 personnel have worked with many local residents and agencies in the area to make sure that necessary goods and services could be delivered or moved through the area while continuing to make emergency repairs.
"Large-scale wildfires, like the August Complex, can have severe effects on highway infrastructure," says Brent Clements, Senior Area Construction Engineer for North Region Construction. "Caltrans and J.F. Shea personnel have been working seven days a week since the emergency work began to remove thousands of hazard trees and replace miles of guardrail in order to make the highway safe again for locals and the travelling public."
All work on the emergency project is currently anticipated to be complete by late this summer.