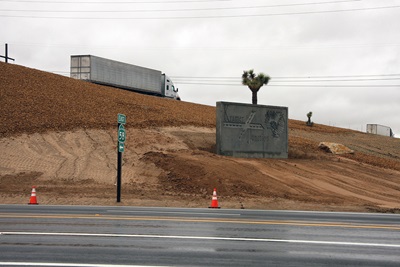 By Terri Kasinga
Public Affairs chief, District 8
Caltrans District 8 completed the Kramer Junction project in December 2020 on State Route 58 (SR-58) at the junction of U.S. Route 395 (Route 395). The project was made possible and funded with Senate Bill 1 (SB 1), the Road Repair and Accountability Act of 2017.
The $242 million project realigned and widened a 13.3-mile segment of SR-58 from 0.4 miles west of the Kern County/San Bernardino County line to 7.5 miles east of Kramer Junction from a two-lane conventional highway to a four-lane expressway, and construct an interchange at the junction of U.S. Route 395/SR-58 to replace the at-grade intersection between the two highways, which had long been an infamous zone of highway backups.
Over 16,000 vehicles, half which is truck traffic, drive through Kramer Junction on average every day. "State Route 58 at Route 395 at Kramer Junction is a vital link between Northern and Southern California for tourism and goods movement," states Caltrans District 8 Director Mike Beauchamp. "The operational improvements that have come from this project will increase safety, improve mobility, and provide an efficient mode of travel for the logistics industry by separating these slower slow-moving vehicles from passenger cars as they ensure that critical food supplies can make their way to the rest of the nation during the COVID-19 pandemic."
The project was awarded to Kiewit Infrastructure West Cooperation and was funded by the State Transportation Improvement Program (STIP) and SB 1. The SR-58 Kramer Junction Expressway project began in early 2018 and has successfully completed the realignment of the roadway, constructed new pavement, widened the median, built a new interchange at US 395, and separated the railroad crossing from the roadway to accommodate the increased volumes of oversized vehicles.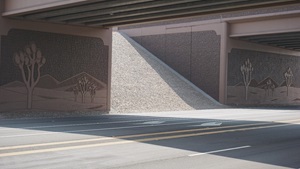 The widening and railroad upgrades are expected to reduce traffic delays caused by heavy truck and tourism traffic who travel from north, south, east and west corridors adjacent to Interstate 15.
Here's some fun facts that put Kramer Junction on the map and made it what it is today.
Many years ago, the Darr family owned a Standard gas station at Muroc/Edwards Air Force Base and owned some of the land around it. When Florence Lowe "Pancho" Barnes, a pioneer aviator who beat Amelia Earhart's airspeed record, was fighting with the military over the fate of her Happy Bottom Riding Club located in this desert region, Mr. Darr took the opportunity and sold his interest at the base for a fair amount of money and proceeded to buy up all the land around Kramer Junction. With the purchase of the land, it wasn't long until a gas station opened, with supplies and services to support the desert travelers heading north and south, east to west. Today, the Darrs own two gas stations, including a museum, antique store and private airstrip, located on the old alignment of SR-58 and Route 395 at Kramer Junction.
Caltrans partnered with several organizations during the scope of this project, including the California Highway Patrol, Federal Highway Administration, San Bernardino County Transportation Authority, U.S. Fish & Wildlife Service, California Department of Fish & Wildlife, San Bernardino County, Bureau of Land Management, Edwards Air Force Base, Burlington Northern Santa Fe Railway, and the communities of Kramer Junction and Boron.
Many weary desert travelers will benefit from the new alignment and widening of SR-58 and be able to still experience services and a piece of history on their travels.