2021 EIT Awards
Announcing the 2021 Excellence in Transportation Award Winners
Each year, Caltrans highlights the best of its work and the work of its partners through the annual Caltrans Excellence in Transportation Awards Program. Caltrans received entries from Caltrans districts and programs, public agencies, private contractors, and consultants across the state. Congratulations to everyone who worked hard to make these projects a reality by working to provide positive and measurable improvements in transportation, resulting in a lasting benefit to the state of California.
Category 1 Intermodal Transportation
Coastal Rail Trail Segment 7/Phase I
City of Santa Cruz Public Works
RRM Design Group
Graniterock Construction
Santa Cruz County Regional Transportation Commission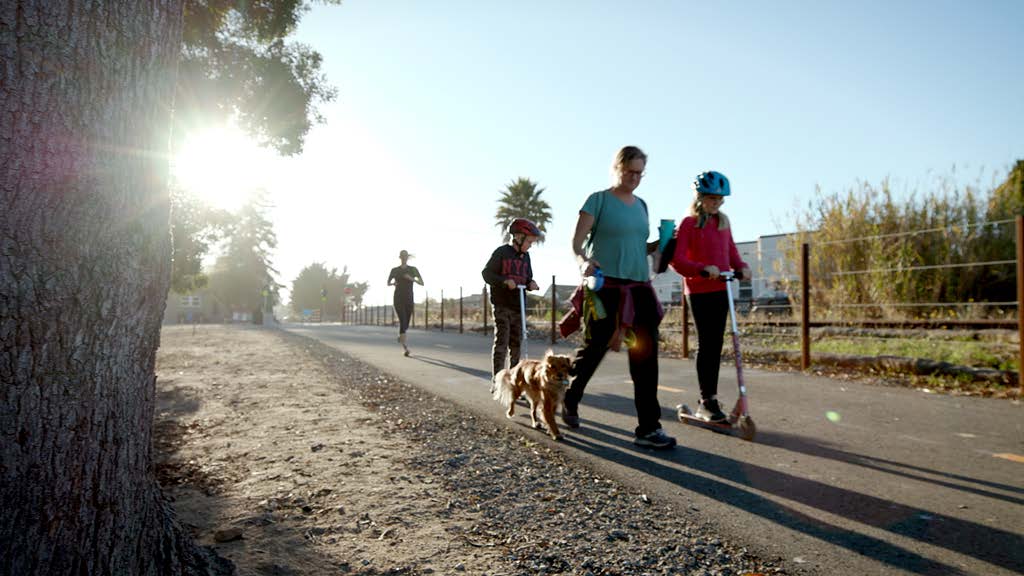 The Coastal Rail Trail Segment 7/Phase I project broke ground in January 2020 and concluded nearly one year later. This paved multi-use trail in the City of Santa Cruz was the second segment of the Monterey Bay Sanctuary Scenic Trail — envisioned 20 years ago by then-U.S. Senator Sam Farr.
The trail is a 12-16 feet wide Class I facility that is ADA compliant and runs 1.2 miles from Natural Bridges Drive to Bay/California streets along the coastal side of the existing rail line. It includes 10 green crossbikes, a 60-foot long steel truss bridge, a 70-foot long soldier pile retaining wall and new vehicle and bike parking,
Coastal Rail Trail Segment 7/Phase I has greatly increased active transportation in Santa Cruz while reducing carbon emissions. Serving over 600 active transportation users per day, it is helping to increase walking, biking and safety. Testimonials reflect enthusiastic community appreciation in this ribbon-cutting Rail Trail Segment 7/Phase I Ribbon-Cutting - YouTube
Category 2 Highway Rural
Yellow Creek Bridge
Caltrans District 2
Stewart Engineering Inc.
Pacific Gas & Electric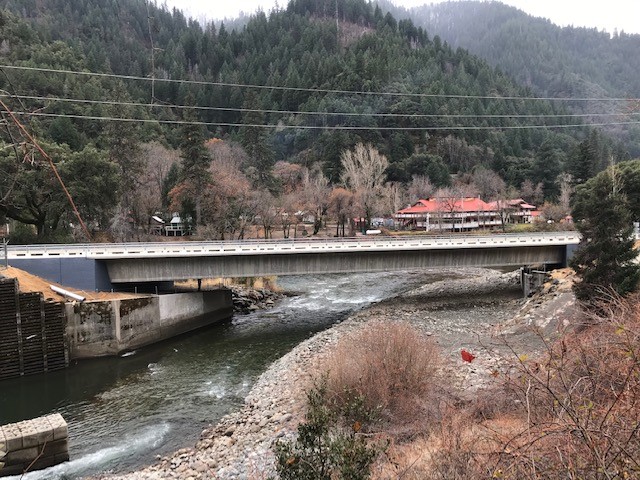 The Yellow Creek Bridge project serves as a testament to exceptional planning, design, and construction of a facility that meets the needs of all users and continues to serve as a critical crossroad for many uncommon transportation modes.
Through careful consideration and stakeholder involvement, bridge users of every imaginable type were accommodated, including long distance hikers, equestrians, vehicles, kayakers, and rafters, along with the needs of the immediately adjacent Belden powerhouse hydropower facility.
The design process considered each user and planned for the final structure to serve all users without detracting from the functionality of the bridge, nor the rugged beauty of the surrounding Feather River National Scenic Byway. Construction operations were conducted to ensure all users could continue to use the bridge safely and efficiently during construction, resulting in a simple, yet elegant and highly functional bridge.
Category 3 Highway Urban
I-5/Genesee Avenue Interchange Project
Caltrans District 11
Flatiron Construction
City of San Diego
Kimley-Horn and Associates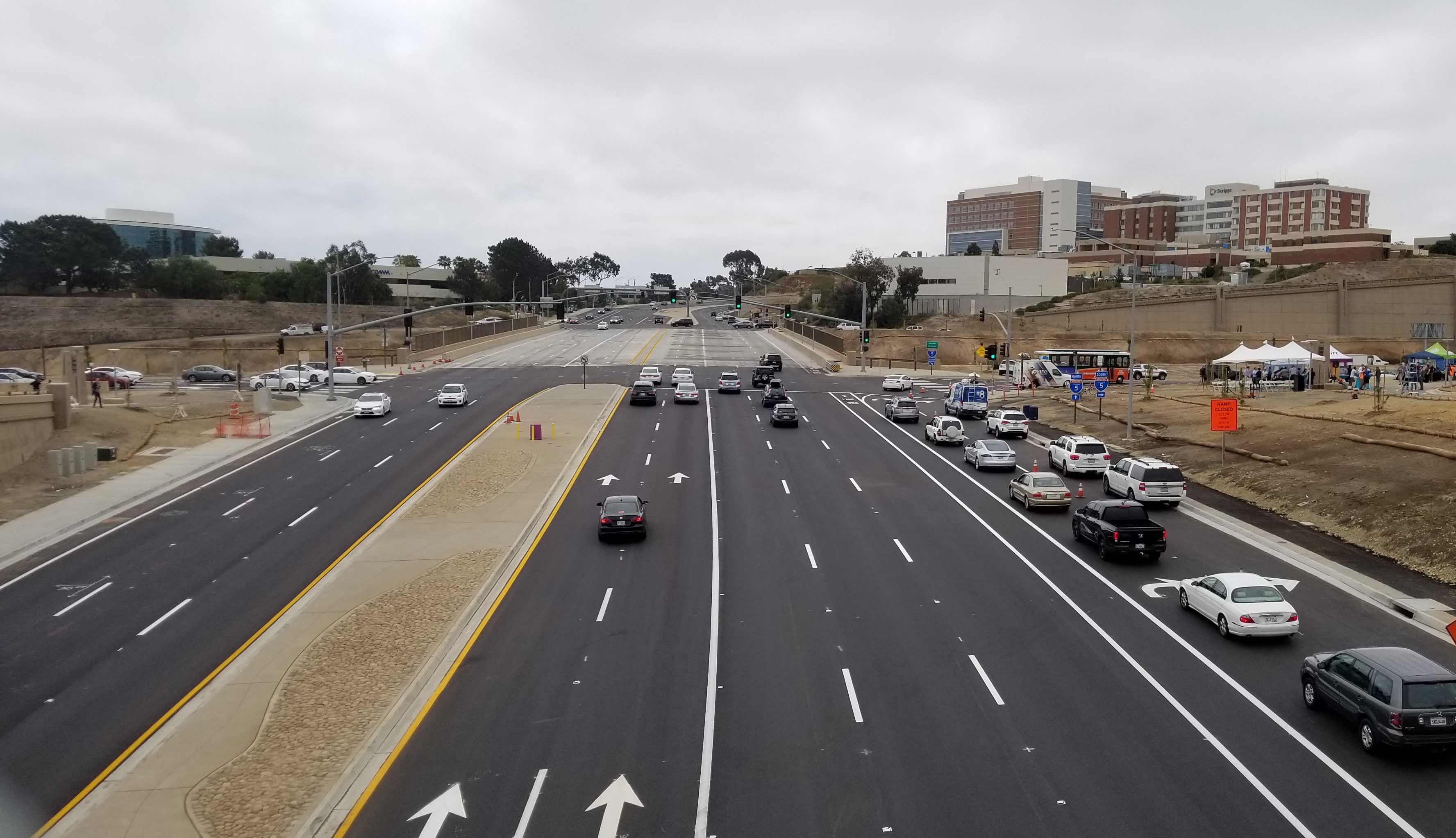 The I-5/Genesee Avenue Interchange Project features a new multi-modal interchange, a 1.5-mile Class-1 multi-use path with a Pedestrian/Bicycle Over Crossing (POC) at Genesee Avenue, a new, wider bridge deck with new sidewalk and bike lanes, freeway improvements and improvements to on/off-ramps at Roselle Street. This project is a model of regional collaboration between the City of San Diego, Caltrans, San Diego Association of Governments and additional local stakeholders (such as MTS, UCSD, and Scripps Hospital) who came together to provide freeway, active transportation, and complete street elements that solved a regional and national mobility challenge, addressed competing demands of the area's various users, and met the changing needs of the region.
By providing links to transportation and improving the operations of the existing facilities, the project has greatly improved access to major employment centers, hospitals, and UC San Diego and has also greatly improved the movement of people and goods throughout the area.
Category 4 Major Structures
Echo Summit Sidehill Viaduct Replacement Project
Caltrans District 3
City of South Lake Tahoe
Tahoe Chamber
El Dorado County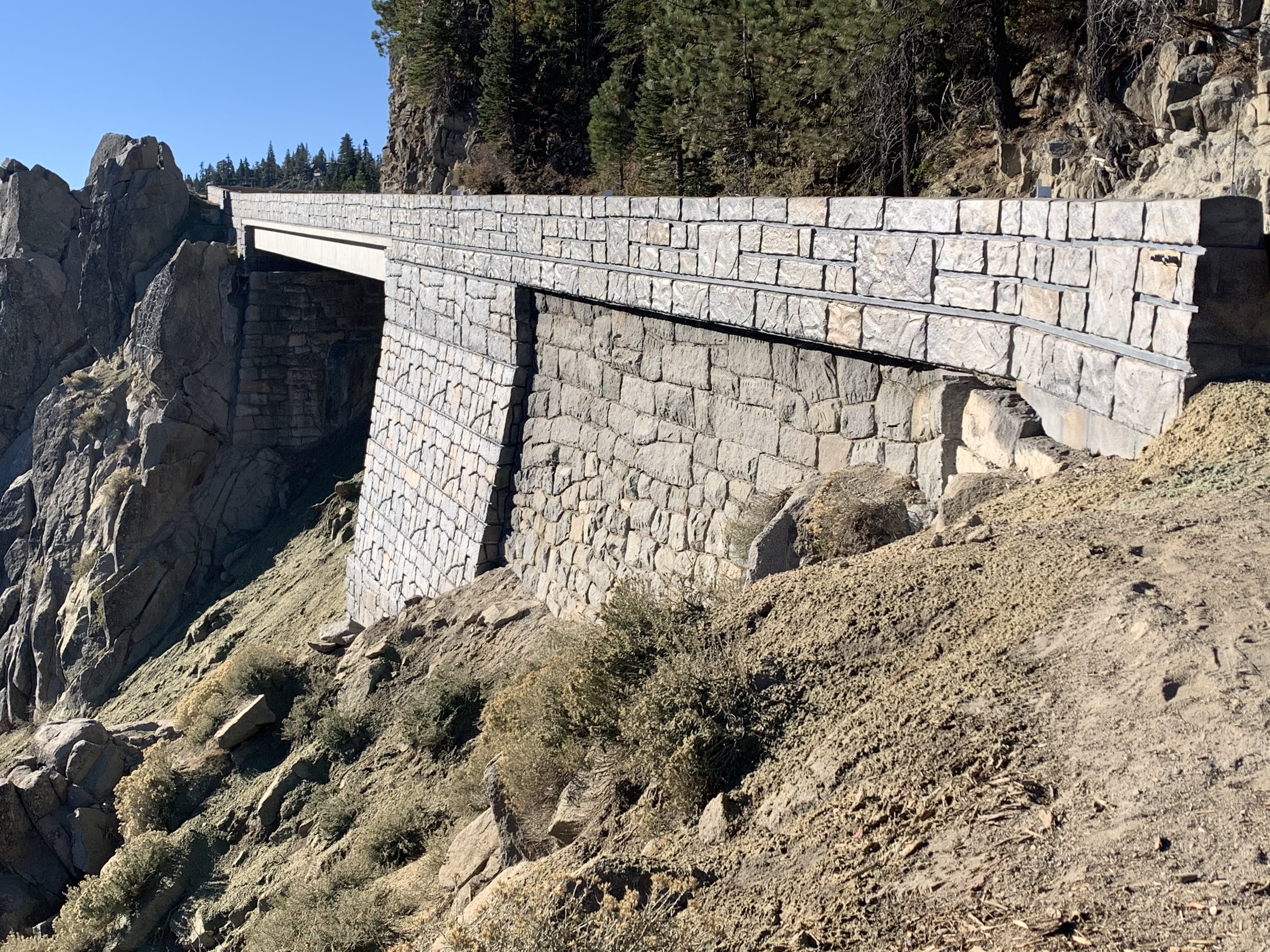 Precariously perched on a steep mountainside with Lake Tahoe in the background, this side-hill viaduct, located in a very narrow stretch of US Highway 50, could not be replaced using conventional methods without closing the highway for up to 3 months. The solution was to build around and behind the existing foundation: building a bridge around the existing bridge - all done while traffic was running above!
Accelerated Bridge Construction was then used to complete the remaining work faster and more efficiently to reduce the economic impact to the tourist-dependent Tahoe Basin. A first for Caltrans at high elevation, Ultra High-Performance Concrete was used to lock together the specially designed, 96-foot long, precast box girders which also served as the bridge deck.
This approach resulted in a reduced full highway closure, and the roadway was opened to traffic in only 9 days!
Category 5 Stewardship of the Environment
Coastal Rail Trail – Encinitas
Caltrans District 11
San Diego Association of Governments
City of Encinitas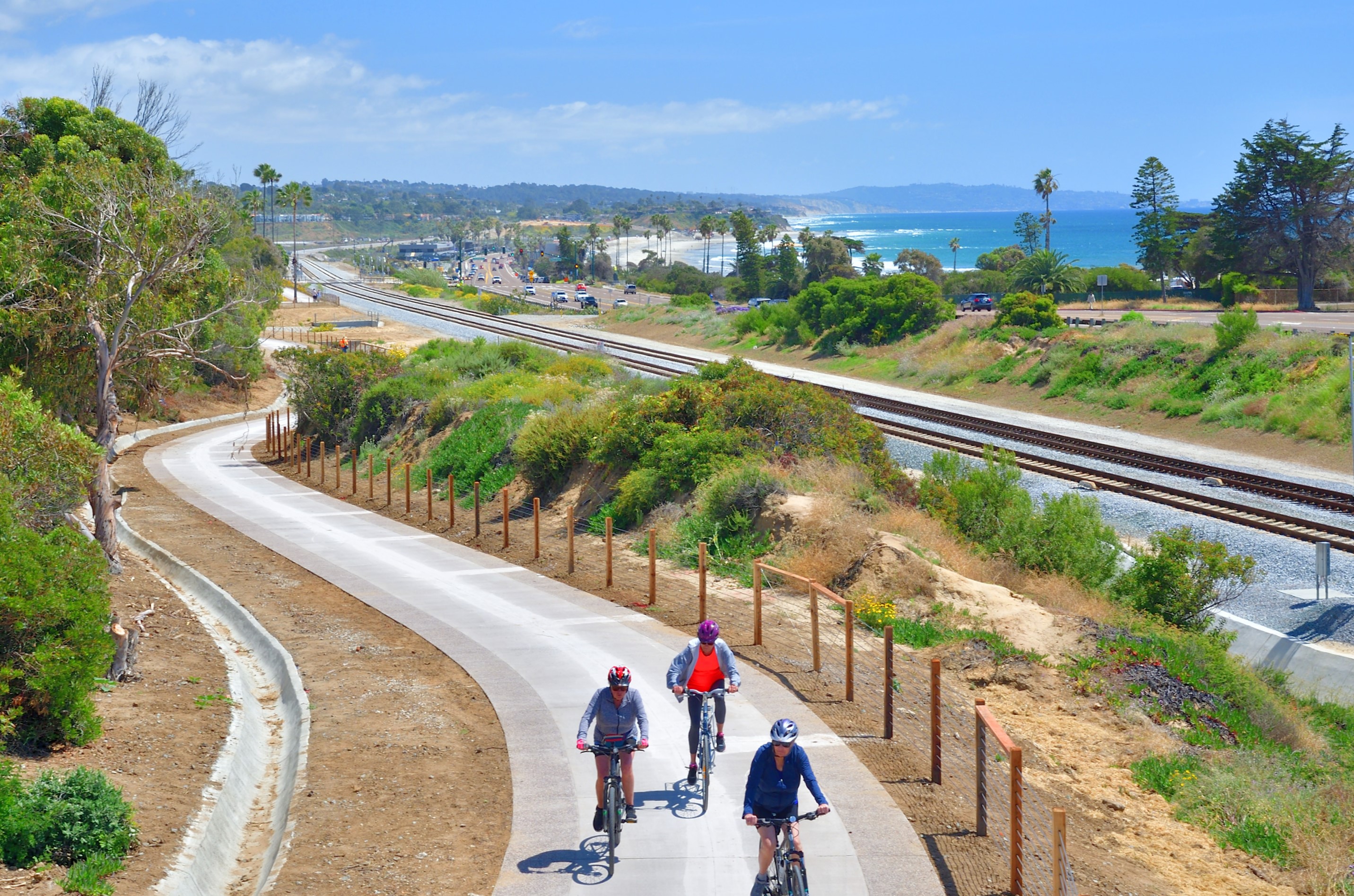 As part of the I-5 North Coast Corridor (NCC) program and the North Coast Corridor Public Works Plan/Transportation and Resource Enhancement Program, the Encinitas segment of the 44-mile Coastal Rail Trail improves biking and walking connections to several destinations in the Encinitas community, including local parks, businesses, beaches, and schools.
A safe environment for all ages and abilities has been provided to improve the mobility of non-motorized users to bus and rail facilities, community and employment centers, and other local and regional destinations. Bicyclists and pedestrians, including young students, do not have to interact with motor vehicle traffic for the project's entire length, significantly increasing safety throughout the project corridor.
The project will help fulfill the vision laid out in the San Diego Regional Bike Plan to make riding a bike a useful form of transportation for everyday travel, reduce greenhouse gas emissions, and provide transportation alternatives to driving a vehicle.
Category 6 Transportation-Related Facilities
I-215/Barton Road Interchange Improvements
Caltrans District 8
San Bernardino County Transportation Authority
In addition to the roundabout, the I-215/Barton Road Interchange Improvement project included local circulation system improvements such as new roadway connections, realigned facilities and new signals. This resulted in improved safety and traffic operations and reduction in traffic conflicts. The project also improved pedestrian, bicycle and vehicular access to facilities served by the interchange and provided a context sensitive design.
Due to the location of Grand Terrace Elementary at the northeast quadrant of the interchange, extensive coordination with the city, school, parents, and school district was done to ensure safe and reliable access to the school during construction.
The project provided equitable access to a predominantly disadvantaged community from both east and west sides of the freeway. Introducing the roundabout configuration has accommodated access to multiple roadways with enhanced operation and safety.
Category 7 Transportation System Operations Improvements
Exclusive Pedestrian Crossing Cycle by Time of Day
City of Santa Clarita
Kimley Horn and Associates, Inc.
McCain Traffic Supply
Safety is always the number one priority, especially near schools. Seco Canyon Road and Decoro Drive are adjacent to two schools. During school hours, this intersection becomes heavily congested due to the high volume of students and vehicular traffic.
To improve pedestrian safety and reduce traffic congestion, the City of Santa Clarita developed a modified Exclusive Pedestrian Crossing by Time of Day, known as a "Pedestrian Scramble," that included special timing during school hours. This phase enables all pedestrians to cross the intersection simultaneously while all vehicular traffic is stopped.
This timing eliminates vehicular-pedestrian conflicts. Additionally, traffic circulation is greatly improved because vehicles will no longer need to wait for high volumes of pedestrians to cross the street during a green light before they can make a turn.
The new traffic pattern is also supplemented by "blank-out signs," which instruct drivers on when they safely can make right-hand turns at the intersection.
The project resulted in reduced congestion and shorter travel times for motorists, and pedestrian safety was enhanced for students and parents who use the crosswalks daily at this intersection.
Category 8 Worker and Traveler Safety
Wildlife Passage Modifications on State Route 118 in Las Posas Valley
Caltrans District 7
National Park Service
California Natural Resources Agency
S. Department of Transportation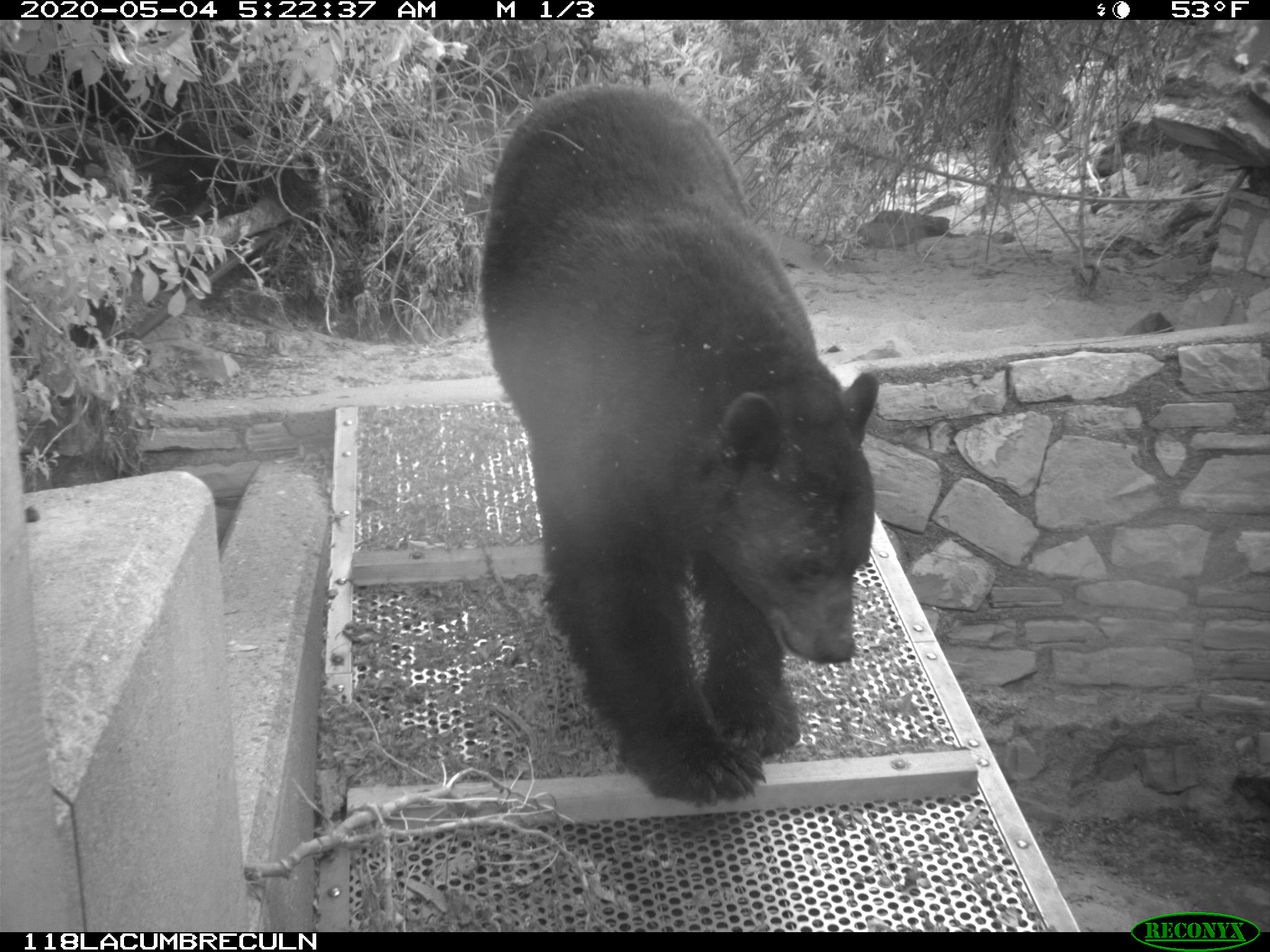 Existing highways act as barriers to wildlife movement, and as a result, have caused habitat loss/fragmentation and reduced population size and genetic diversity for various wildlife species. Wildlife-Vehicle Collisions (WVCs) are another aspect that can affect species directly via mortality.
Prior to the Wildlife Passage Modifications on State Route 118 in Las Posas Valley (SR 118) project, a wildlife study was completed to determine the most effective approach to minimize these negative effects. The study resulted in new fencing and wildlife ramps to improve five key undercrossings, four culverts and one bridge.
Each modification was designed to improve wildlife crossing within an essential wildlife linkage, reduce fragmentation within wildlife populations, and reduce the number of WVCs. This improved safety for both local motorists and wildlife movement within the Santa Monica-Sierra Madre Connection wildlife corridor, while simultaneously increasing habitat connectivity for wildlife across one of the largest obstacles (SR 118) affecting wildlife movement in the corridor.
The Improvements also protect ecosystems and their wildlife populations via increased access to resources as well as increased genetic diversity of populations. This project serves as a model for traveler and wildlife safety within the region.
Category 9 Community Enhancement
Go Human Program – From Pop Up to Permanent: A Model for Community-Centered Public Engagement
Southern California Association of Governments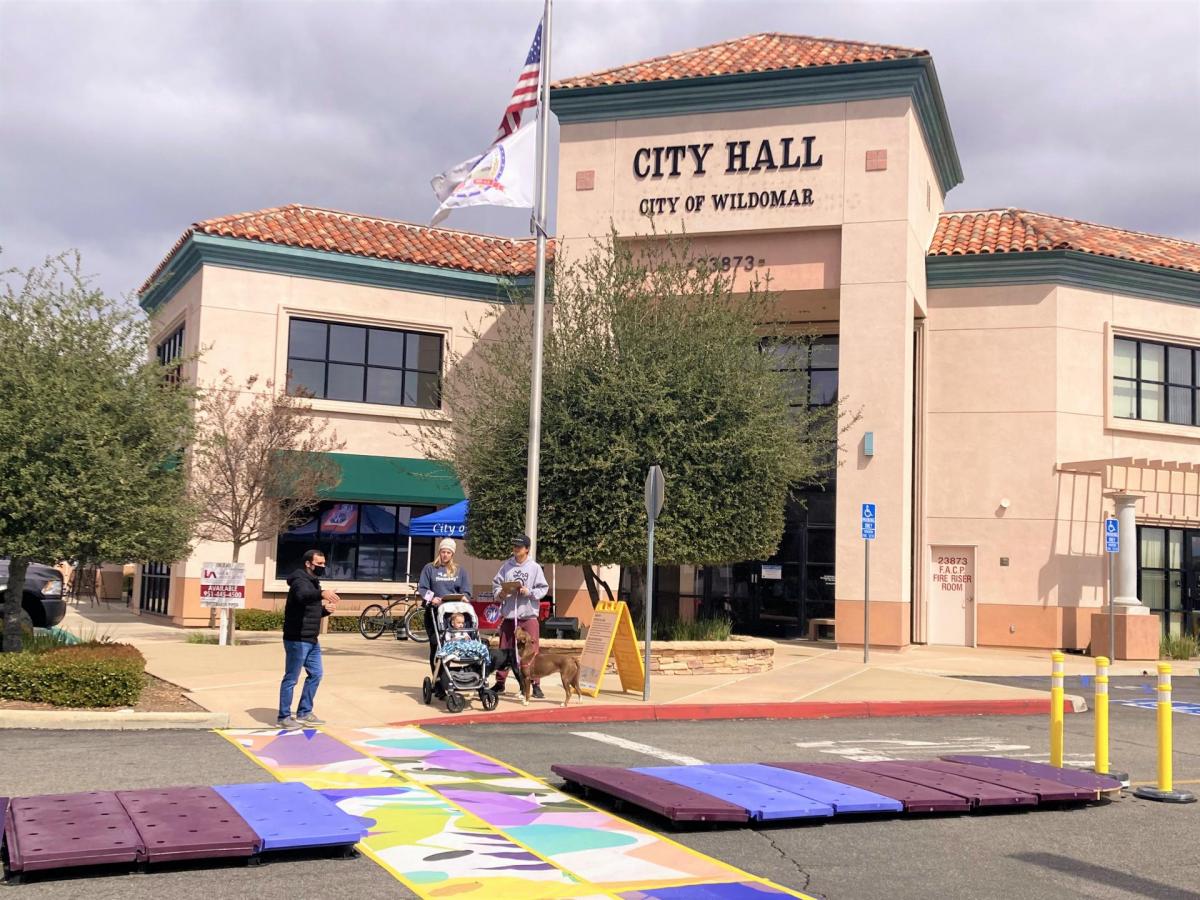 Go Human was created to reduce the number of injuries and fatalities involving people walking and biking, increase rates of active transportation, and support local community engagement. The program fosters champions across the region to support active transportation safety at the local level through a variety of strategies.
One key strategy is Go Human's Kit of Parts, an engagement tool for jurisdictions to temporarily demonstrate potential and planned street design treatments and safety infrastructure that encourage the use of streets as public space. Go Human supports and prioritizes community-led engagement and aims to meet the regions' health, equity, and greenhouse gas emissions reduction goals, while supporting healthy and connected communities.
Category 10 Transportation Innovations
360 Tours
Transformative projects require developing a shared vision among stakeholders before actual construction, and 360 Tours can bring that vision to life. These interactive, web-based models offer a virtual experience allowing diverse stakeholders to navigate and explore future transportation projects in 360 degrees.
With the simple interface, even novice users can zoom into specific areas of interest, click links to see various project alternatives, and view video simulations from a driver's perspective or from the air. These Tours have made project outreach, communication, and engagement more effective, equitable and approachable than ever. By integrating geographic information system mapping, state-of-the-art rendering tools and a web-based platform, this team has created an experience with an intuitive interface that is both flexible and scalable for various project types and user groups.
Category 11 Public Awareness Campaigns
SunLine Refueled
SunLine Transit Agency
FIND Food Bank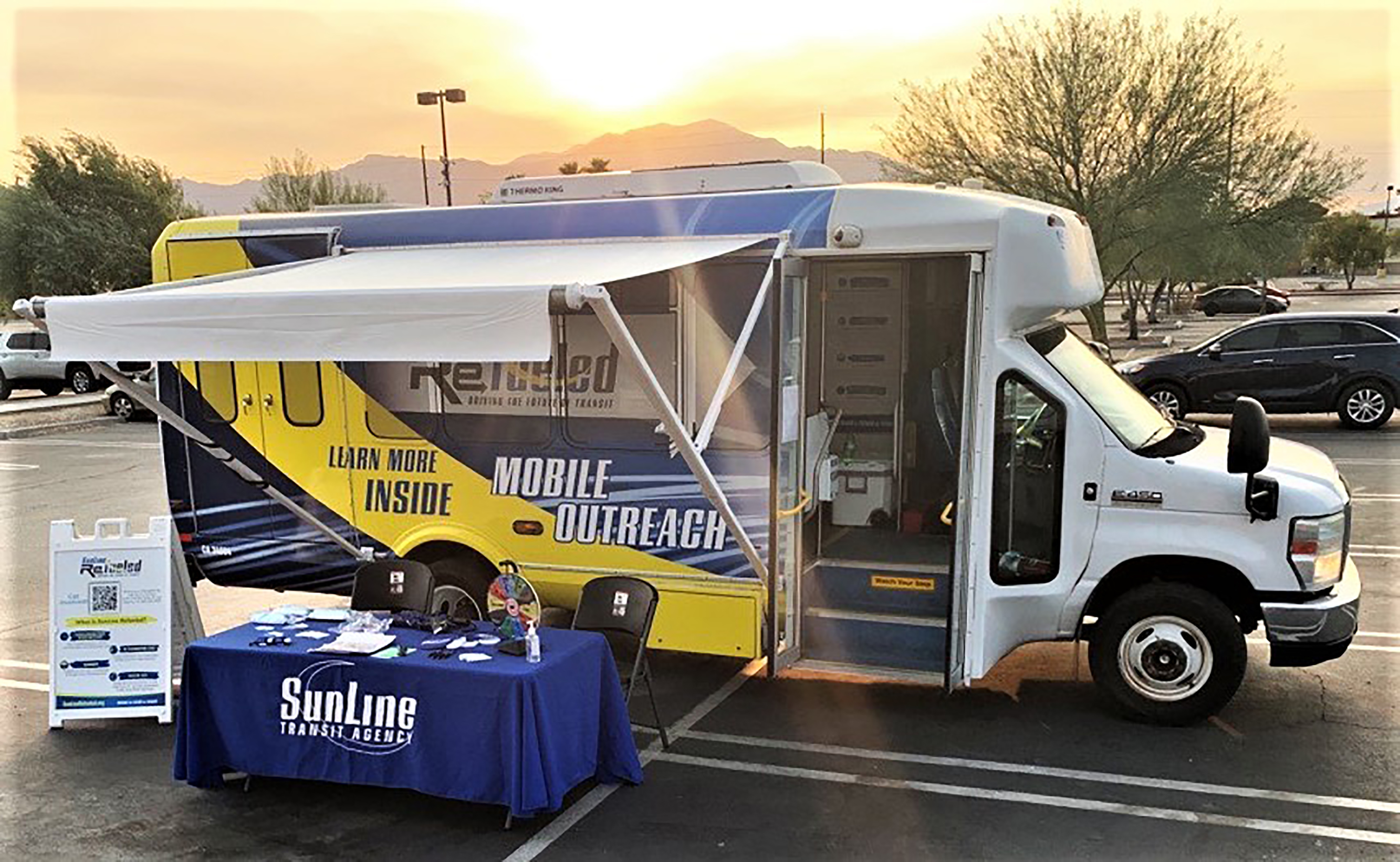 Even before the pandemic, 2020 was set to be a pivotal year for SunLine as they began outreach on the largest system redesign in SunLine's 43-year history.
The work the SunLine Transit Agency was able to do in the three years leading up to the launch of the SunLine Refueled initiative was remarkable. In addition to pivoting to incorporate COVID-19 safety messaging SunLine embodied innovative ideas for outreach when extemporaneous circumstances prevented in-person outreach.
The SunLine Transit Agency had to develop new ways to put information about SunLine Refueled where people already were. This task proved complicated with multiple stay-at-home orders, county tier restructuring, and numerous regulations. Despite these challenges, the Agency's level of engagement for a project this size is noteworthy, and the innovative approaches bringing information to the community have fundamentally enhanced what public awareness looks like not only for SunLine, but other agencies in our community.
SunLine was successful in rebranding and reinventing the Agency's transit network while simultaneously balancing COVID-19 solutions with a small marketing team to keep item production in house and remain good stewards of public funds.