1950s
1950s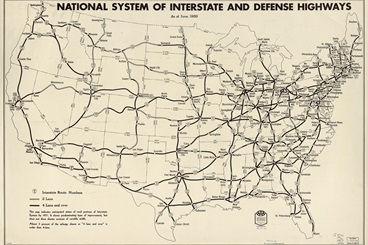 1956
President Dwight D. Eisenhower signed the Federal-Aid Highway Act of 1956. Under the act, the federal government supplied 90 percent of funding for interstate highways, with the state paying the remaining 10 percent.
1954
Marilyn Jorgenson Reece became the first woman registered as a civil engineer in the state of California. Following graduation from the University of Minnesota, she moved to California, and began working for the State Division of Highways, now known as Caltrans. Among the many projects she supervised, her most celebrated work is the iconic interchange between the 10 and the 405 freeways in Los Angeles. This interchange was designed to accommodate traffic moving at high speeds and represented the forefront of traffic engineering in its day. Reese was awarded the Governor's Design Excellence Award for her contributions to the project. In 2008, the interchange was named in her honor.
1953
Lois Cooper was the first African American woman in California to become a licensed professional engineer with the California State Division of Highways, now known as Caltrans. She graduated from Los Angeles State College with a degree in mathematics in 1954. She worked on several major projects, such as the I-105 Century Freeway, the San Diego Freeway, the Long Beach Freeway, the San Gabriel River Freeway, and the Riverside Freeway.
1953
California's gas tax was increased to 6 cents a gallon to fund highway improvements.