Transportation Art
Transportation Art
Photos above show "Before" and "After" the Sacramento Bright Underbelly Project
.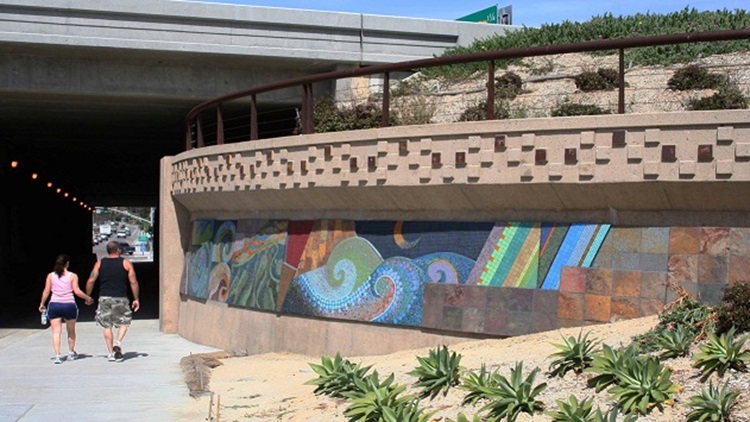 Photo of Transportation Art in Encinitas, CA.
Transportation Art
Transportation Art:
Transportation Art is a visual expression that reflects the local communities' unique aesthetic, environmental, scenic, historical and cultural values.
Who can propose installation?
A public agency defined as a city, county, incorporated town, tribal government, or non-federally recognized tribe.
What can be proposed?
Transportation Art includes graphic or sculptural artwork, either freestanding or placed upon a required engineered transportation feature and must not contain text.
Where can it be located?
Transportation Art can be free-standing or placed upon required engineered transportation features such as a noise barrier, retaining wall, bridge, bridge abutment, bridge rail, or slope paving.
Transportation Art must not:
Display text
Simulate color combinations of colors usually reserved for official traffic control devices described in the Manual on Uniform Traffic Control Devices (MUTCD).
Create a distraction to transportation system users.
Include distracting illumination.
include reflective or glaring surface finishes.
Imitate, obscure, or interfere with traffic control devices.
Interfere with airspace above the roadway.
Be placed within State highway right-of-way upon trees, rocks or other natural features.
Adversely affect existing structures, drainage patterns or stormwater runoff quality, landscaping or natural vegetation.
Include reflective or glaring surface finishes.
Include moving elements (kinetic art) or simulate movement.
Restrict sight distance.
Display symbols or icons such as flags, logos, or commercial symbols, except as allowed in Sub-article "Sponsor Recognition" of the Project Development Procedures Manual (PDPM) Chapter 29, Section 9.
Transportation Art
must
:
Include graphics or sculptural artwork that expresses unique attributes of an area's history, resources, or character.
Be a freestanding structure or integrated with an engineered transportation feature.
Be appropriate to its proposed setting and be in proper scale with its surroundings.
Be located where maintenance can be safely performed as specified in the encroachment permit, the maintenance agreement, and in conformance with Caltrans' procedures.
Be composed of materials that are durable for the projected lifespan.
Be fully funded for design, installation, maintenance, restoration, and removal by others for its projected lifespan.
conform to provisions of the California Outdoor Advertising Act.
Be designed to minimize ongoing maintenance needs. Approved Caltrans protective graffiti coatings may be required if appropriate.
Be consistent with Headquarters Division of Maintenance-Structure Maintenance and Investigations inspection requirements, including the following:

Paint used on structures should not fill or obscure cracks. Latex or other flexible type paints may be used on concrete structures only with written permission from the Headquarters Division of Maintenance-Structure Maintenance and Investigations.
Painting of steel structures will only be permitted with written permission from the Headquarters Division of Maintenance-Structure Maintenance and Investigations.
Painted art should avoid load-carrying, stress-bearing structural members including, but not limited to bridge girders, soffits, columns, and piers. Wing walls and abutments are preferred locations for painted art.
Artwork must not hinder inspection of bridges, retaining walls, and other structures.
To facilitate Caltrans' inspection, mural art may be placed on removable panels.
Chipping, blasting, or modifying existing concrete surfaces is prohibited, unless required by Division of Maintenance-Structure Maintenance and Investigations.