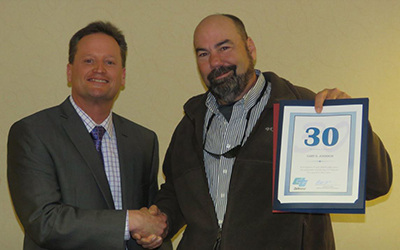 Note: This story was submitted to CT News by the California Transportation Foundation.
The California Transportation Foundation would like to spotlight Caltrans District 1 for its 30 years of Service Employee Recognition Ceremony held earlier this year. The foundation was happy to provide service pins for the ceremony. Thank you for your service!
The foundation's Transportation Education Symposium will be held in Southern California's Pacific Palms Resort on Nov. 7-8. We wanted to share what one past civil engineering student said about his experience at the symposium: "It is definitely going to bridge the gap between my academic and professional career. The professionals provided me with immediate advice and a jump start into the real world."
CTF is excited to partner with Southern California Association of Government (SCAG) to recognize the first $4,000 CTF/SCAG Partnered Scholarship recipient, Kathryn Lopez of the UC Riverside School of Public Policy. "As a third-year student, this scholarship will help continue my educational journey by alleviating some of the financial stresses that students often encounter," she said. The SCAG scholarship program provides a $4,000 college scholarship award for each of seven high school or college students from across the SCAG region.
The foundation established its Conference Connections Program recently in keeping with our educational mission. Conference Connections is a no-cost program for selected junior or senior undergraduate and graduate students to attend transportation-related conferences with a mentor from the transportation industry.
****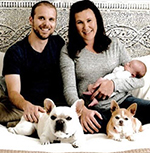 Condolences to Timothy Keasling's family and friends. CTF has established the Timothy Keasling Memorial Fund in memory of Mr. Keasling, Caltrans District 8, to collect donations for his family during this difficult time. CTF is not matching donations as his death was not work-related. To donate, go to https://transportationfoundation.org/donate/ and select "Keasling Memorial Fund" as the fund you would like your donation to go to.
CTF also has established the Austin Buist Assistance Fund to collect donations and help Buist and his 4-month old son, Maverick, with financial assistance. Mr. Buist is a Caltrans Central Coast (District 5) employee whose wife died in a car accident on Highway 101 near Goleta. Donations to the account will not be matched since it was not work-related. To donate visit https://transportationfoundation.org/donate/.