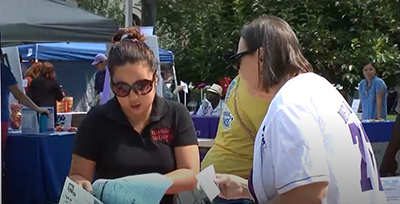 Note: The following story was compiled from information provided by the Caltrans Our Promise Team, the Director's Office and from OurPromiseCA.org.
Time is on everyone's side with the Our Promise campaign, "Power of an Hour." Nonprofit organizations receive much-needed funds and state workers can feel good about making a positive difference in their communities.
In 2018, Caltrans employees contributed approximately $500,000 through Our Promise, making a valuable impact across California.
"This year I am challenging all Caltrans employees to pledge one hour of their monthly salary or give 1/160th of their salary to their favorite nonprofit," said Acting Director Bob Franzoia when the campaign was launched in September. "Through a monthly payroll deduction of as little as $5, you can be a part of this large and historic effort to support charitable programs with almost 300,000 other state employees."
The Our Promise Campaign pledge period ran through Oct. 31. Caltrans Headquarters hosted two promotional events: an open house on Sept. 18 and a "blast-off to giving" shindig on Oct. 3. Caltrans' 12 district head offices also planned regional Our Promise events throughout this month.
Dr. Nadine Burke Harris, California's Attorney General, is leading the Our Promise efforts and said that the more than 290,000 state employees "have a tremendous opportunity to make a collective impact."
She added: "There are more than 2,000 statewide organizations to select from that are supporting our children and schools through education, improving health and human services, and advancing environmental issues. …
"I challenge each of you to make an Our Promise pledge today. Start making a difference in your community for as little as $5 per month or consider increasing your current gift by $5 more per month to one or more of our nonprofit partners."
The payroll deductions that state workers authorized for Our Promise will commence in January.
For more information, email the Caltrans Our Promise Team at Our.Promise@dot.ca.gov.