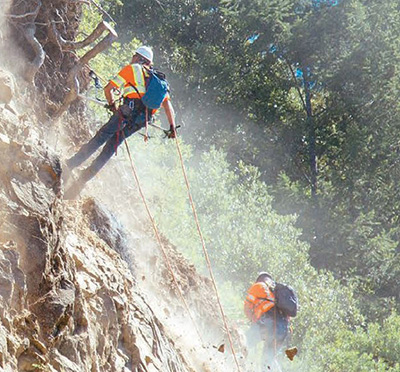 Note: This story originally appeared in the October 2019 issue of District 1's Eye on One.
By Andrew Goetz
District 1 Public Information Officer
Rocks and debris peppering the roadway or a slide restricting the flow of traffic can cause issues for motorists driving the highways of District 1, but Caltrans rock scaling, tree and maintenance crews are working to head off these potential hazards before they happen.
On a hot and sunny morning in late August, crews gather along U.S. Highway 101 near Leggett to tackle one of several slope mitigation projects in northern Mendocino County scheduled for the week.
"We are notified about rockfall problems, and we took a proactive approach and did a slope assessment and evaluation," said North Special Crews Superintendent Darin Sullivan. "We submit the report to the geologists and they approve our work requirements to make sure it's safe for employees and the work doesn't cause a bigger problem."
Following a detailed meeting, the teams went to work entering the lush green tree line along the road and hiking to the top of the slope. Maintenance set up stops on the north and south ends of the project to control traffic, so pedestrians and motorists would be safe from rocks and trees that would be removed from the problem slope.
The work was systematic as tree crews cleared vegetation, chopping down trees and brush big and small before the rock scalers began their descent. Using hand tools, basically long crowbars, the scalers proceeded down the slope knocking loose potential problem rocks onto the highway below.
"By being proactive and scaling, bringing down the loose rock with hand equipment, we are effectively reducing the risk for the motoring public," said Charlie Narwold, a senior engineering geologist with Geotechnical Services and a member of the scaling team. "Maintenance identifies areas where there is frequent rockfall and we take a proactive approach to mitigate, basically reduce the risk associated with rockfall incidents."
The scalers, who volunteer to perform this aerial maintenance, receive extensive yearly training and are sourced from across districts.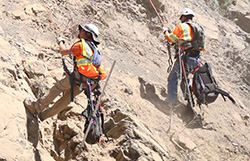 "We usually don't have a hard time getting volunteers (for rock scaling)," added Narwold. "It's physically demanding work and it requires being on ropes, but we have a great training program and we've got some outstanding scalers with lots of experience."
District 5 even sent representatives for a demonstration of an airbag system at a scaling project later in the week. Scaling and use of the airbag present safer alternatives to the traditional blasting approach of slope mitigation. Blasting may agitate or dislodge nearby rocks beyond the intended target.
As rocks of all sizes begin to spill onto the traveled way and dust clouds break up the sun's toasty rays, it's easy to see why a rockfall incident could quickly escalate into a traffic disaster. Slides and slip outs along U.S. Highway 101 at Last Chance Grade or a slide on Route 299 can choke the flow of traffic and cut off the traveling public from its destination.
"The rock scaling program was designed to bring down rocks in a controlled manner before they come down on their own and present a risk to the public," said Dennis Vizgaudis, a maintenance hydraulics supervisor and member of the scaling team.
When the day ended, the slope had changed. Dusty scalers finished their work, and tree and maintenance crews cleared away the rubble and vegetation. For people driving, walking or biking by the change might go unnoticed and the slope might just fold into the beautiful scenery on a hazard-free trip on the California highway.