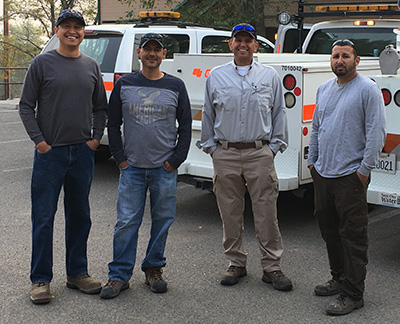 For people who love to hike in the northern portion of Yosemite National Park, two days of each year are of particular interest: the day that Tioga Road has been cleared of snow and reopens, and the day that Tioga Road closes due to snow.
Thanks in large part to the dedication and hard work of District 6 surveyors and District 9 maintenance crews, Tioga Road (part of State Route 120) opened without restrictions on July 1 this year, despite the 2018-19 snow season having been especially robust.
The indescribably scenic Tioga Pass closed in late November. How did Caltrans workers clear the way for hikers and backpackers for the five months available to them this year?
The current, high-tech method Caltrans uses in clearing mountain passes has its origins in 2005, when the department's Division of Research, Innovation and System Information (DRISI) began working with researchers at the Advanced Highway Maintenance and Construction Technology Research Center at the University of California, Davis. Over the years and with some test runs over Sonora Pass (along State Route 108) in Tuolumne County, they developed a portable version of the Mountain Pass Road Opening system.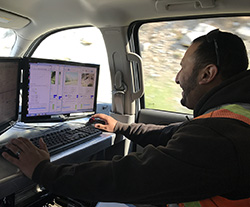 The MPRO, as it's known, is a laser-based mapping system that gives snow-clearing crews extremely precise information about where the snow-buried roads are, and pinpoints where things such as guardrails and road signs are placed.
Randy Walker, supervisor of the Lee Vining maintenance crew in District 9, describes in a recent Caltrans News Flash how his team started to clear the 13-mile stretch of State Route 120 between Highway 395 to the east and the entry to Yosemite National Park on the west.
"We have an antenna ray on top of a piece of equipment," Walker says, "with a monitor inside and a computer, and help us find ourselves on the road to within an inch."
Tioga Road had been mapped with Mobile Terrestrial Lidar Scanner (MTLS) equipment the summer before by Transportation Surveyor Party Chief Ruben Aparicio and three of his colleagues from District 6: Oscar Carreon, Daniel Cerda and Leonardo Hernandez. They set out from Fresno in a $1 million MTLS-equipped vehicle – one of only two such vehicles in the state – to map more than 40 miles of state-operated roadways over Ebbetts (State Route 4), Sonora and Tioga passes.
They accomplished that task, which they volunteered to do, in just one week.
"The guys really knocked it out of the park," said Aparicio's supervisor, Senior Transportation Surveyor Scott Reinhart. "They did an outstanding job."
Nine or so months later, Walker's District 9 crew on Tioga Road relied on the data gathered by Reinhart's team to clear off snow that was piled 75 to 100 feet high. "It just turns into a grind as we're working, because there's just so much snow as we go back into the canyon," Walker said.
Often, the roadway not only needs potholes repaired, but is sprinkled with boulders that have to be pushed away or even blown up. Even after that work is underway, Mother Nature can reassert herself.
"In years past we've at this point, we're about 9,300 feet in elevation, and we'll have a spring storm and completely have to start over," Walker says.
Outdoor enthusiasts and Sierra Nevada-traversing travelers are not the only people who look forward to the reopening of State Route 120 through Yosemite National Park and over Tioga Pass. Business owners benefit, too, as a story about the MPRO system in last winter's Mile Marker magazine points out:
"The spring openings turn on a spigot of tourist and recreation dollars that many mountain and foothills regions depend on until the next winter's arrival, when the gates again swing shut on high-country highways."
A winter- and springtime road closure can be a bummer, for sure. It's a good thing that District 6 and District 9 workers help us get over it.