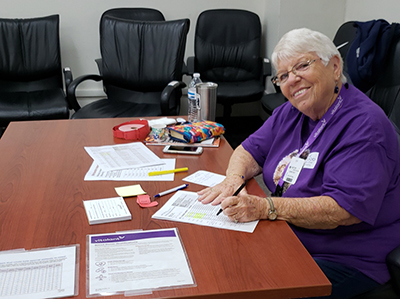 Four Caltrans employees who have been intimately involved with the department's blood-drive efforts in Sacramento have retired or are retiring this year, and blood-drive coordinator Shari Mannering wants to make sure their efforts are applauded.
Mannering, whose job classification in the Office of Budgets and Administration is Administrative Assistant II, makes sure that everything is in order on the four occasions each year that employees' blood is drawn at the downtown Headquarters building and at the nearby Farmers Market complex.
For more than 25 years, Mannering said, blood drive efforts at Farmers Market were overseen by Frank Valls, who retired this summer.
Lupita Vasquez, whom Mannering describes as "the wind behind Frank's wings," is retiring by year's end. She has been working on the blood drive for a staggering 32 years. "Sweet as can be!" Mannering added.
Molly Wollam has also been helping out at the Farmers Market blood drives, and she too is retiring this year. "She hasn't been doing it as long" as Valls and Vasquez, Mannering says. "She says 10 years, but other people say longer than that."
At Headquarters, blood-drive stalwart Esther Valadez is poised to retire, too, according to Mannering. Valadez has volunteered "for a million years" to serve refreshments, Mannering said in a likely exaggeration. "She's such a doll!"
Mannering stressed how appreciative she is for those four people's dedication to a worthy cause.
"They were so committed to it all these years," she said. "The younger generations don't seem to have that commitment. It's hard to get people to even come for an hour to volunteer. For a lot of things, really, but this is stuff that is in their own building. (But) once they come, they enjoy it.
"People write me letters saying, 'I can't donate,' for whatever reason, 'but (donated blood) saved my daughter's life. That's why I want to help.' When they come and serve snacks, they're kind of hesitant, and then they end up loving it."
The next blood drive for Caltrans employees in Sacramento is scheduled for Jan. 14-15 at Headquarters and Jan. 16 at Farmers Market.
Mannering singled out for praise one such longtime volunteer: retired Caltrans worker Joann Cole. "She keeps me in line. I always tell her, 'You're not the boss of me!' or, 'You don't know me!' And she says, 'Oh yes I am!' or, 'Oh yes I do!'
In the most recent drive, which was unusual in that blood was drawn at Headquarters on just one day rather than the usual two, a total of 81 pints were collected at the two Sacramento locations. That was in mid-October, and the next drive is scheduled for Jan. 14-15 at Headquarters and Jan. 16 at Farmers Market. Donors are urged to make reservations, something they can do once Mannering sends a general email announcement.
The blood drives are under the overall control of Vitalant, formerly known as BloodSource.
Most of Caltrans' 12 districts have blood drives of their own, including Districts 1, 2, 4, 6, 7, 8 and 10.
If you are interested in volunteering to whatever extent, up to and including being a chairperson at Headquarters or Farmers Market, email Mannering at Shari.Mannering@dot.ca.gov or call her at (916) 227-9650.