Health and Safety
Tips on caring for an aging loved one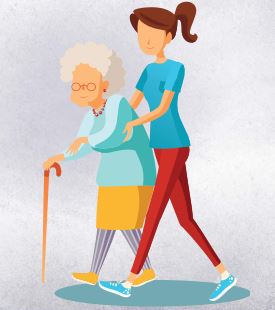 From the Employee Assistance Program (EAP)
Looking after an elderly parent, spouse, partner or close friend can be a rewarding experience, but it also presents challenges that can leave caregivers anxious, overwhelmed and/or intimidated by their duties. EAP provides free, confidential benefits and resources to help caregivers with a variety of issues.
What can EAP help with?
Identify
the issues you need help with such as grief, stress, relationship issues, difficulty sleeping, setting boundaries, work-life balance, etc.
Find senior care providers in your area as well as articles and guides on topics such as long-distance caregiving, how to avoid caregiver burnout, and more.
Access discounts on everything from prescription medications to home care services, grocery and meal delivery, and more.
Guidance with financial issues, budgeting, and planning for the future.
Help with elder law issues such as wills, trusts, elder rights, and end of life planning.
Learn how to combat compassion fatigue, sleep better, manage stress, and improve your emotional health.
For more information, go to eap.calhr.ca.gov or call 1-866-327-4762.
---
Stay safe from the cold and COVID this winter
From the Office of Employee Health and Safety
Generally, it is easier to practice social distancing outdoors, however, the cold weather may make it difficult to hold essential meetings outside. If you do have to be around others in an indoor environment, remember there are ways to maximize your safety:
Wear a mask. Remember that all unvaccinated or non-disclosed employees are required to wear a mask indoors. For individuals who are vaccinated, some counties still require wearing a mask. Be sure to monitor your county's guidance for the latest updates. OEHS keeps track of counties who mandate mask wearing here.
Stay at least six feet away from others. Space out chairs in common areas as spatial reminders.
Open a small window, if weather permits.
Clean and disinfect shared items and spaces.
Monitor your health daily for symptoms. Remember: the cold, flu and COVID all have similar symptoms. To ensure the safety of yourself and others, if you feel ill, contact your medical provider for guidance and stay home.